Earnings season is, by far, my favorite time of the year. It occurs four times a year and provides a significant number of trading opportunities if you know what you're looking for. My first piece of advice is this: Not all gaps are created equal. Many traders consider only whether a stock gaps up or down, and then looks for the gap to fill. For me, the initial gap is important, but what the stock does after the gap is much more important. Why? Well, you have to understand the role of the market maker. When news breaks in after hours, there is either tremendous demand (good news) or tremendous supply (bad news) at the next market open. Market makers' primary role is to provide liquidity. So when there is an imbalance of orders, market makers take the other side of the trade. Their positions are generally short-term and they rarely lose money. So if everyone is buying at the opening bell because of good news, market makers are shorting. That's one of the biggest influences as to why gaps usually fill. However, when demand is so strong after good news that the initial buying momentum cannot be stopped, the top of gap support will many times offer the best support and entry price, not the bottom of gap support (or the gap fill). Let me give you an example of a stock that we currently have as an Active Trade Alert at EarningsBeats.com: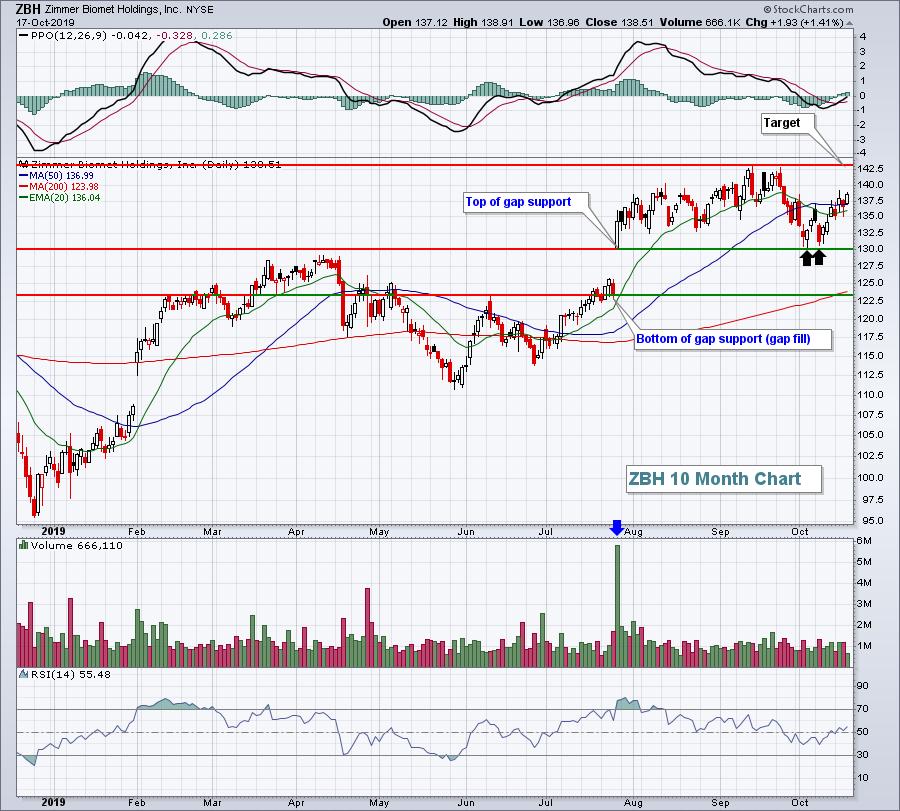 In July, ZBH reported better-than-expected quarterly earnings results and that new positive information created a significant gap higher in price the next morning. From the opening bell, when market makers would have provided liquidity by shorting, ZBH surged higher. Despite market makers using their resources to try to drive the price down, ZBH continued surging higher. That's a great sign of tremendous market demand and a key reason why I add stocks like ZBH to my Strong Earnings ChartList. I then wait for a pullback to the top of gap support to jump on the trade. When stocks like ZBH report great results and continue surging after the opening bell (and for the several days), I do not look for the stock to "fill the gap" back to the prior close. More often than not, companies like this will find buyers at the top of gap support because that's where they were buying before. (Disclosure: I own shares of ZBH)
Mary Ellen McGonagle, President of MEM Investment Research, is joining me this morning for a one hour webinar, "Earnings Season Kickoff" where we'll be identifying stocks that have already reported and look solid technically, and also stocks with upcoming earnings reports to see what we might expect from those reports. It will be very educational and, better yet, it's completely FREE and open to the public!
We'd love to have you join us. The webinar room will open at 8:30am EST and the webinar will begin promptly at 9:00am EST, lasting for one hour and followed by a brief Q&A session. If you'd like to learn a bit more about earnings season and what we can expect, CLICK HERE to join the webinar. If you can't make the webinar, but you'd like a copy of the recording, just shoot an email to "tom@earningsbeats.com" and I'll make sure you get a copy.
Happy trading!
Tom