There's been a lot said and written about the struggles of the FAANG stocks. Don't let any of it fool you. The only FAANG stock reeling in my view is Netflix (NFLX). In last week's "Q3 Earnings Sneak Preview", I said I wasn't a fan of NFLX heading into earnings. When the stock gapped higher following a very "mediocre-at-best" earnings report, I said on Trading Places LIVE that I couldn't understand why NFLX was trading higher given the news. By the next day, NFLX had moved back beneath its pre-earnings level: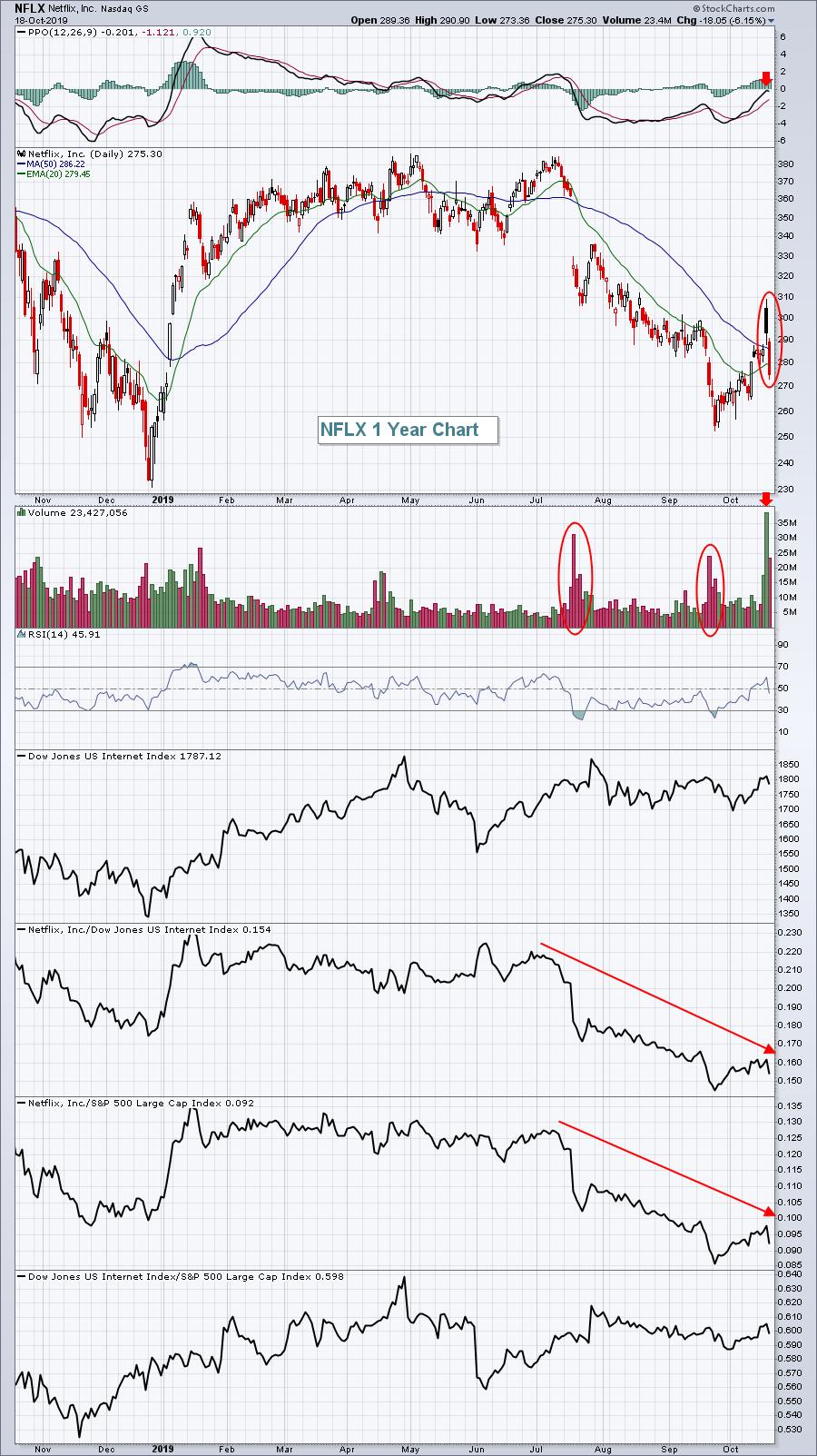 The declining relative performance to its internet peers ($DJUSNS) and the benchmark S&P 500 suggested to stay away from NFLX into earnings. Despite the gap higher, the selling since the opening gap came on HUGE volume and NFLX now trades back beneath its 20 day EMA. I think it's got another 40 points of downside before I'd consider it off that 235 price support area that was initially reached back at the highly-volatile December low.
But what about Facebook (FB), Amazon.com (AMZN), Apple (AAPL) and Alphabet (GOOGL)? Oh, I definitely have my opinion on those heading into earnings. In fact, I'm convinced about two in particular. Tonight is the night where I'll reveal a number of stocks to buy and stocks to shed before upcoming earnings reports. I'll review how my predictions were from last Monday night during the sneak preview. But tonight will highlight the upcoming big winners and losers.
It's our Members-Only "Q3 Earnings" webinar and it's one of the most fun nights of the quarter. It all starts at 4:30pm EST this afternoon and I'll give you my thoughts on Wall Street's view of dozens of companies given the chart patterns and you can see for yourself how technical analysis can give you information before the actual information hits! If you're already a member, no worries. We'll make sure you receive room instructions to attend. If you're not a current member of EarningsBeats.com, CLICK HERE to start your $7 30-day trial and join me!
(By the way, a 30-day trial today will cover our biggest webinar event of the quarter - my Top 10 Stocks webinar on November 19th where I'll unveil the latest stocks in my 3 portfolios - Model, Aggressive, and Income!)
I hope to see you there!
Tom