This is a very interesting question. Many lagging groups will outperform for a day, week, or even a month, but then they fall right back into their relative downtrends. If you're trading stocks within sectors and industry groups showing poor relative strength, you're fighting an uphill battle. But if you can catch those groups that reverse early in their reversal, it can be a very rewarding scenario.
Let me give you an example. Defense stocks ($DJUSDN). I'll give you a "before and after" chart to show you how badly defense stocks performed on a relative basis and then the turning point that's led to solid outperformance.
Here was the DJUSDN just as it was moving from underperforming industry group to outperforming: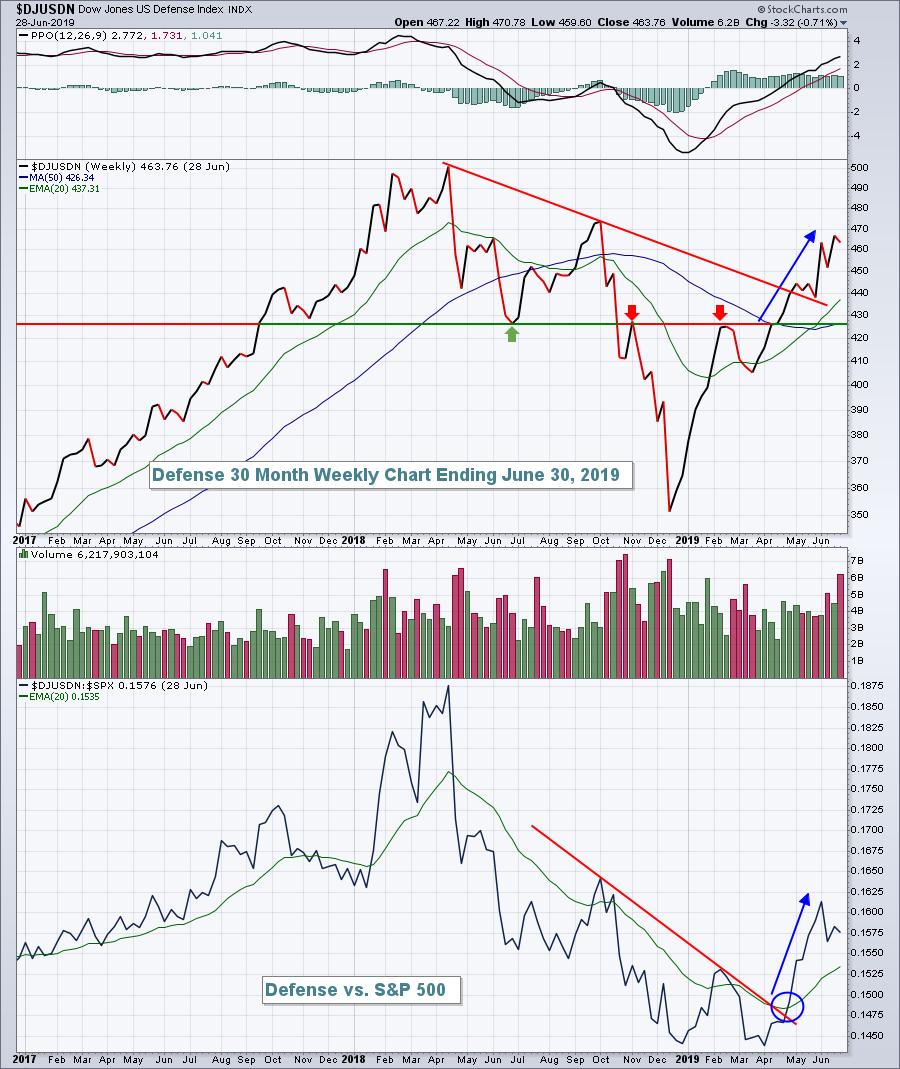 We need to evaluate ALL of the signals. Simply turning up for one month in absolute price isn't good enough. If the DJUSDN goes up 3% one month, but the S&P 500 goes up 4%, aren't you likely to lose by trading defense stocks? So relative strength, in my view, is more important than absolute strength. On the chart above, however, you can see that the DJUSDN breaks its absolute price downtrend in late April. On a relative basis, we get initial confirmation in April as well. That's when the lower panel illustrates a relative price breakout and a relative cross above the 20 week EMA. Those are definitely bullish signals.
Here's the rest of the chart: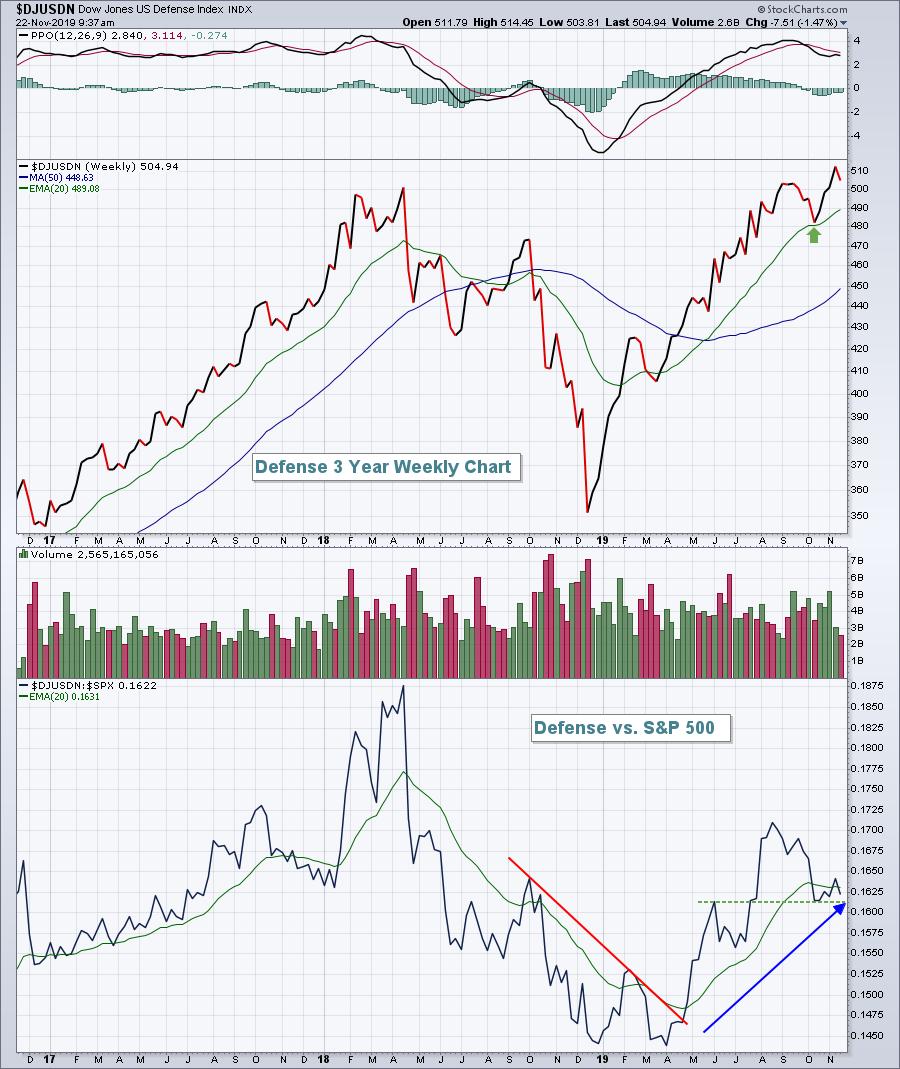 The DJUSDN continued moving higher, so trading stocks, especially leading stocks, within the group made a lot of sense.....and continues to make sense.
I see two industry groups that RIGHT NOW are where defense stocks were six months ago. I expect they will provide us lots of trading opportunities as we head into 2020. Do me a favor. Send me an email at "tom@earningsbeats.com" with the subject line "Two Industry Groups" and I'll (1) sign you up for our free Market Vision 2020 newsletter and (2) email you the two industry groups that look poised to lead. Heck, I'll even provide you a couple of my favorite stocks in each industry group. (Note: please don't email me if you're already a subscribing member at EarningsBeats.com as I'll be including this information in today's Daily Market Report).
I'm really looking forward to our Market Vision 2020 event, where 8 different speakers will provide you their market outlooks for 2020. On Tuesday, we'll announce our Keynote Speaker, which is VERY exciting. He's a technical analysis LEGEND! Updates are provided twice a week on the upcoming Main Event on Saturday, January 4, 2020. By subscribing to this free newsletter, you'll be kept up to date regarding event news, pricing (newsletter subscribers will receive lowest price), free giveaways totaling THOUSANDS of dollars, 7 mini-series educational events (free special invitation to newsletter subscribers), and so much more! I'll sign you up for this free newsletter in exchange for the two emerging industry groups and leading stocks within. Deal?
Happy trading!
Tom