Ok, it might be a tad early to call it a leader, but transportation services ($DJUSTS) recently broke out to an 8 month relative high to the benchmark S&P 500. Money has been rotating there and we need to be aware of this relative strength. Before we look at a price chart, let's look at seasonality, where the DJUSTS typically sees its best action in November: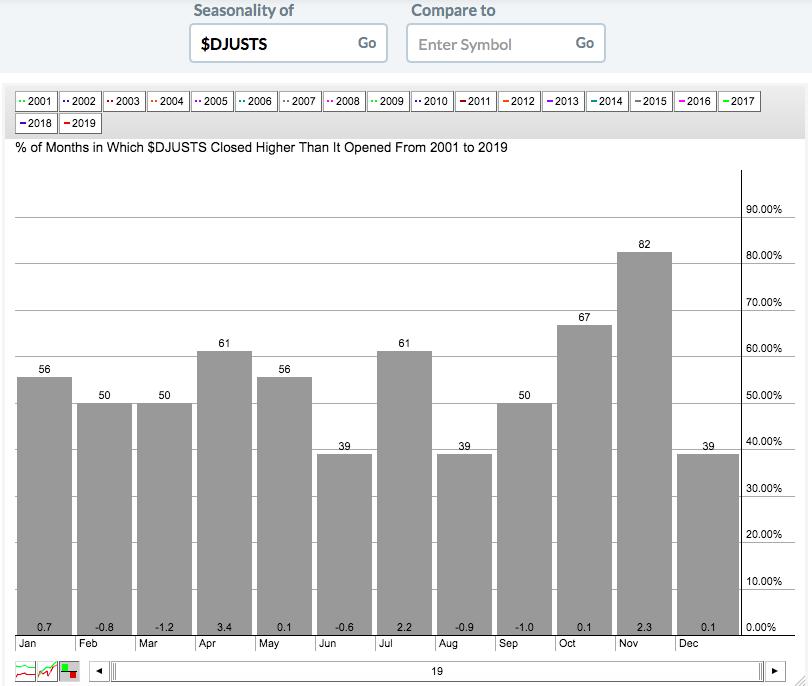 Over the past two decades, the group has moved higher in November 82% of the years, which is clearly its best in that regard. Also, its average monthly return of +2.3% trails only April. Given that November is a strong seasonal month, it definitely suggests we consider this group based on its strengthening price chart: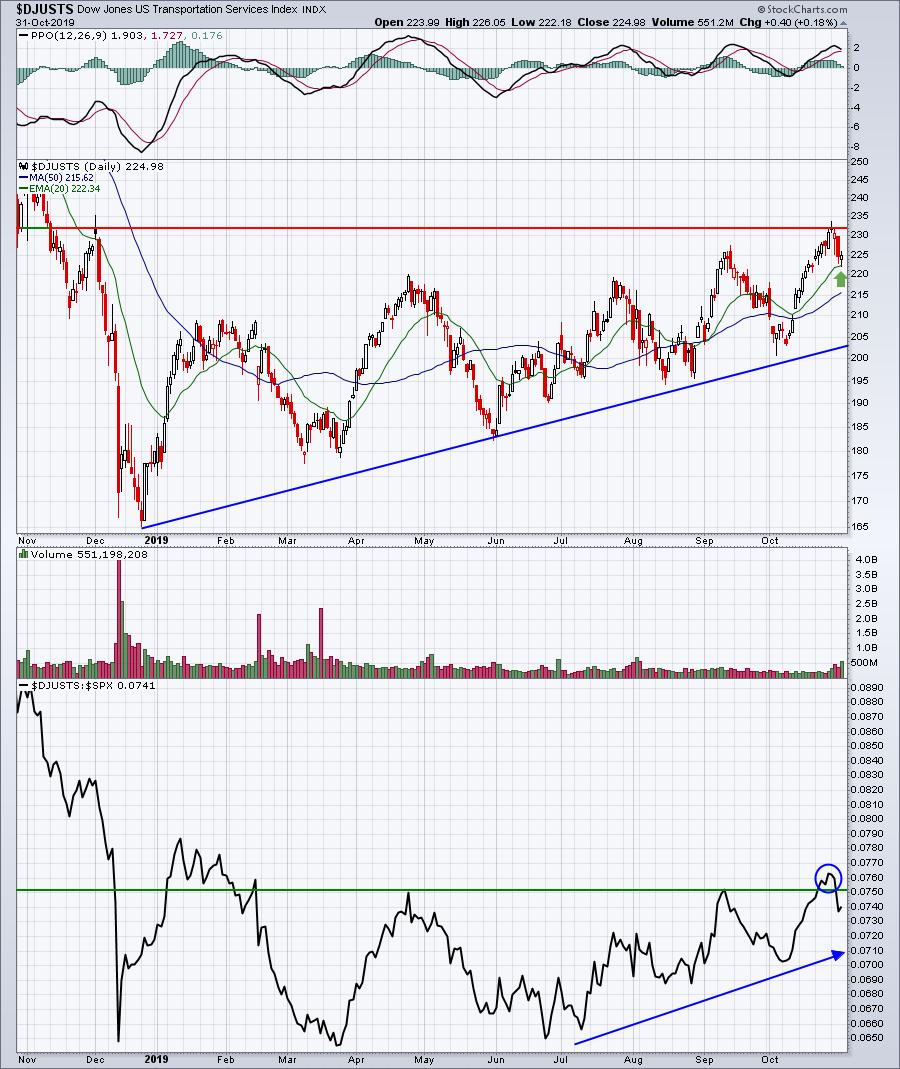 The absolute price chart has been in an uptrend since the December low, but it wasn't until July that transportation services began outperforming on a relative basis. I believe this could lead to a huge earnings report from one of the group's leaders, which is due out in two weeks. I try to point out these relative strength ideas to our free EarningsBeats Digest subscribers and included this transportation stock in this morning's article. If you'd like to subscribe and see today's article, simply send us an email at "support@earningsbeats.com" and we'll get you set up and email you today's article. It would be helpful if you indicate "EB Digest" in the subject line, so we can get that article to you ASAP.
On Wednesday, October 23rd, I published a similar article citing the breakout in recreational products ($DJUSRP). I then offered up Garmin (GRMN) as a relative leader in that space poised to report excellent quarterly results in a week. Not only did GRMN just report blowout numbers (EPS: 1.27 actual vs .95 estimate), but we saw a very bullish market reaction the next trading session: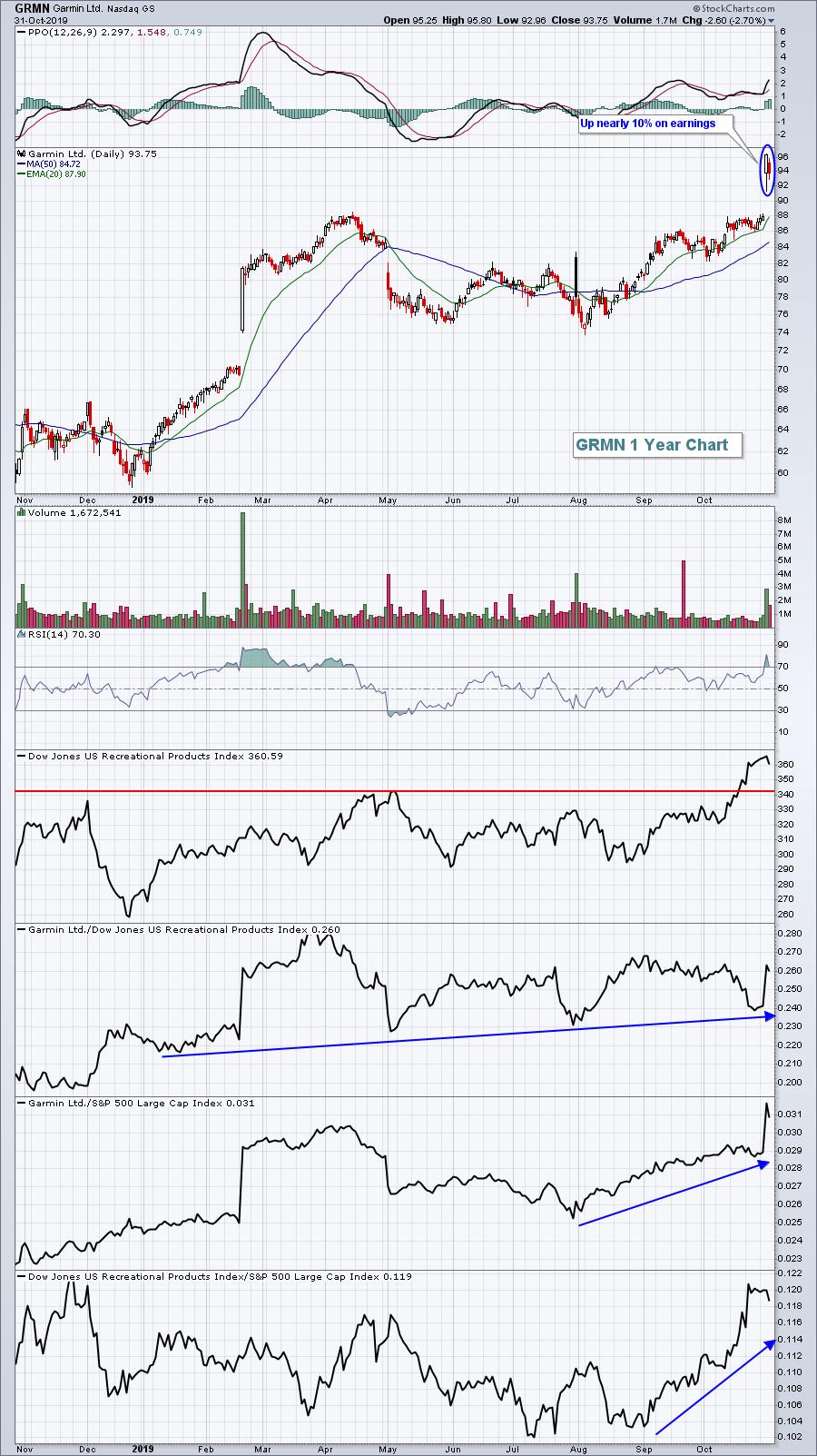 Holding one stock into its earnings report, however, can be quite dangerous because even the best looking price charts can be deceiving. What if management simply wasn't as forthcoming with Wall Street analysts as they should have been? Maybe they sugar-coated some of their bad news. Or maybe at the time of their last meeting with analysts, they believed their numbers would actually be better than they turned out to be during their "quiet period". My point is that there's a human effect to these earnings signals that's impossible to determine. While holding one stock into earnings can be extremely risky, that risk is cut down by holding multiple companies into their earnings reports.
Last Sunday night, I provided 5 upcoming earnings reports for companies that looked solid on a relative basis. 3 of the 5 saw positive reactions to earnings reports, but the average next-day gain for these 5 were more than +7.00%. That's an impressive number. As a result, I decided to host a webinar last Tuesday night featuring 10 of my favorite stocks heading into one of the busiest earnings days of the quarter that featured Apple (AAPL) and Facebook (FB), among hundreds of others. I provided our members annotated charts and an impromptu webinar to discuss these stocks.
The results? 7 out of the 10 had positive reactions to earnings reports and the average gain next day was 3.5%. The conclusion here is that spreading the risk in earnings season makes a lot of sense, but you still must review the relative strength of the stocks in your portfolio. Those that are weak could turn into Merit Medical Systems (MMSI):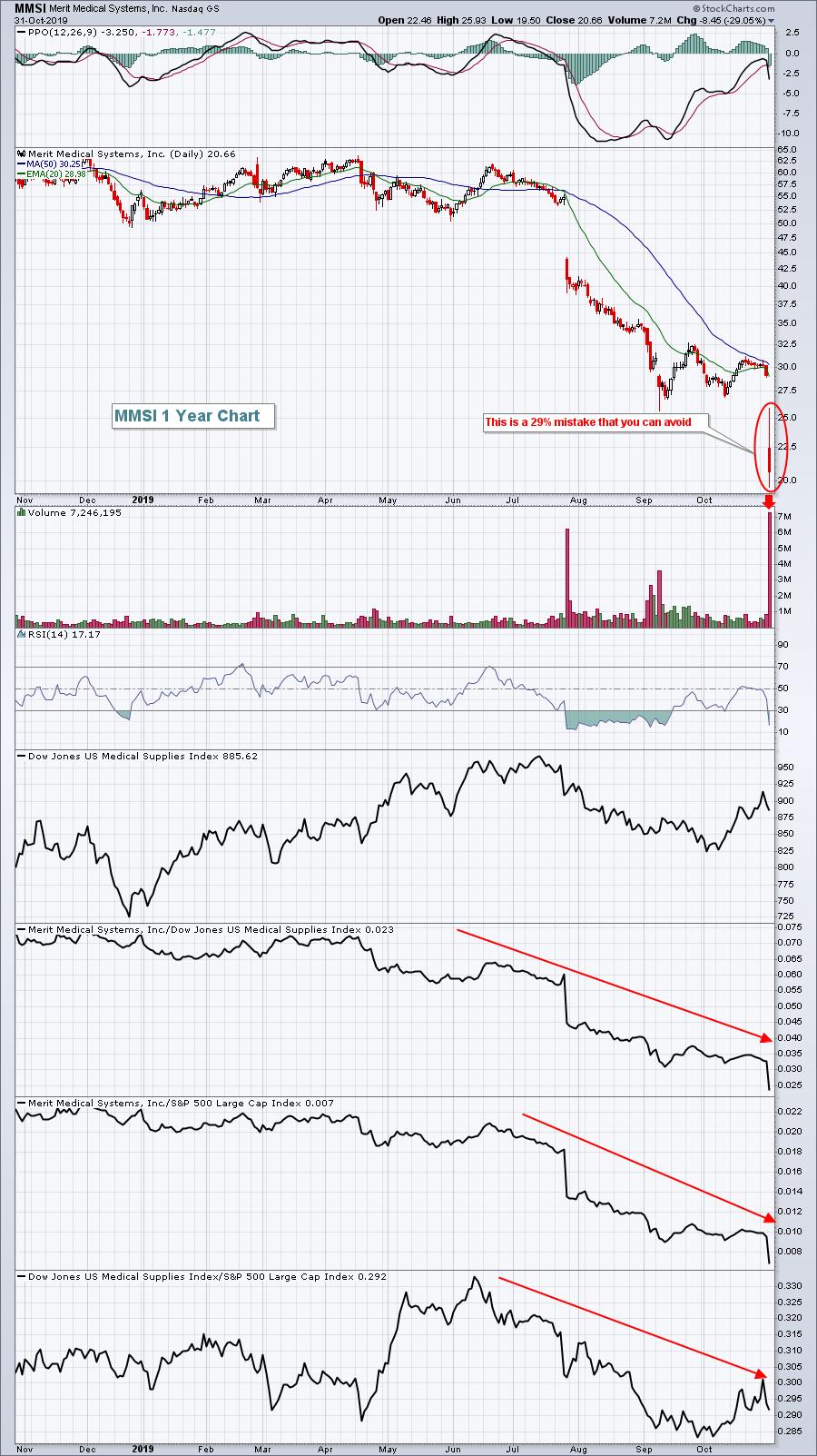 Relative strength suggested that MMSI would have little good to day in their quarterly earnings report. They missed their revenue and EPS estimates by a mile, then lowered their guidance for FY19.
On Monday after the bell, I'm going to host another webinar and will identify another batch of companies that are likely to report solid results. I want you to be there and it will cost nothing. Just join me and learn. All current paid subscribers of EarningsBeats.com will be invited, as will our EarningsBeats Digest community. We'll send out a webinar room link to both on Monday. If you'd like to join me, please SUBSCRIBE to my free EarningsBeats Digest newsletter, which is published 3x a week on Mondays, Wednesdays, and Fridays.
Happy trading!
Tom