I have found there are no guarantees when it comes to earnings and how a company will report. We can make educated guesses, though, especially when you consider that Wall Street has access to management teams before their "quiet period". A quiet period is simply the time from quarter end to the release of quarterly results. There should be no formal or informal discussions between management and Wall Street during this time. Prior to those quiet periods, it's all fair game. So we can make certain assumptions:
Analysts will meet with management teams prior to those quiet periods
Analysts will return to their offices and buy stocks where management teams are bullish and optimistic
If #2 is true, we should see buying reflected on charts as companies head toward earnings. It will many times be reflected in relative strength. Using this approach, my experience at predicting the right outcome at EarningsBeats.com is perhaps 65% accurate. I have documented dozens of these predictions for EarningsBeats.com members in recent months as I returned as Chief Market Strategist there. It's definitely not 100%, but it's also not 50%. It helps.
Here are two companies that will report quarterly results on Thursday that I believe have a better than 50-50 chance of delivering better-than-expected results:
Dollar General (DG)
Specialty retailers ($DJUSRS) recently moved to a four month high and DG has been one of its leaders. Relative strength has dipped during its quiet period, but prior to that it seemed as though Wall Street liked what it was hearing. It doesn't hurt that DG has a recent history of outperforming either: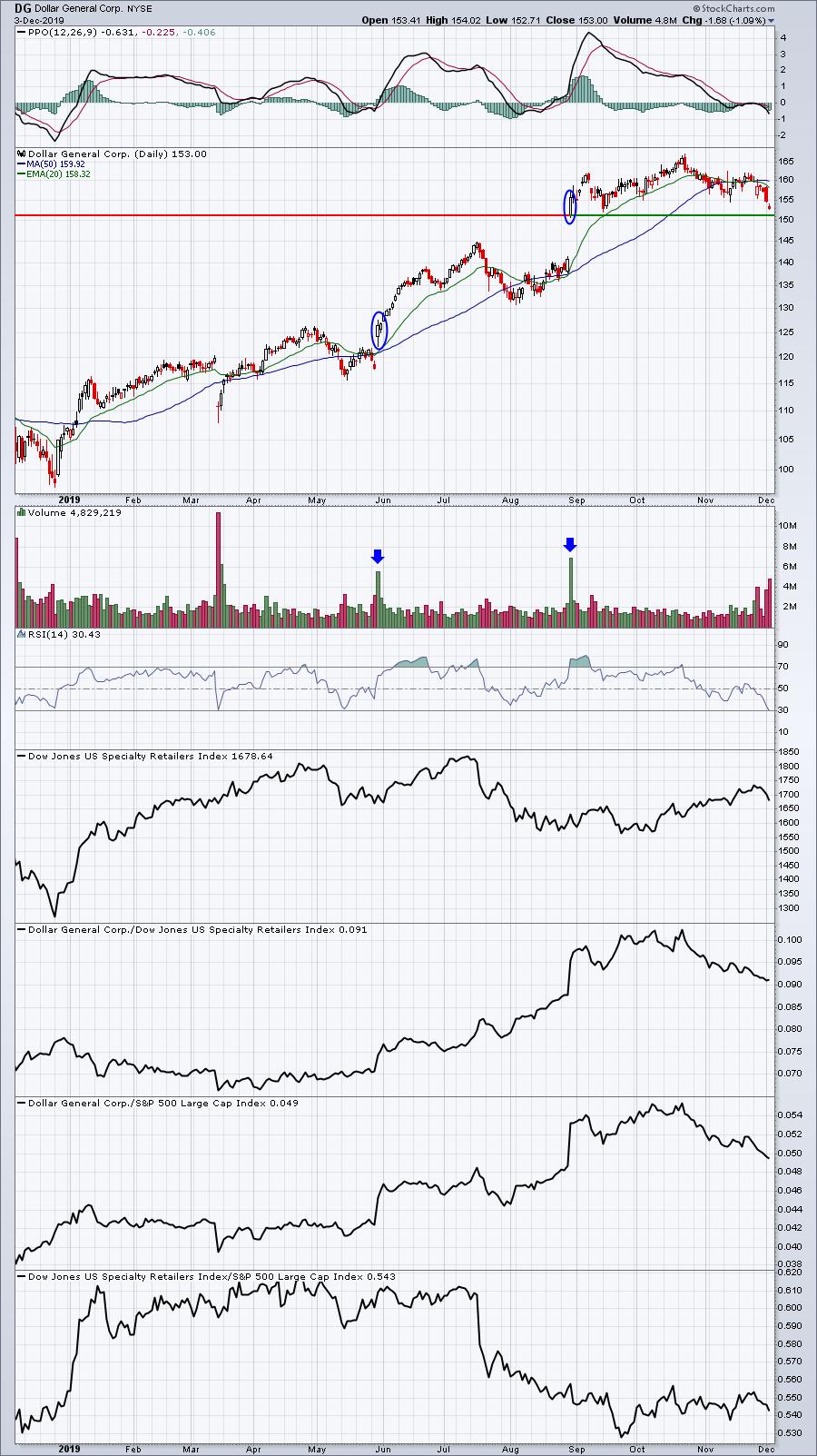 Can DG move back through its 20 day EMA after earnings? If results are solid and the response is not, then I'd expect that DG may have reach an intermediate-term high. Remember, DG is up more than 50% since its December low so expectations do remain high. Based upon how DG traded heading into November, I believe we get a very good report.
Docusign, Inc. (DOCU)
It's hard to argue with software stocks ($DJUSSW). Yes, this was an extremely volatile group this past summer, but we've seen a resurgence in the industry with many new leaders. DOCU is one of those new leaders. DOCU was at a 2019 relative low in August, but since its earnings report in September, DOCU has been flying - right up to its current report due out tomorrow: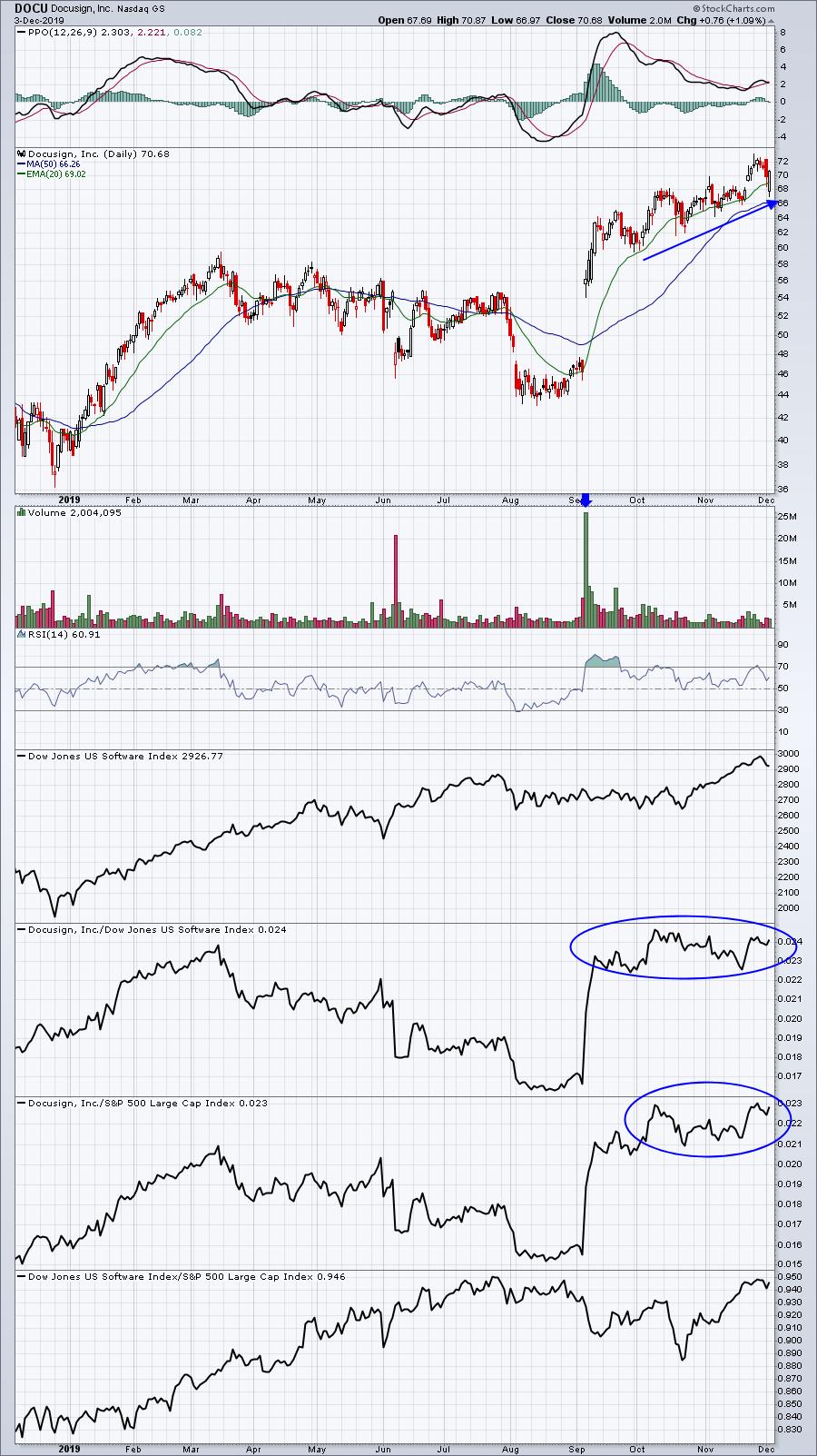 Volume trends have been solid, its industry group recently set another all-time high, and relative strength is also near a high. I'll be shocked if DOCU disappoints based on how it's traded into earnings.
This morning, in my free EB Digest newsletter, I featured a small cap company reporting this afternoon that looks solid and quite promising. If you'd like to receive this free newsletter 3x a week, focusing mostly on earnings and relative strength, CLICK HERE, provide your name and email address, and start receiving yours on Friday!
Also, come join me at EarningsBeats.com this morning for my show Trading Places LIVE. I'll be discussing relative strength among other topics. You can join me at 9am EST for free by simply clicking on this link below:
Happy trading!
Tom