Records continue to fall every day. The S&P 500 has now gained 350 points off its October 3rd low. I don't know if it's going to stop any time soon, so I'd want to remain fully invested, especially given the tremendous bullish historical period that we're in. I previously posted that the S&P 500 had moved higher from the October 27th close through the January 18th close 46 of the last 58 years. At this point, I'd say there's a very good chance we're about to make it 47 of 59.
So if you've got cash to invest, what do you do? Daily RSI on the S&P 500 is now at 73, which is overbought. Wouldn't it be best to wait on a pullback? Well, if we knew for sure we would get one, then the answer would obviously be yes. But we don't know that. Here's what we do know. Not every healthy stock is overbought right now.
Let me explain how I approach an overbought, but wildly bullish market. The first thing I do is my homework. I keep a "Strong Earnings ChartList", which currently has 363 companies on it. They all have a few things in common:
They beat Wall Street revenue and EPS estimates for their latest quarter
They are liquid (average trading at least 200,000 shares daily)
They're technically sound (in my view)
I ran scans against my SECL to determine how many of these stocks have RSIs in various ranges. Here you go.
SECL stocks with RSIs between:
90-100: 0
80-90: 5
70-80: 33
60-70: 119
50-60: 119
40-50: 63
below 40: 24
Making the assumption that all stocks are too overbought to buy is probably the absolute worst mistake that you can make during a bull market. Even if the S&P 500 sells off for a bit, money will rotate. Many leaders will sell for profit taking, while others that have been consolidating will begin to move. The above breakdown of my SECL is proof that there are TONS of stocks to consider buying RIGHT NOW!
If you're a StockCharts Extra member or above, I'll be happy to send you this ChartList for you to download into your account. Simply take out a $7 30-day trial to EarningsBeats.com and this ChartList is yours. Furthermore, as long as you're a member of both StockCharts.com and EarningsBeats.com, I'll send this ChartList to you every time it changes so that you always have the most current list of companies that meet the criteria listed earlier in this article (beat revenue and EPS estimates, liquid, and technically-sound). Again, there are currently 363 stocks on this ChartList (the most EVER!) as we head into an earnings season that I believe is going to be unbelievably strong with lots of raised forecasts!
Here are the top 10 SCTRs on my SECL as of today: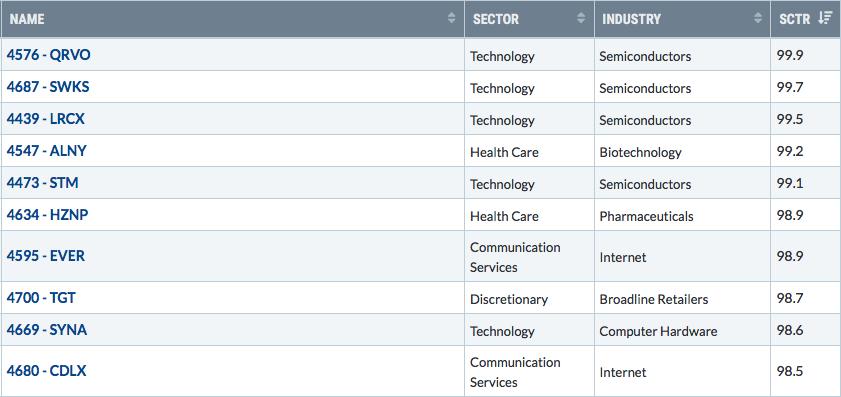 Go check out those charts and see how much they've run. The combination of strong earnings and strong technicals is powerful!
Make yourself a New Year's resolution for 2020 and check out my SECL. CLICK HERE to start your $7 30-day trial. I think you'll love it!
Happy trading!
Tom