The S&P 600 Small Cap Index ($SML) broke out again on Friday, closing above 1000 for the first time since October 9, 2018. Its all-time high close is 1098, so the index still has a lot of work to do. I believe this work is likely to be done quickly, however. First, let's look at the Friday breakout: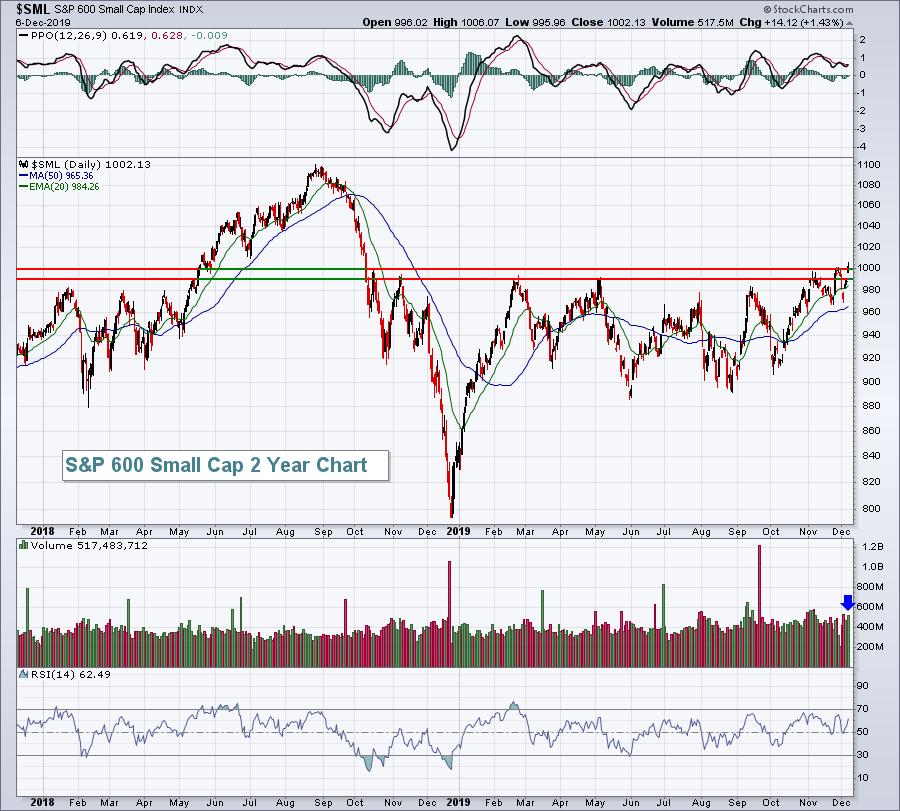 The blue arrow shows the volume accelerating to confirm this breakout. Seasonally, we know that small caps love December. Check this out: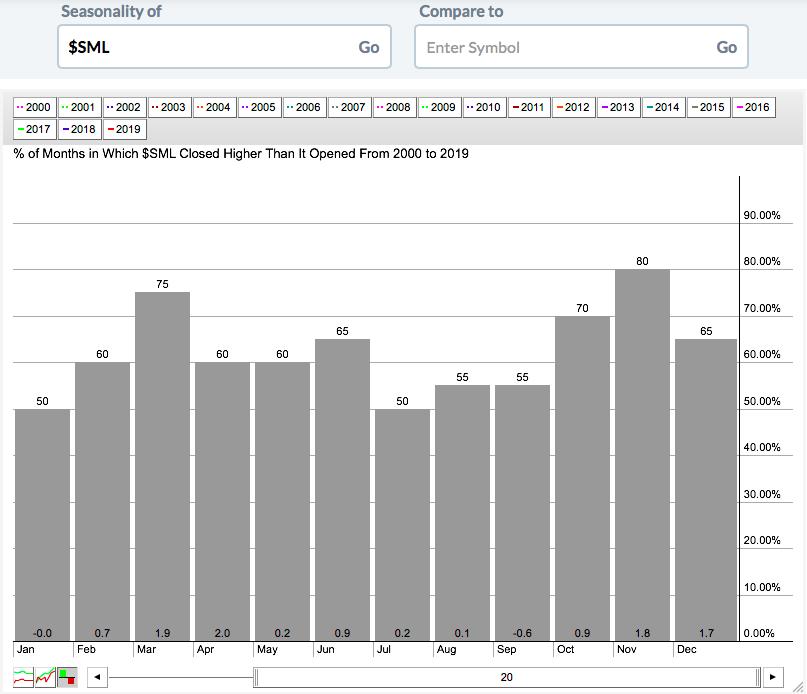 The average December return on the SML has been 1.7% over the past 20 years. On an annualized return basis, that's roughly 20%.
Most of my historical work has been done on a different small cap index, the Russell 2000 ($RUT). Dating back to 1987, the RUT has risen 26 of 32 years during December. But here's the really interesting part. We haven't hit the truly bullish part of December yet. Check out the Russell 2000's performance, split by the first half of December vs. the second half of December:
December 1-15: -8.61%
December 16-31: +67.60%
Knowing this historical information is really important when we consider that the technical conditions are setting up for a big rally as well. The IWM might not be a bad stocking stuffer.
I am updating all of my historical Excel spreadsheets on the S&P 500, NASDAQ and Russell 2000, and performing various analyses of them. I plan to share the updated results with the Market Vision 2020 and EarningsBeats.com communities over the next couple weeks. If you're not currently a free subscriber to the Market Vision 2020 newsletter, I'd strongly urge you to join.
You can join the Market Vision 2020 free newsletter HERE to attend my upcoming historical tendencies webinar, and to receive the latest updates, news, giveaways, etc. of the main event, scheduled for Saturday, January 4, 2020, featuring John Murphy as Keynote Speaker. Several StockCharts colleagues will be joining me that day to provide their 2020 "market vision" to help you better prepare financially for what lies ahead. Also, early bird registration for Market Vision 2020 is now open. The best deal to sign up is offered to MV2020 subscribers and won't last long!
Lastly, come join me this morning for Trading Places LIVE, which airs from 9:00-9:30am EST. The room is now open and you can access it simply by clicking the link below:
Happy trading!
Tom