It wasn't too long ago that no one wanted to own a drug retailer ($DJUSRD), but after the group pushed to 9 month absolute and relative highs, a few stocks in the group suddenly became fashionable once again. Perhaps the biggest turnaround came in the form of PetMed Express, Inc. (PETS), which soared after its October earnings report was released. Check it out: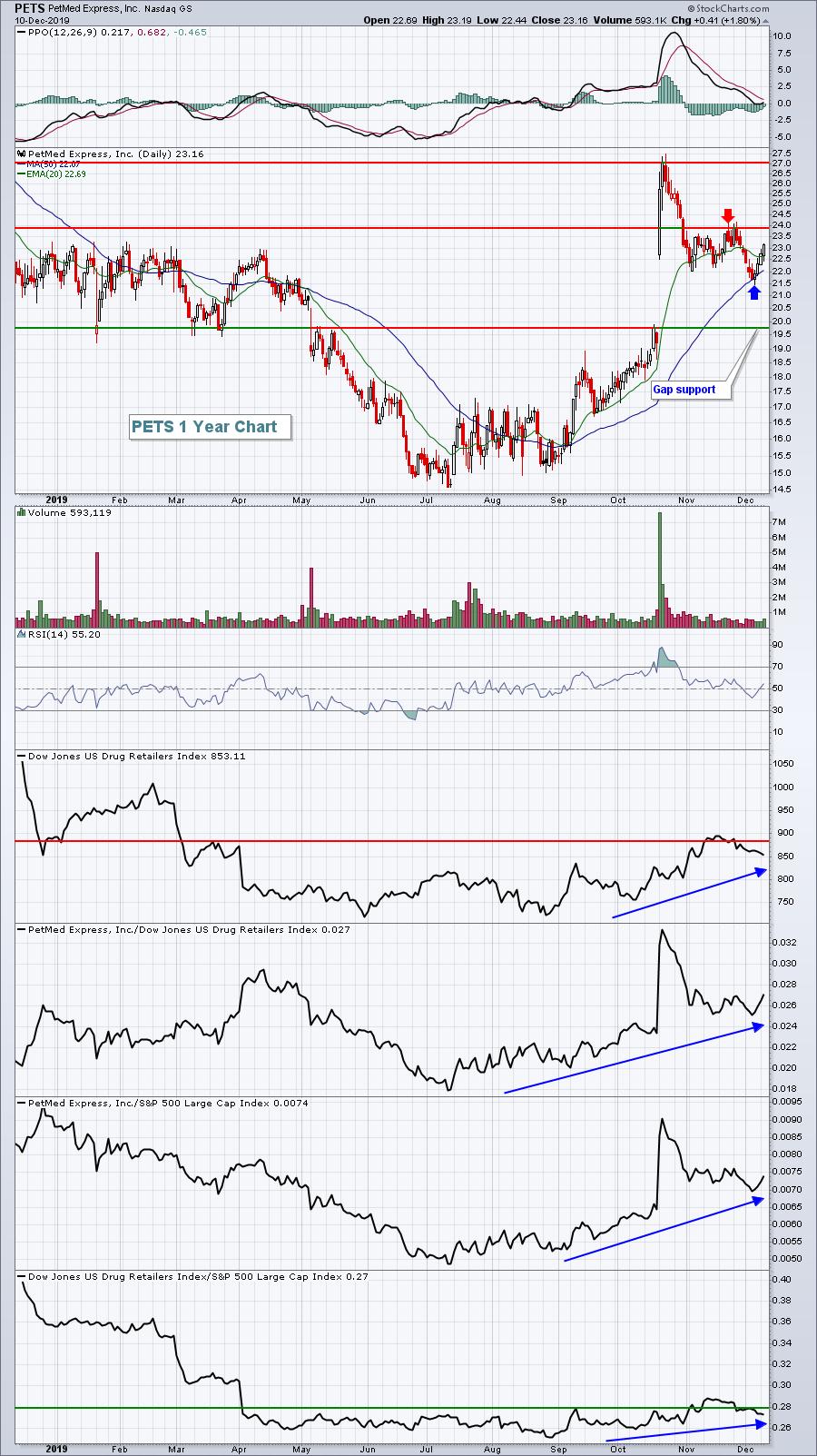 The volume was massive to accompany PETS surge in price. It's since pulled back considerably to test its rising 50 day SMA (blue arrow) and it's now climbing toward the level of its last price reaction high (red arrow). A breakout there would be a very good signal.
A much larger drug retailer resides in the Dow Jones - Walgreens Boots Alliance (WBA). It's pulled back from 63 to test gap support at 58.80 on lesser volume: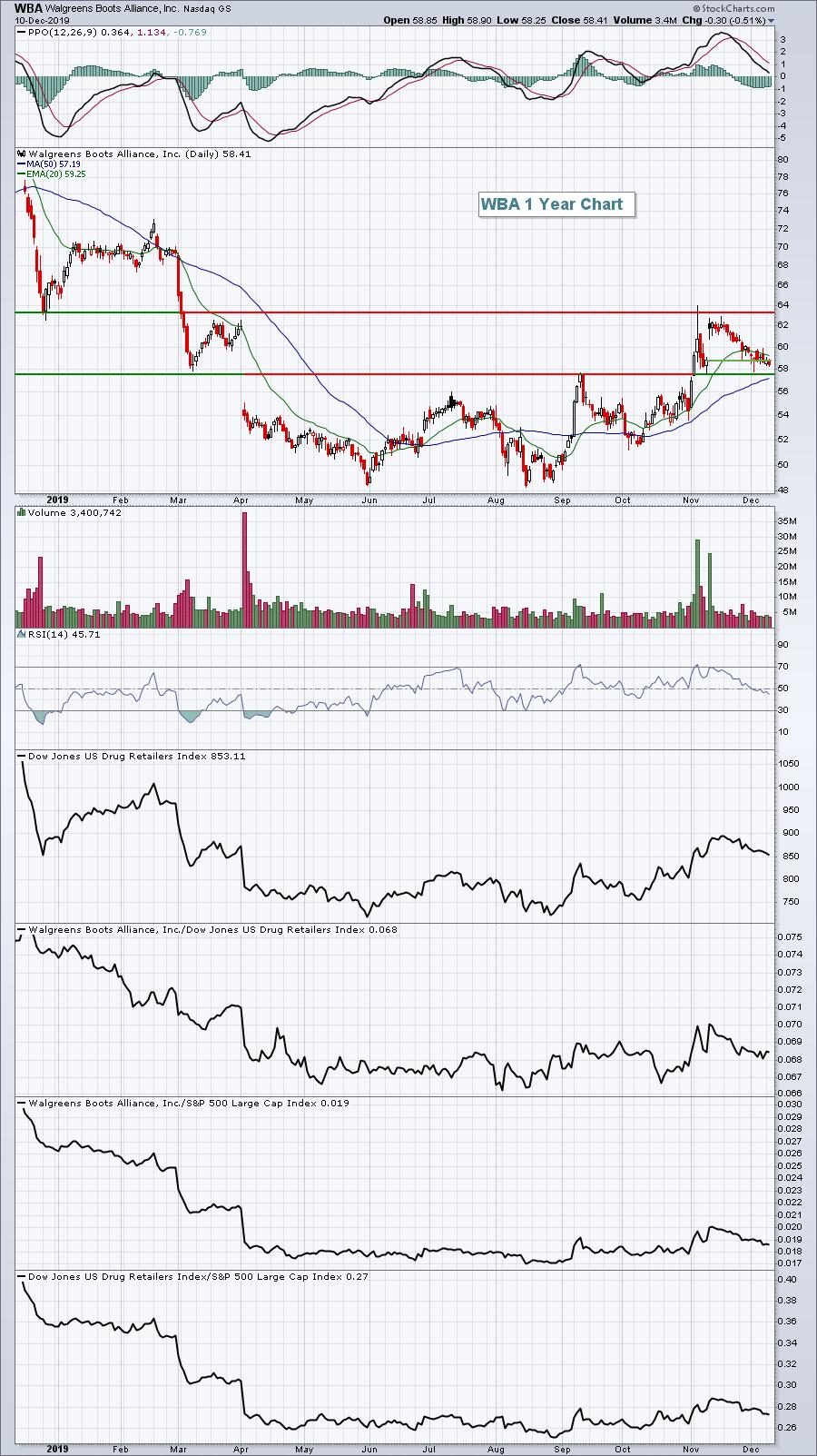 The short-term breakout above the September high is at 57.63 and the rising 50 day SMA is currently at 57.19. Both of these levels should offer up support, in addition to the gap support at 58.80. Furthermore, if we step back and look at the weekly chart, we have buy signals there as well: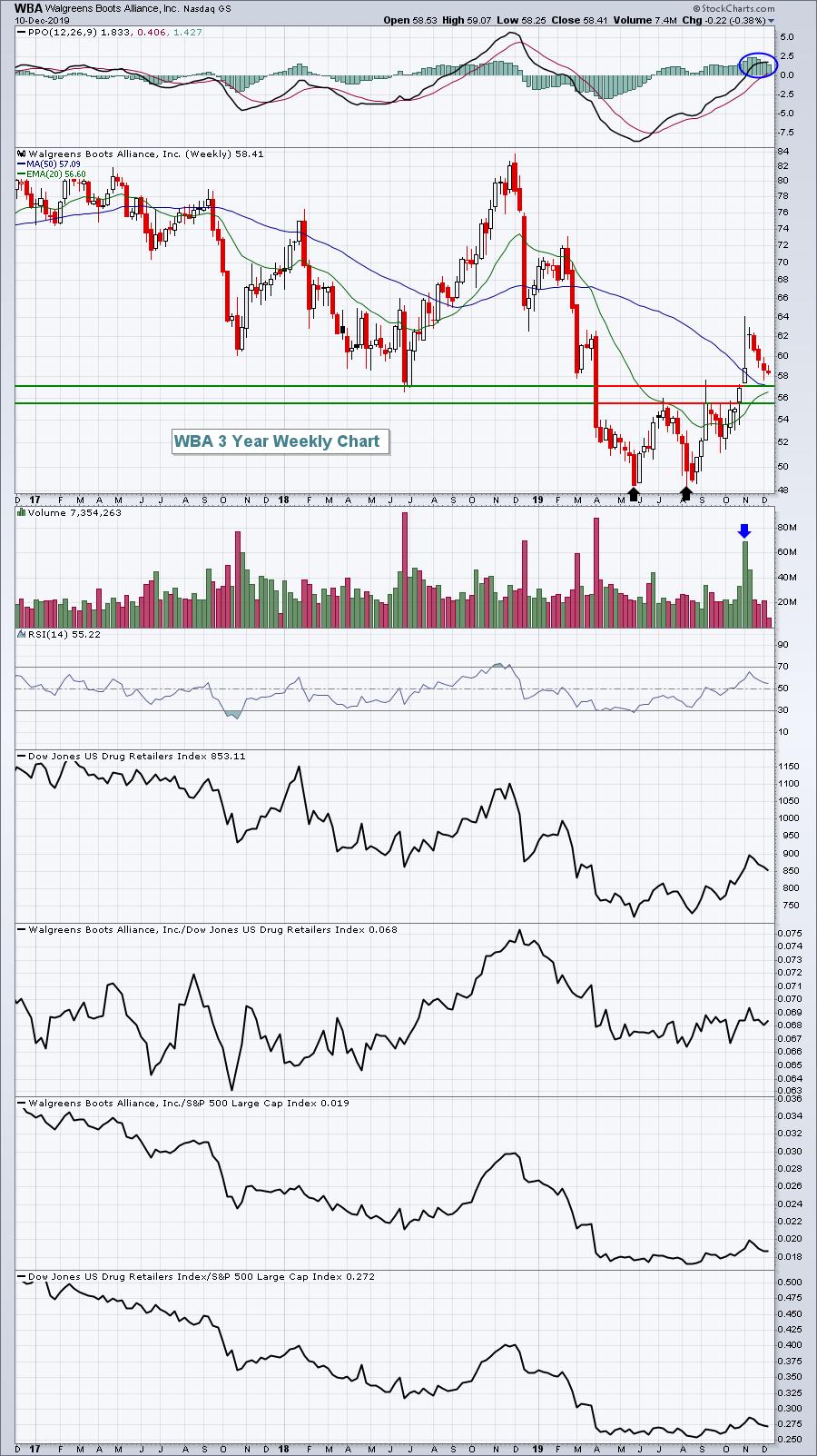 I could make a strong case that WBA is now uptrending. That double bottom (black arrows) sets a bottoming pattern that confirms when the high between the two bottoms is cleared. That occurred roughly in the 55-56 area, which now provides support from a longer-term perspective.
The bottom line is that WBA should see tons of buyers emerge from the current price down to 55.00, where you can draw a line in the sand. In the current "no trading commissions" environment, buying a smaller number of shares frequently on dips is a new trading strategy since we don't have to worry about the cost of commissions. It could work beautifully here.
I will have a special Monday event (4:30pm EST) for the EarningsBeats.com community, detailing how these changes benefit those of us who like to trade frequently. I'll also show you a practical approach to how you can participate in the Model, Aggressive, Income, and Value portfolios, ALL of which have outperformed the benchmark S&P 500 since their respective inceptions. We'll send out instructions for joining us on Monday, but you'll need to have at least a free EB Digest membership or be a free subscriber to our Market Vision 2020 newsletter.
Click on either (or both) of those links, sign up, and join me on Monday! I look forward to seeing you!
Finally, one last thing. Follow the link below and join me this morning for my Trading Places LIVE show at EarningsBeats.com. It runs from 9:00am-9:30am EST and today I'll be bringing back an old segment, Anatomy of a Trade, where I'll show you a couple of current live trades that I have right now. I'll explain why I bought, what I'm looking for, and, most importantly, what would tell me to sell. Here's the link:
Happy trading!
Tom