Executive Market Summary
Futures were relatively flat today, but we have seen some slight selling to close out a very solid 2019
Small and mid caps are leading on a relative basis and clinging to fractional gains
All sectors are fairly flat to close out the year
Gold ($GOLD) and renewable energy ($DWCREE) are industry leaders today
One of our alerts, TPX, was stopped out with a nice gain at Monday's close; VC is higher today
Market Outlook
I've spoken on many occasions of how important it is for transportation stocks ($TRAN) to do well. It's an unmistakeable sign of improving economic growth or expected improvement. One encouraging signal in this respect relates to truckers ($DJUSTK), which appears to me to have broken out of a bullish wedge pattern on its daily chart: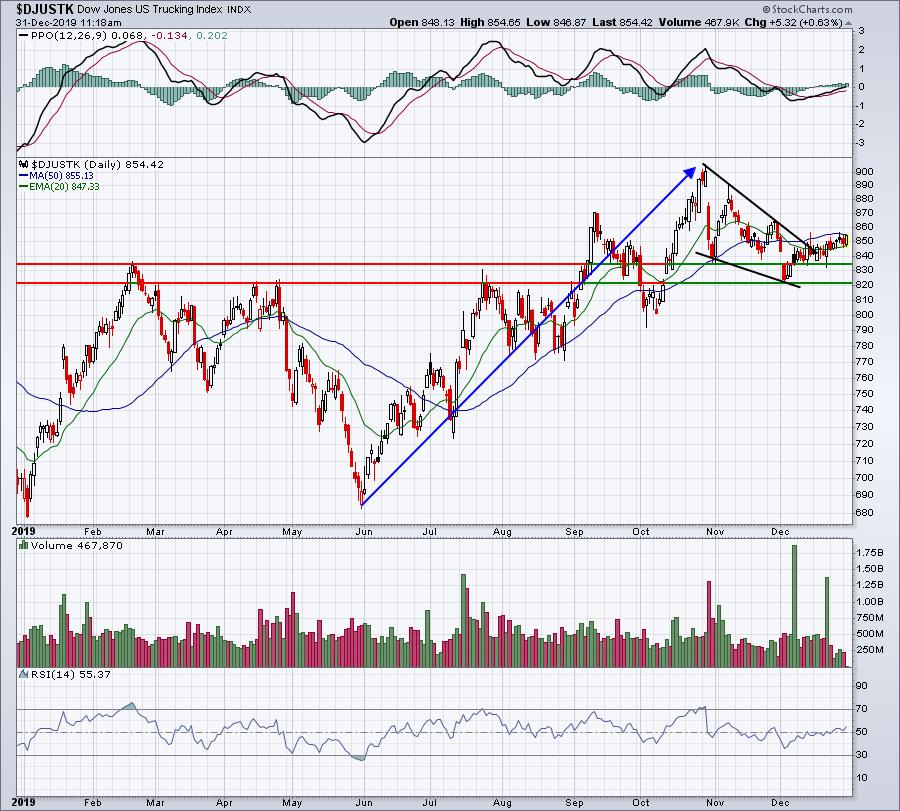 A further advance past short-term price resistance at 865 would add to the bullishness of this chart and to the transportation area as a whole.
I think it'll be important to watch transportation stocks very closely as we open 2020 as they could very well be the "x factor" in another stellar stock market year. But what does the consensus of StockCharts.com analysts believe? Well, we'll find that out on Saturday in the premier online financial conference of the year, "Market Vision 2020". Join John Murphy, Chief Technical Analyst here at StockCharts.com and several other familiar names at StockCharts.com for a one day conference into what 2020 might look like. Here are the details:
Market Vision 2020
Date: Saturday, January 4, 2020
Time: 8:45am EST to 6:00pm EST
Recording available to attendees? Yes
Registration information: CLICK HERE
Speakers:
John Murphy
Arthur Hill
Julius de Kempenaer
David Keller
Greg Schnell
Mary Ellen McGonagle
Erin Swenlin
Bruce Fraser
Tom Bowley
Sector/Industry Focus
All 11 sectors are within a very tight range of +0.25% to -0.25% as we close out 2019.
The top 3 industry performers of 2019?
Renewable energy ($DWCREE)
Computer hardware ($DJUSCR)
Specialty finance ($DJUSSP)
Active Trade Alerts
We have two active trade alerts currently:
TPX (+0.48%) - reports earnings on February 12. TPX stopped out on the close yesterday as it closed beneath its 20 day EMA. I still like the stock, but we wanted to be disciplined to take profits. If you continue to hold, pay close attention to this long-term weekly chart as a breakout would be extremely bullish: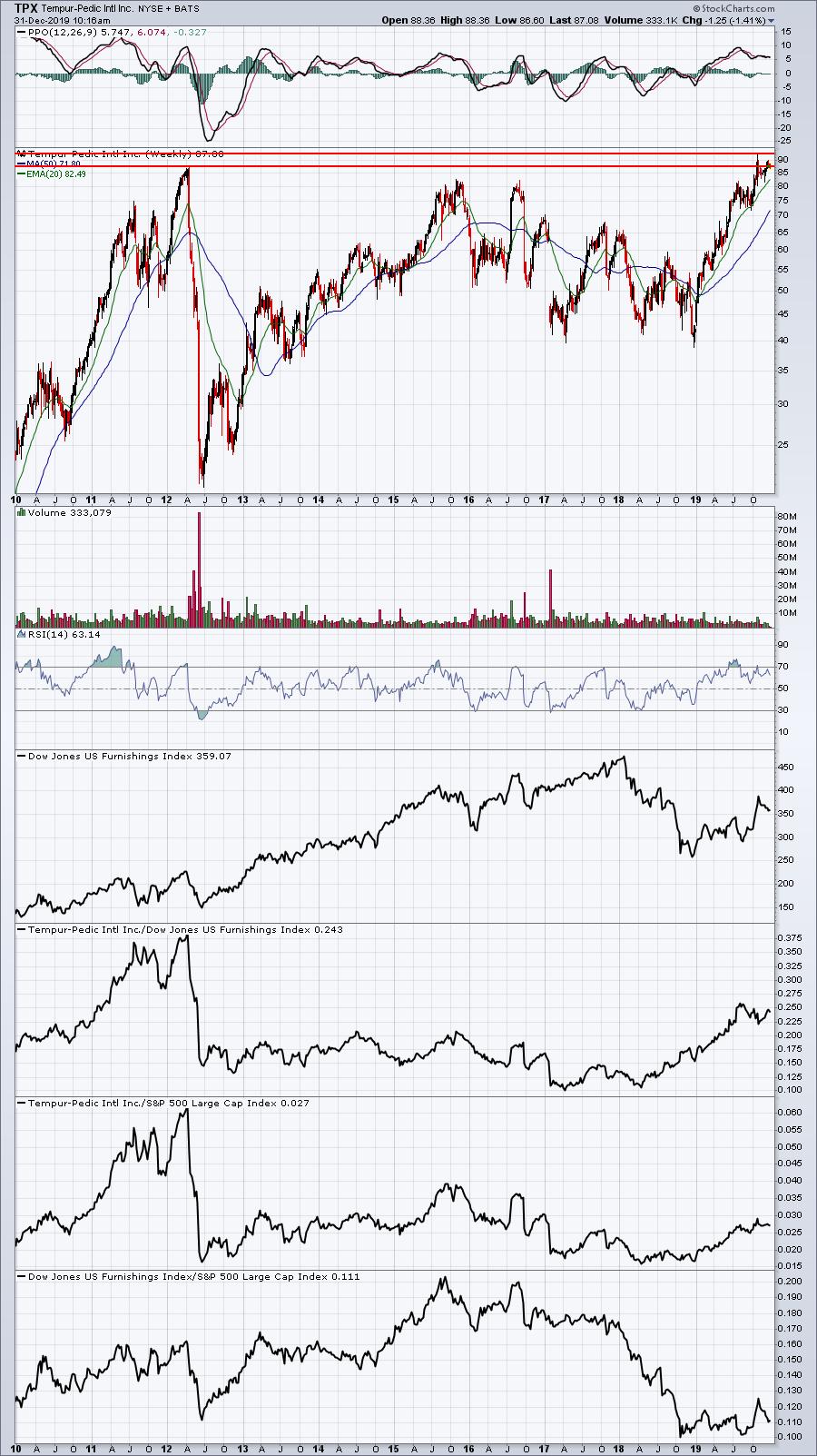 88.00-92.00 is key overhead price resistance. The good news is that TPX is near its highest relative price level in 7-8 years.
VC (+1.01%) - reports earnings on February 19. VC is bouncing a bit today, but its first test will be at the declining 20 day EMA, currently at 89.57.
Strong Earnings ChartList (SECL)
Our SECL currently has 363 annotated charts on it - these are companies that have beaten Wall Street consensus estimates as to both revenues and EPS in their latest quarterly earnings reports, are liquid (typically trade at least 200,000 shares daily on average), and look solid technically. If you're both an EarningsBeats.com member and also a StockCharts Extra member (or above), and you've sent us your User ID at StockCharts, we'll send you this ChartList as part of our EarningsBeats.com service, and you can download it directly into your SC account. If for some reason, you haven't received a copy, be sure to write us at "support@earningsbeats.com", provide us that User ID, and we'll make sure you receive a copy.
If you're not currently an EarningsBeats.com member, but would like to try us for 30 days, there's only a $7 charge for your first 30 days. CLICK HERE to sign up and start your trial today! For a limited time, there's even better news. We'll refund the $7!!! So try out our entire service for free for 30 days! That will include receiving all 40 stocks in our 4 portfolios - Model, Aggressive, Income, and Value, our Strong Earnings ChartList and receiving my Daily Market Report every day the stock market is open.
Today I ran a high volume scan of the SECL, searching for companies that have already traded at least 40% of their normal daily volume as of 10:55am EST. Here they are:

Here's a technical look at the two with the highest SCTR scores:
SCWX: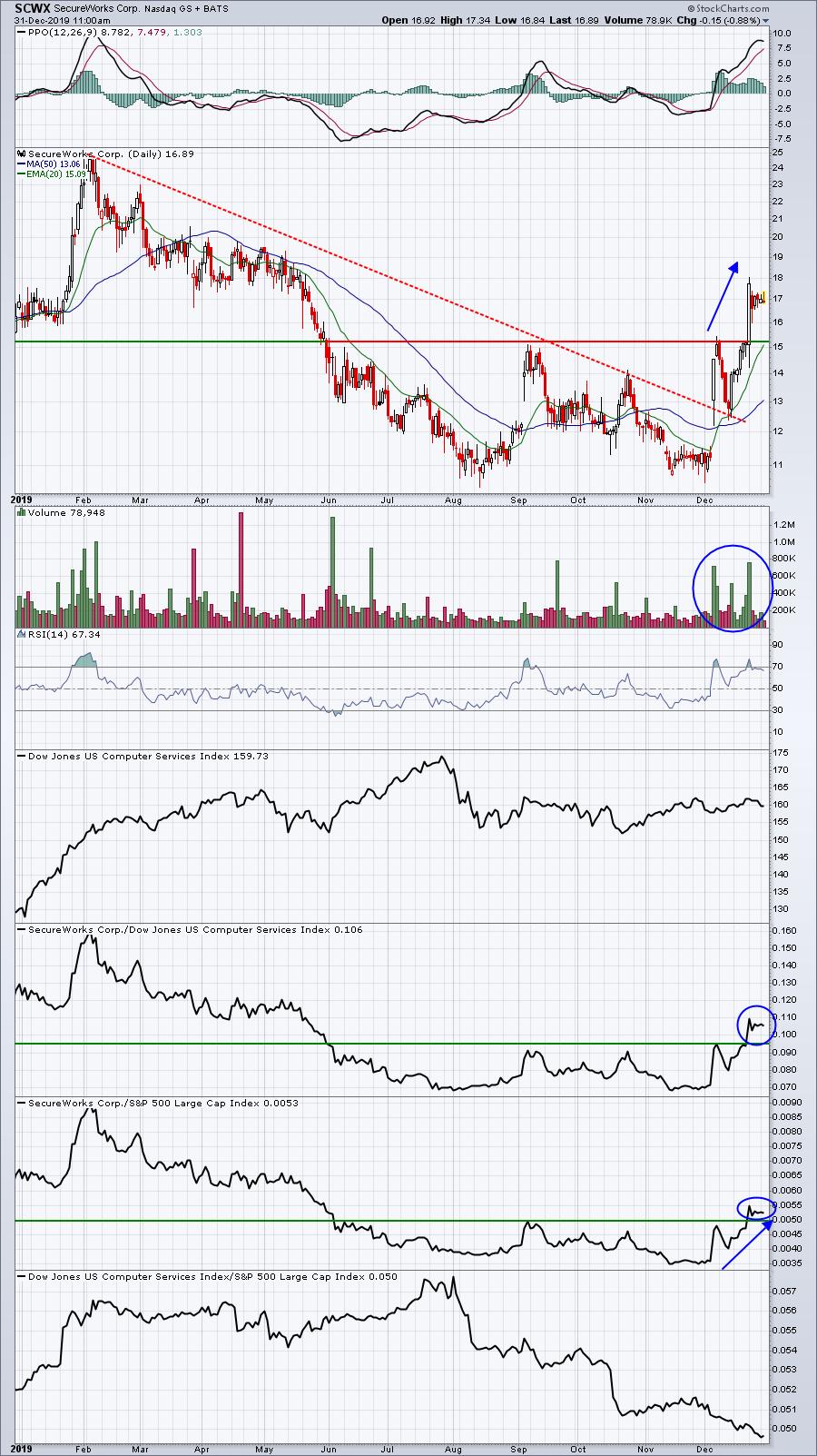 I often refer to stocks showing a "character change" on their charts. Well, that typically comes in the form of a high volume gap that reverses the prior trend. In this case, SCWX had been in an extended downtrend, but the December action has reversed that trend. A 20 day EMA test could provide an excellent entry into SCWX.
DISCA: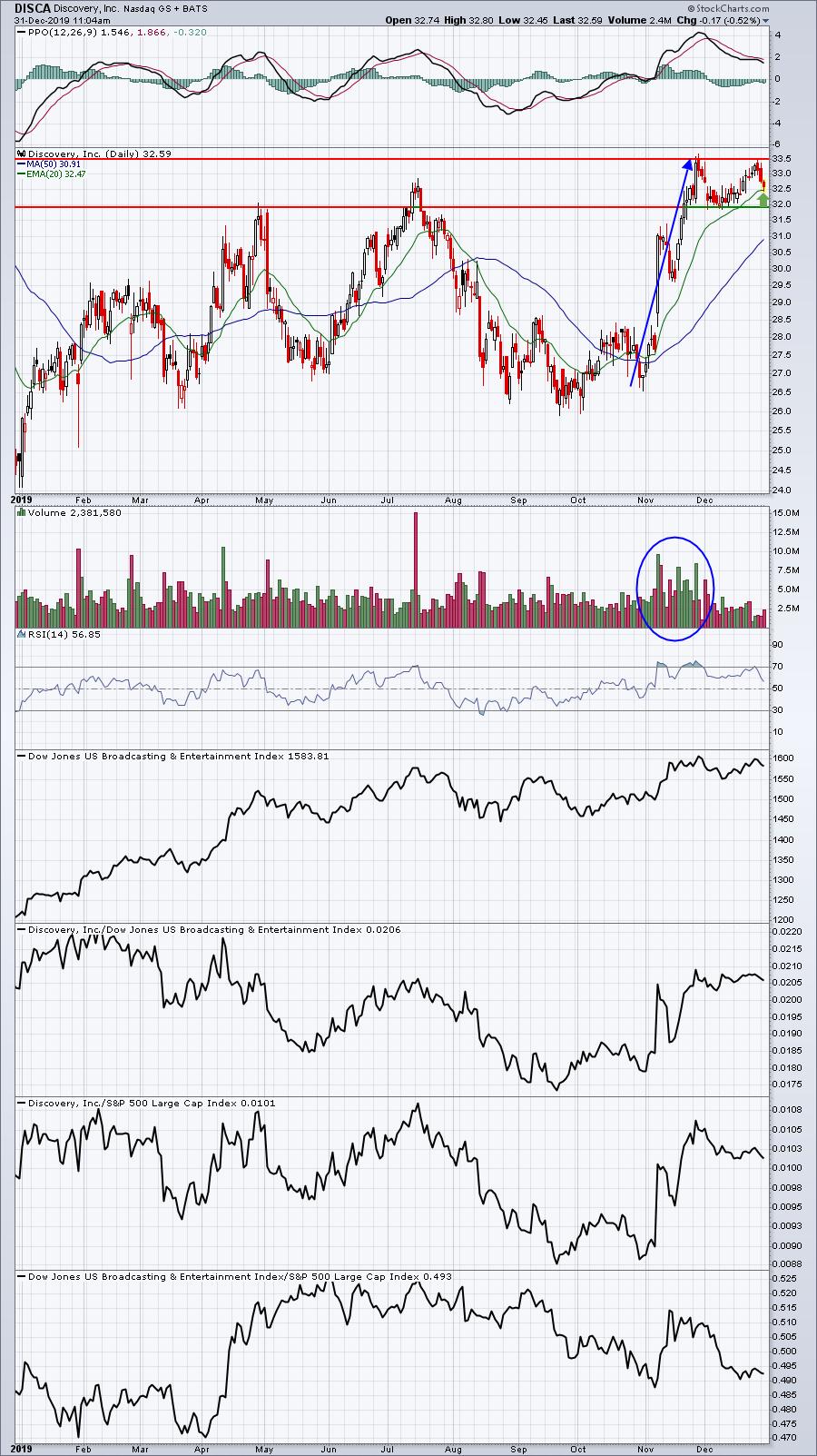 The November action here was very bullish. Since then, we've seen DISCA challenge, and fail at, its prior price resistance. I expect further consolidation, but ultimately another breakout. Look for price support near 32 to hold.
Movers & Shakers
I ran a scan of U.S. stocks with SCTR scores above 50 and RSIs between 40 and 45 and received 5 results as follows:
DHI, EW, KIM, PSX, VLO.
The purpose of the scan was to find stocks in the top half of a relative strength ranking (SCTR), but showing a pullback. An RSI reading of 40-45 is generally consistent of a strong entry area for relatively strong performers. Here are two that are interesting:
PSX:
PSX is currently trending lower, but the bigger picture shows possible up channel support (blue-dotted lines) being tested. A break to the upside out of the shorter-term down channel (red-dotted lines) would be bullish as overall volume trends are strong, in my view.
VLO: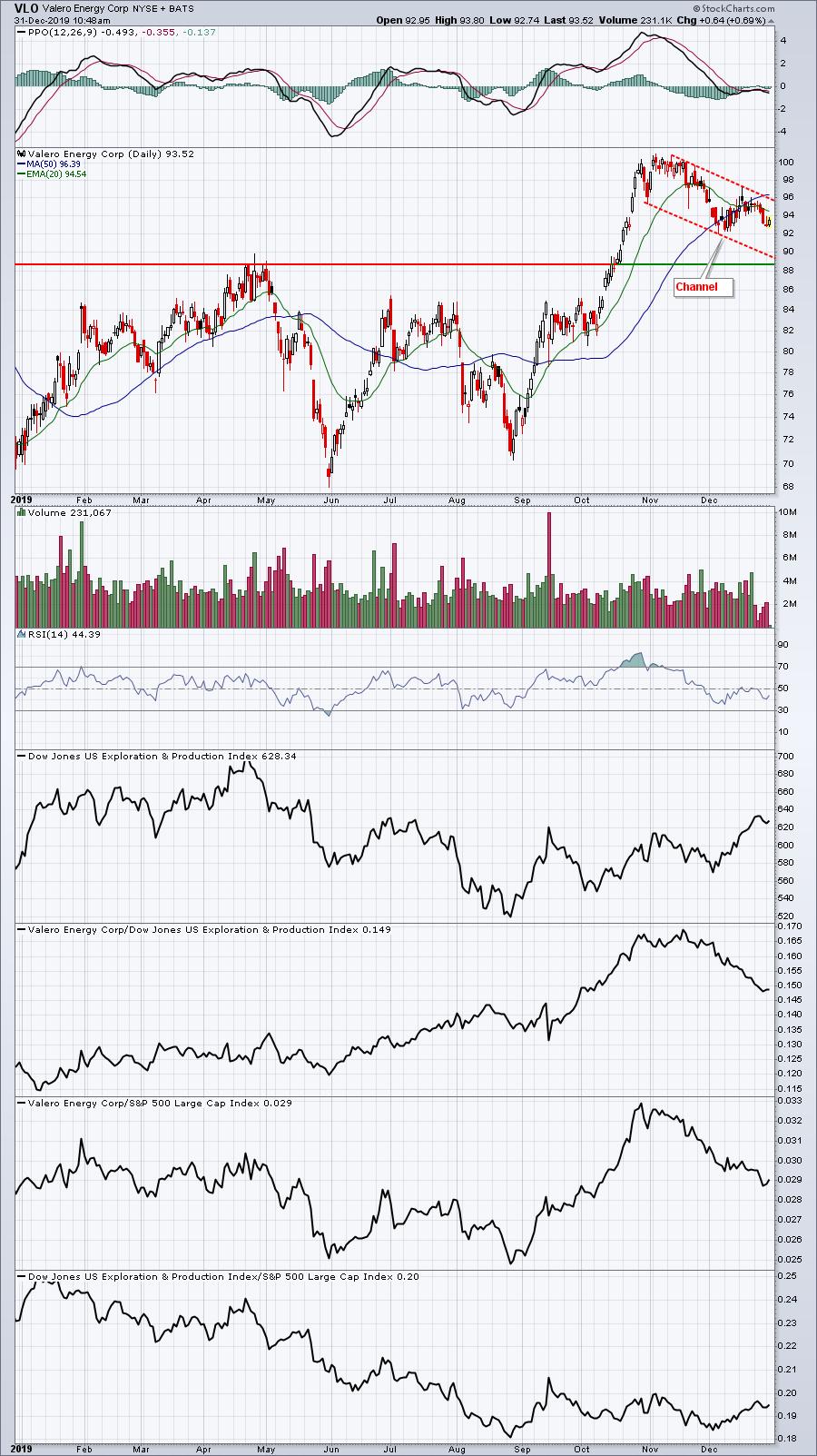 VLO had been very strong throughout much of 2019, but it's currently mired in a down channel. I'd need to see this channel break to the upside or price action hit support closer to 88.50-89.00 before I'd be more interested.
Earnings Reports
Here are the key earnings reports for this week, featuring stocks with market caps of more than $5 billion. I also include a few select companies with market caps below $5 billion. Finally, any portfolio stocks (or active trade alerts) that will be reporting results are highlighted in BOLD. Please make sure you check for earnings dates for any companies you own or are considering owning:
Tuesday, December 31:
None
Wednesday, January 1:
None
Thursday, January 2:
None
Friday, January 3:
LW
Economic Reports
October Case Shiller house price index: +0.4% (actual) vs. +0.4% (estimate)
December consumer confidence: 126.5 (actual) vs. 128.2 (estimate)
Happy trading!
Tom