In my last article, I discussed the possibility that we could see a short-term top form and many of those warning signs continue to persist. Of course, in a secular bull market advance, trying to predict short-term tops can be a constant disappointment as prices seemingly rise every single day. Whether we see a period of falling or consolidating prices remains to be seen, but I do believe we are about to embark upon an earnings season for the ages. I suspect many companies will beat expectations. Perhaps more importantly, many will raise guidance and that will set the stage for a continuing rally.
Small caps ($SML) and transports ($TRAN) have broken out, as I've predicted. The significance is very important as the breakout of these two groups has historically fueled a MAJOR stock market advance. I truly believe we're in the early stages of a runaway market. Any pullback will likely be short-lived and provide great trading opportunities.
Three months ago, after returning to EarningsBeats.com as its Chief Market Strategist after 4 1/2 years here at StockCharts.com as Sr. Technical Analyst, I held a webinar, "Potential Opportunities", where I discussed 15 stocks that I had offered to EarningsBeats.com members as likely beneficiaries of the upcoming earnings season. Clearly, I had no idea what these companies would report, but I used the charts to help me predict solid reports from each of these 15 companies. Many of them did later report stellar results, but not all of them.
The S&P 500 has climbed 10% over the past three months, so I thought I'd go back and check to see how these 15 stocks performed over that same time period. Again, this is from a time just prior to their quarterly earnings reports. Here's how the entire group of 15 have performed over the past three months: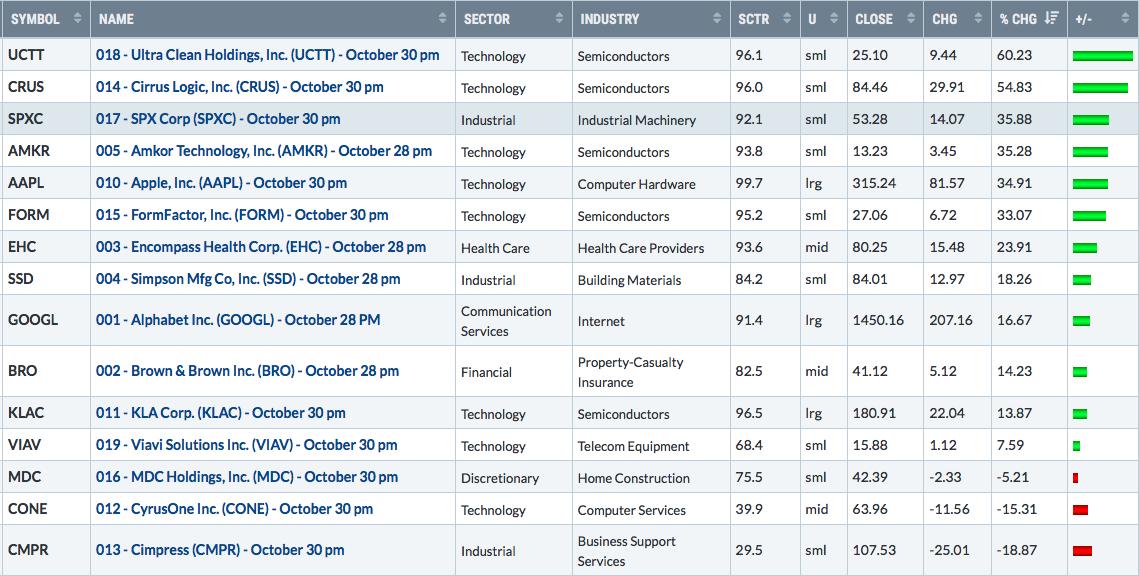 11 of the 15 have outperformed the S&P 500, several significantly so. Here were the two big winners and how they looked heading into their quarterly reports:
UCTT:
CRUS: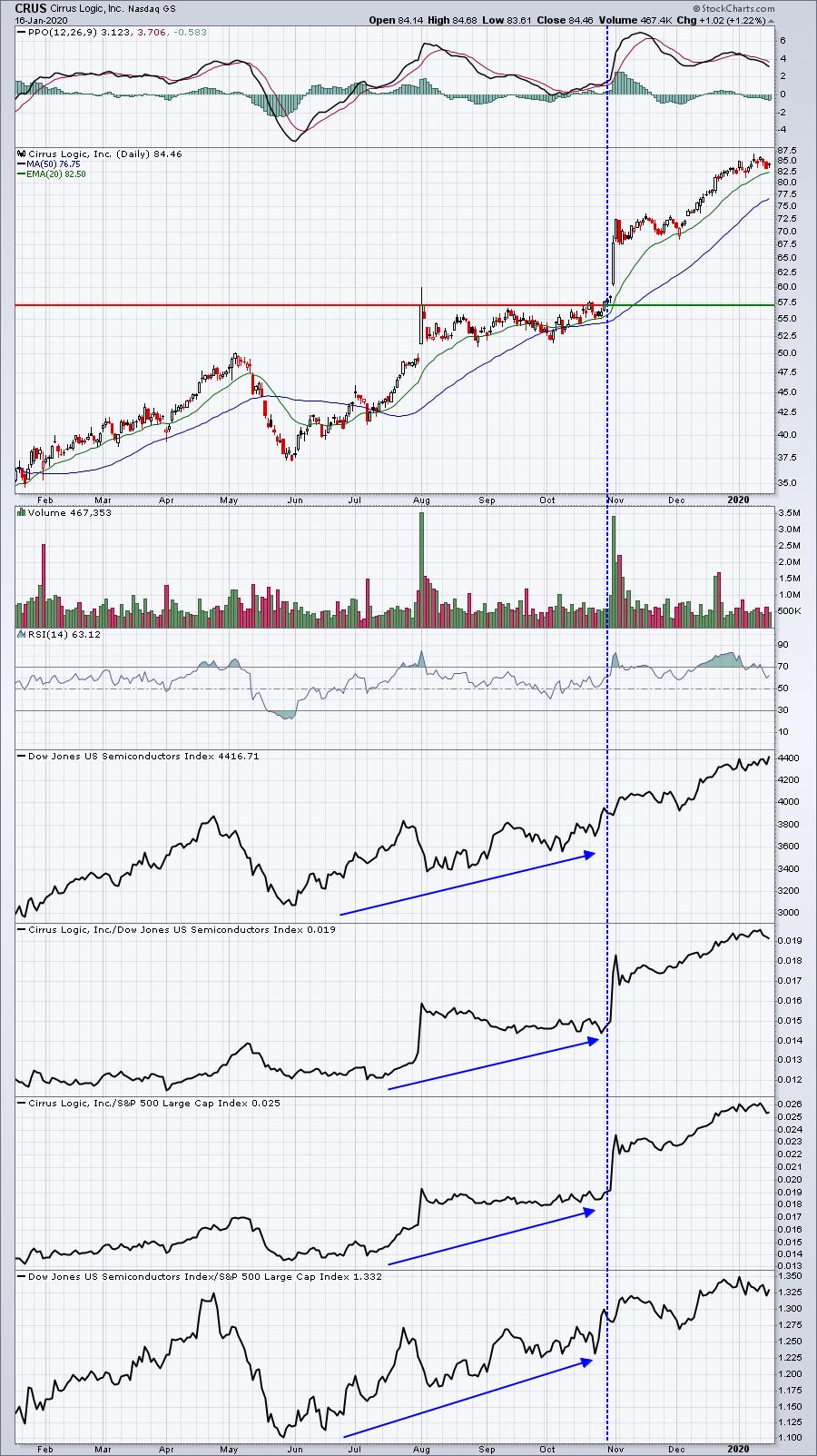 These were both semiconductor companies. The group was strengthening and UCTT and CRUS had become leaders, breaking to new relative highs. They've continued to provide leadership, which is why I often discuss the importance of sticking with leaders.
It's important to note, however, there were also companies that did not follow through even though their charts suggested at the time that they would. So this is certainly not a fool-proof way of anticipating great results. But the results were much better than a 50-50 coin toss.
I'm planning to go through this exercise once again on Tuesday and I'm making it available to everyone for FREE. The only thing I ask is that you be part of our EarningsBeats.com community, which includes our free newsletter, EarningsBeats Digest (EBD). We will send out room instructions to our paid members, as well as our free subscribing EBD members. Simply sign up HERE and we'll make sure to save you a seat at Tuesday's webinar, which will begin promptly at 4:30pm EST.
Hope to see you there!
Happy trading!
Tom