Every 3 months, on February 19th, May 19th, August 19th, and November 19th, we host our own version of a "Draft Party". It's the most exciting day of the quarter for us at EarningsBeats.com. The anticipation has been building for weeks, and for good reason. Can we keep our unbelievable streak of outperforming the S&P 500 alive? We're not just edging the S&P 500, we're smoking it! Tomorrow marks the end of our 8th quarter of "drafting" 10 equal-weighted stocks for our Model portfolio. Here are our prior results for our flagship Model Portfolio vs. the benchmark S&P 500: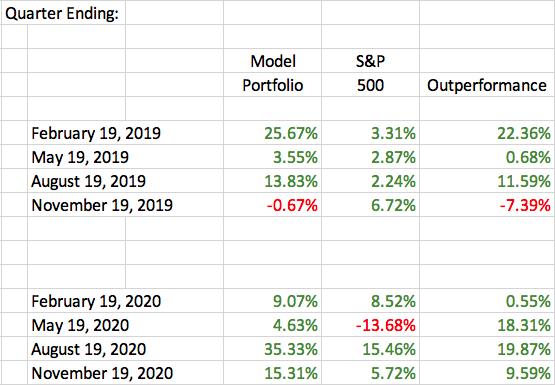 Not only has our Model Portfolio beaten the S&P 500 in 7 out of 8 quarters, but it's outperformed by more than 10 percentage points in 4 of those quarters. And if Thursday is kind to our Model Portfolio stocks, we could see that grow to 5 out of 8 quarters where we've beaten the S&P 500 by more than 10 percentage points. To put all of this in perspective, here is what $100,000 invested on November 19, 2018 would have become following the Model Portfolio vs. investing in the benchmark S&P 500:
Model Portfolio: $262,060
S&P 500: $133,600
I always have to mention that past performance does not guarantee future results. Also, I'm not a Registered Investment Advisor (RIA). We provide a research platform and education for our members. The rest is up to each individual member. Still, I believe this is confirmation that our strategy of following Wall Street and leading stocks in leading industries works. Strong fundamentals plus strong technicals, including excellent relative strength, equals outperformance. That's our recipe.
But, I also know we're only as good as our next pick or our next portfolio. The next quarterly draft is now beginning and we're on the clock! The good news is that we have ALL the draft picks! With the entire stock market universe waiting in the wings, we should be able to find 10 excellent choices.
There are probably 25-30 industry groups among 5-6 sectors that I'm really interested in. I'll give you two industries that have soared to the top of my list recently. These two look great:
Commercial Vehicles & Trucks ($DJUSHR)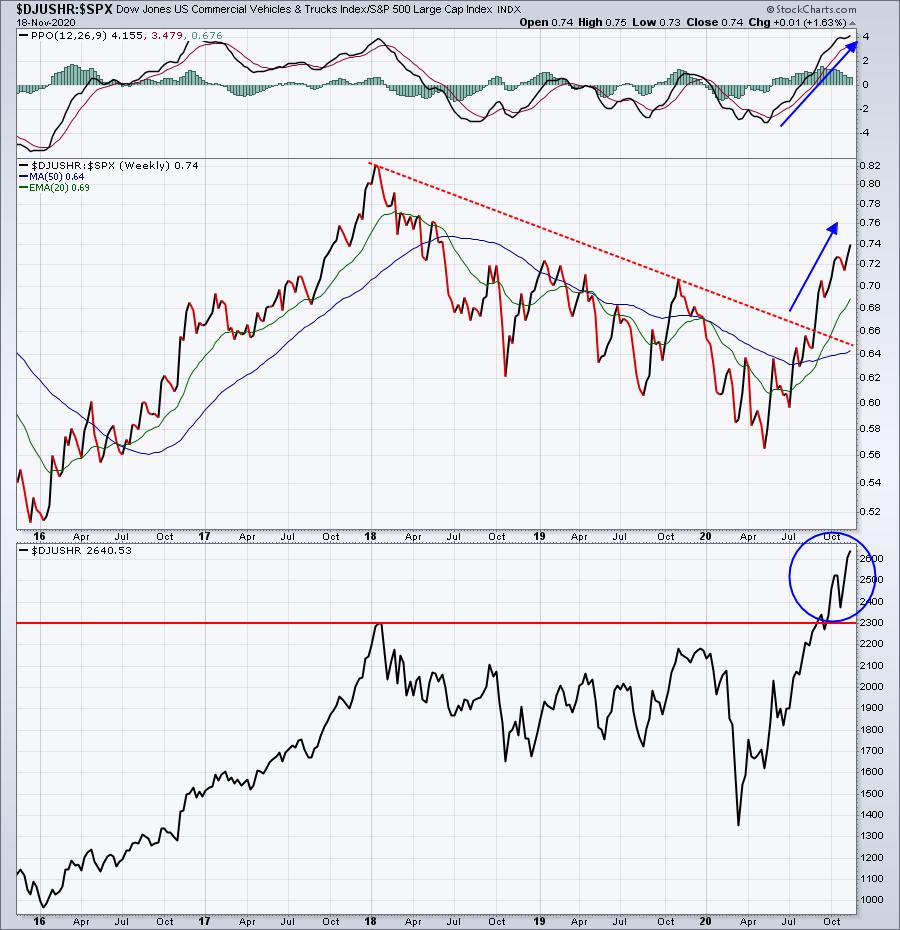 The 2 1/2 year relative downtrend line vs. the S&P 500 was definitively broken during Q3 and the group continues to lead. It also just enjoyed an absolute price breakout (blue circle). We could see a bit of short-term profit taking, but overall I look to the DJUSHR to be one of our leaders over the next 3 months. We will have representation in our portfolios from this area of the market without a doubt.
Footwear ($DJUSFT)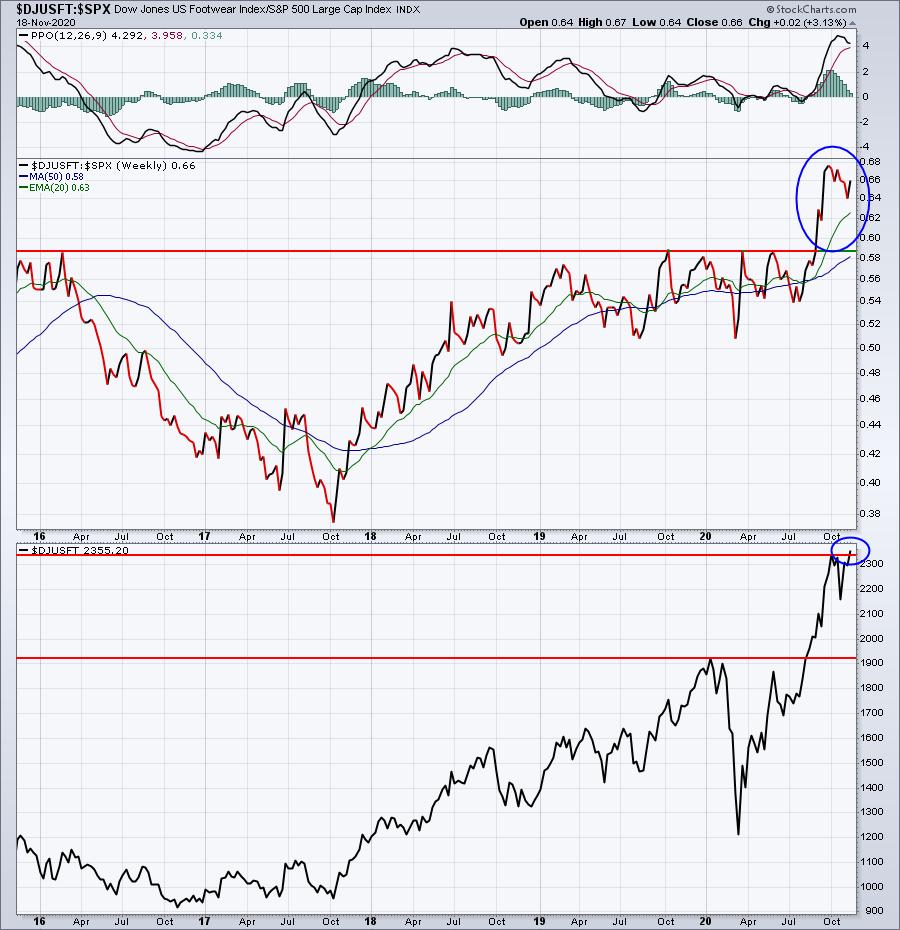 Footwear also surged during Q3 to easily break above an area of relative resistance that had been extremely difficult to penetrate. I believe that is setting up stocks in this space for a further rally in the 3 months ahead. I already have a couple stocks in this space on my radar and it's likely that one or both will be included in the various portfolios.
THE EVENT
I am really looking forward to "The Draft" this quarter. We're in all-time high territory and I believe this secular bull market is just getting started. I'm incredibly optimistic and Wall Street now seems to be looking beyond COVID-19, which is exactly what we all want to do. While the virus itself may rage on for a few more months, Wall Street is already rotating into stocks that will benefit from life AFTER the virus. We plan to do the same.
Mark your calendar for 5:00pm ET today. That's when "The Draft" begins. It's available only to EarningsBeats.com members, but no worries. We have a fully-refundable $7 30-day trial that saves you a seat to this very exciting webinar and I'd love to have you join us. CLICK HERE to get your membership started and we'll be sure to send out room instructions to everyone this afternoon. Can't make the live event? No worries there either, as we'll record the webinar and make it available to you at your convenience.
If you have any questions, feel free to contact us at "support@earningsbeats.com".
Happy trading!
Tom