I developed my Pandemic Index several months ago to track the progress of the 10 worst performing industry groups during the onset of COVID-19. It's an equal-weighted index of those 10 industries and I track it using StockCharts.com's User-Defined Index tool. Here's how this index has performed on both an absolute and relative basis throughout 2020:
Pandemic Index (absolute performance):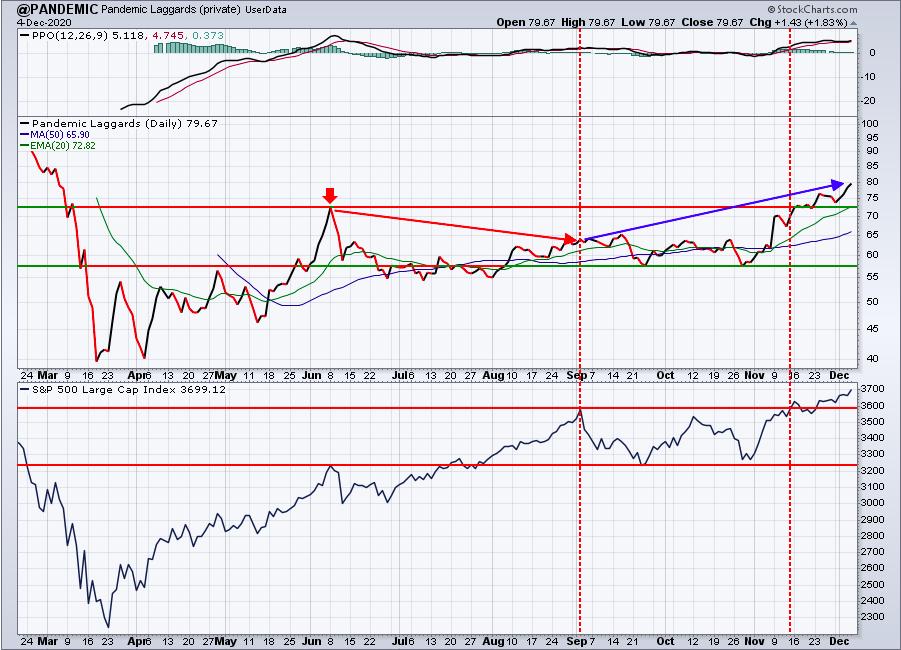 The initial phase of key rotation into the Pandemic-stricken areas began in early-September, in my view. The two vertical red-dotted lines show you the S&P 500's top in early-September, by followed by the S&P 500 revisiting that level in mid-November, after the positive vaccine news was released. My Pandemic Index rose during these 10 weeks, while the S&P 500 was flat. The real strength began in late-October. My guess is that Wall Street knew the vaccine news was about to hit and began accumulating shares that would be most positively impacted in the near-term. I think the relative performance will show you this late-October strength kicking in.
Pandemic Index (relative performance):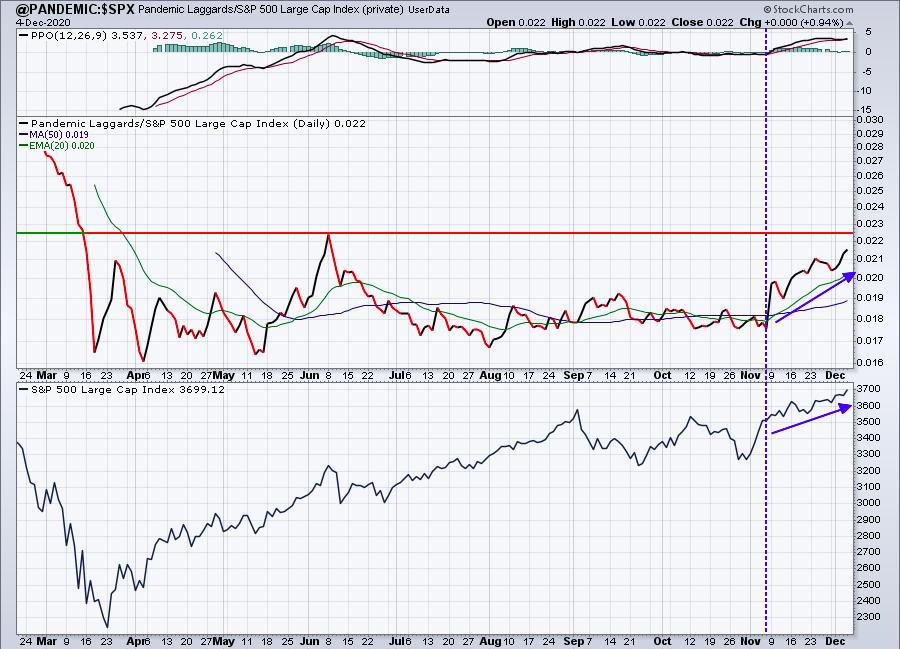 Clearly, the positive vaccine news in November has had a bullish impact on these groups.
But....there's still one group in my Pandemic Index that has not cleared its June price high - Retail REITs ($DJUSRL):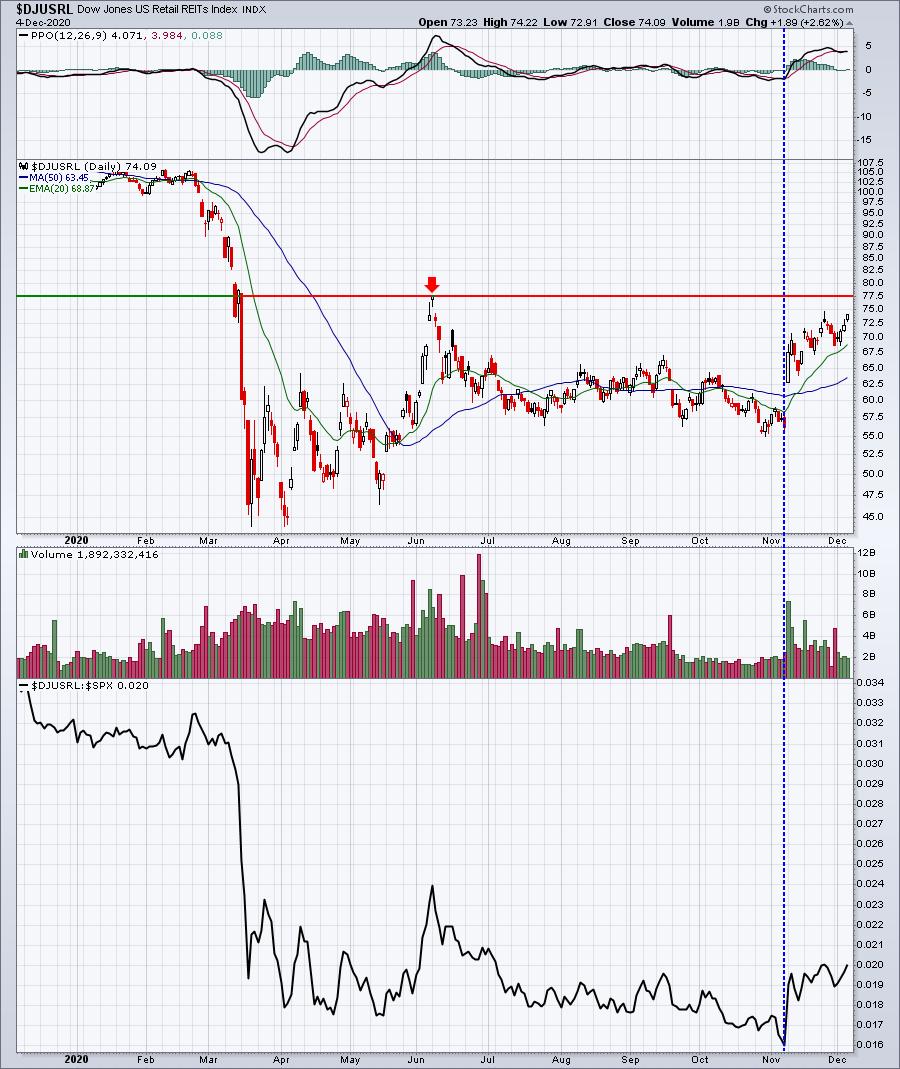 Just prior to the initial piece of positive vaccine news on November 9th, the DJUSRL was trading at a fresh 52-week relative low vs. the S&P 500. I'd argue that Wall Street is telling us that this group is one that you really want to avoid. December might represent "the great escape". Real estate (XLRE), in general, loves the month of December. The DJUSRL has the tendency to perform very well in December as well. Beyond December, however, it all changes. Check out this relative seasonality chart: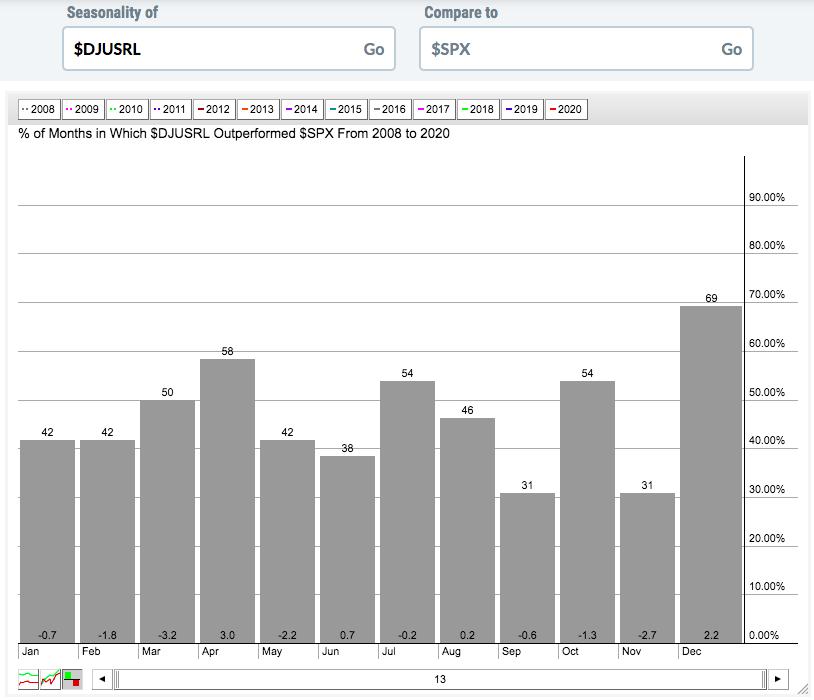 The DJUSRL has outperformed the S&P 500 in 9 of the last 13 Decembers and it's outperformed that benchmark by an average of 2.9% per December. Therefore, seasonality is adding to the short-term bullishness of the DJUSRL. But as I look ahead, January through March shows nothing but relative weakness. Therefore, any strength generated in the DJUSRL in December could suggest we "take our money and run".
I prefer December seasonality that extends into the next year. In fact, I have an individual stock that I'm featuring in our FREE EB Digest newsletter on Monday morning that sets up seasonally exactly in that fashion - strong December relative performance, followed by excellent January performance as well. If you'd like to see the stock, simply join our EarningsBeats.com community. CLICK HERE to get your FREE EB Digest newsletter subscription started. There's no credit card required and you may unsubscribe at any time.
Happy trading!
Tom