Yesterday, in my Daily Market Report to members, I pointed out three of the Dow Jones component stocks that were showing leadership, or in Apple's (AAPL) case, a return to leadership. While it isn't very apparent on AAPL's own price relative chart vs. its peers and the benchmark S&P 500, the RRG shows a different picture and may be giving us an early clue ahead of AAPL's next big advance in record high territory: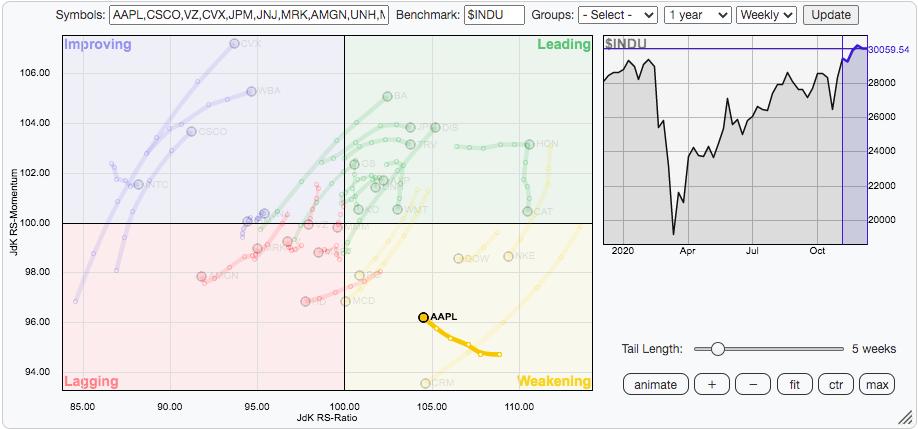 This was the chart from yesterday and it's a weekly chart, which moves slower than the daily chart. You might be surprised, but AAPL has moved into the leading quadrant on the daily chart, so rotation clearly seems to be benefiting AAPL and that's important as we speed toward the Santa Claus rally and ahead of Q4 earnings that will begin in mid-January. Check out this daily RRG: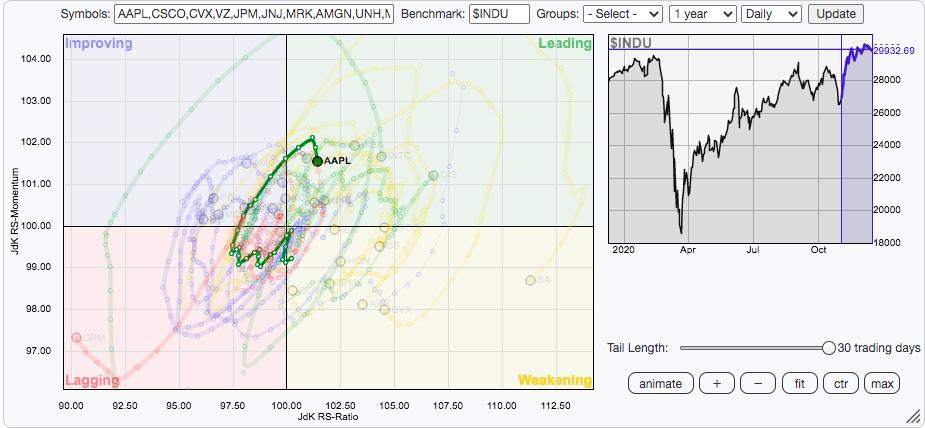 I believe AAPL should remain a staple in just about any portfolio. We have it in our Income Portfolio as it has a reasonable 0.67% dividend yield, which combined with its growth potential, has resulted in outperformance of the benchmark S&P 500, which is exactly what we look for.
I have another RRG chart that I'll show in our EB Digest newsletter tomorrow morning that I think you'll like as well. It's a software stock that lagged and fell into the weakening quadrant just like AAPL did. Once it began turning higher in that weakening quadrant, however, it rallied very strongly and is now setting new all-time highs. It's a leader in our Model Portfolio, which has gained +203% since November 19, 2018, crushing the S&P 500. Our EB Digest newsletter is FREE and requires NO credit card. You may unsubscribe at any time. To review this RRG chart tomorrow morning, you can CLICK HERE to enter your name and email address to join thousands of fellow investors in our community.
Happy trading!
Tom