Imagine you're in a crowded theater, there's one small exit in the lower corner and someone yells, "FIRE!" Or perhaps you're the bottom grain of sand in an hourglass. That's what many of the short sellers likely feel like today in 3D Systems Corp (DDD). The stock has more than 28% of its float short, so you can only imagine the panic buying that's taking place today after DDD announced the sale of non-core software businesses and strong preliminary quarterly results. Check out the chart and you'll get a sense of what owning a stock in a massive short squeeze looks like: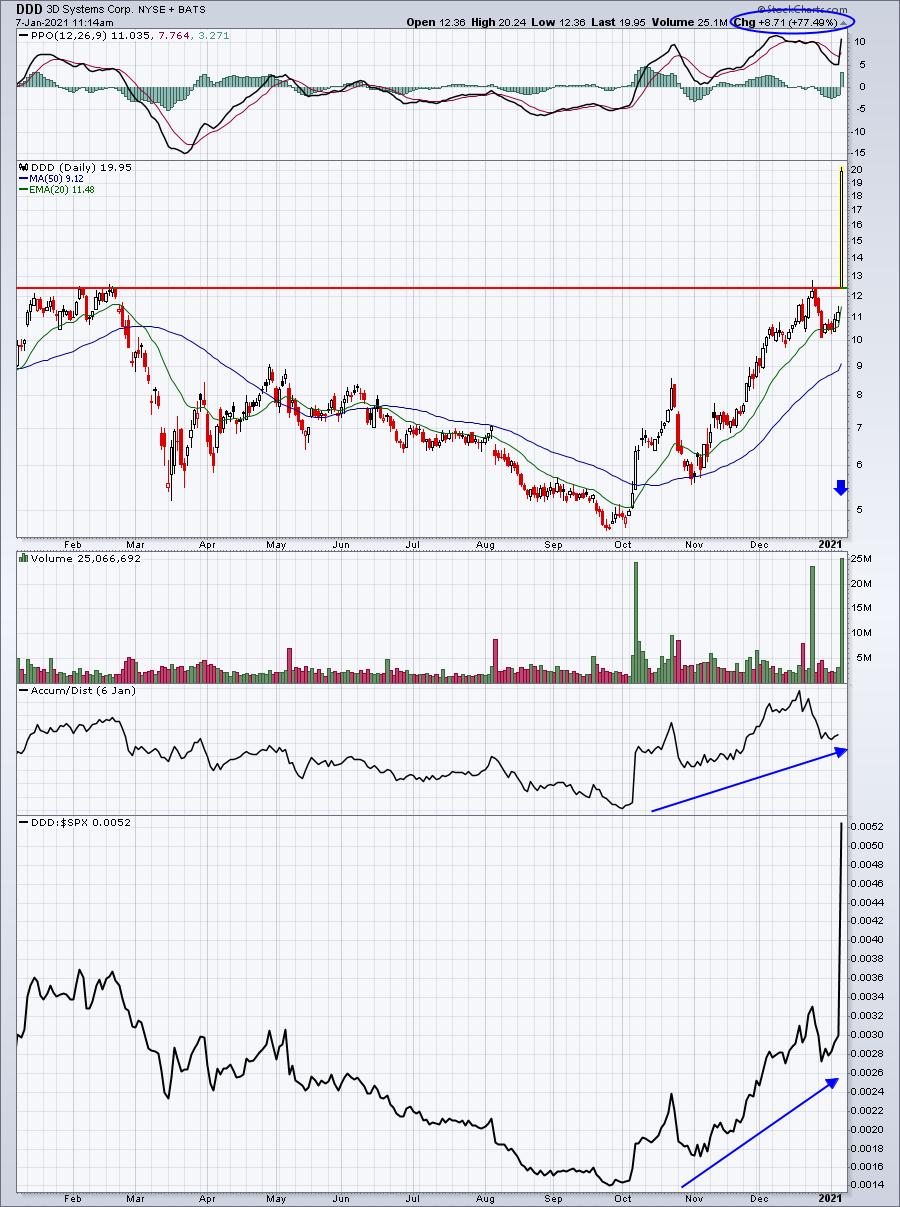 DDD is up 77% at last check, absolutely soaring. A sick feeling is being short a stock like this, knowing that you're potential losses are unlimited. When I talk about the art of trading, I always discuss the short-term inefficiencies in the stock market. One of those is short covering and the incredible impact it can have on a stock. The valuation of DDD might be less than the current stock price, I really don't know. What I do know, however, is that a massive number of short sellers are faced with the reality of covering their short positions to avoid financial devastation. It's become an emotional trade and once it gets to that point, you're at the mercy of the market. The problem is that the stock market has no mercy, nor do market makers, who are likely enjoying the ride up as well.
Our Short Squeeze ChartList is among the favorites of our EarningsBeats.com members and this is just one reason why. We currently have 67 charts on this ChartList and 14 of them are currently up 5% or more today. Check out the Top 5 on this leaderboard:

I'm watching another stock on this ChartList very closely, awaiting a key breakout. It literally tested MAJOR price resistance yesterday and today. It has many of the same characteristics of DDD and I'm planning to reveal it in tomorrow's EB Digest newsletter. It's a free newsletter that requires only a name and email address. CLICK HERE to subscribe. There is no credit card required and you may unsubscribe at any time.
Happy trading!
Tom