The NASDAQ has been the unwanted third wheel the past month or so as the Dow Jones has moved above 32000 and 33000 and the S&P 500 has approached 4000. Of course, it's all about perspective and the NASDAQ has been the leader since the pandemic lows last March. The good news for NASDAQ fans, however, is that a bullish inverse head & shoulders continuation pattern is in play: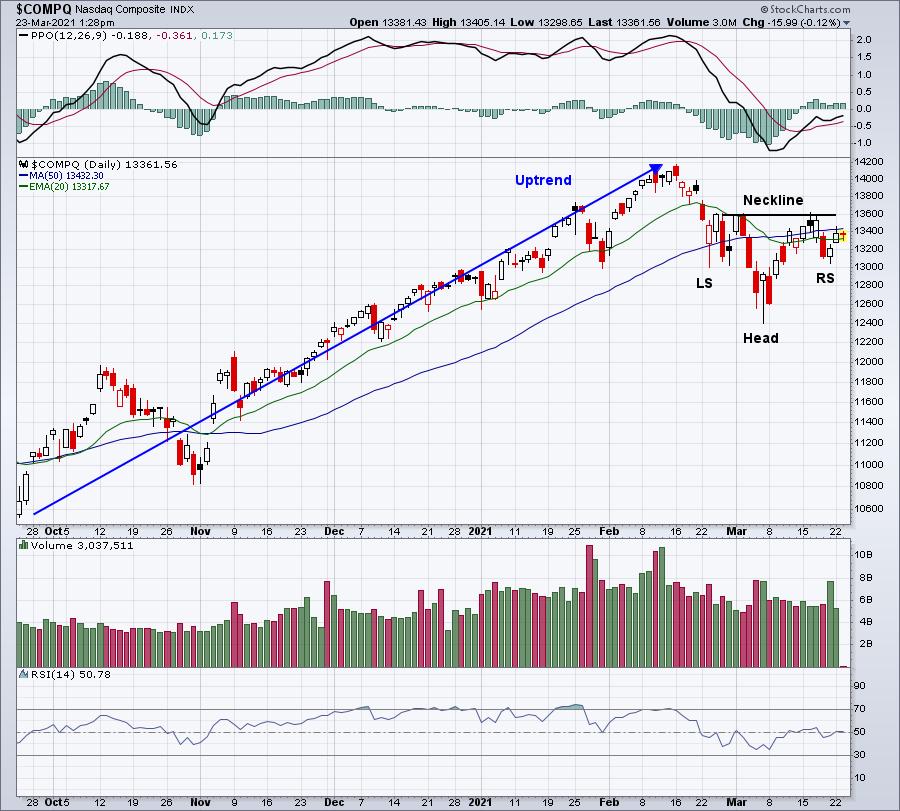 Patterns do not confirm until we see the breakout or breakdown. However, we're in a secular bull market, so I pay much more attention to bullish patterns than I do bearish patterns as the former is much more likely to confirm. We've seen a lot of rotation away from the NASDAQ and growth stocks while this consolidation takes place. You should pay close attention to a bullish breakout, however, as we could very easily rotate back to growth as we head into the next earnings season.
Later today, at 4:30pm ET, I'll be hosting a webinar, "Changing of the Guard" that is free to everyone in our EarningsBeats.com community. The rotation began when the positive vaccine news hit back in November and then accelerated at the conclusion of last quarter's earnings season. I plan to discuss which areas showing strength now can be trusted over the next several months. Also, former leaders will return to favor, but which ones? I have a few clues that I'll be sharing during today's webinar.
If you'd like to join the webinar, we'll be sure to add you to our FREE EB Digest newsletter (no credit card required and you may unsubscribe at any time). Just click on the link below after 4:00pm ET today (room should be open by 4pm). I think you'll find today's event highly educational and full of actionable ideas:
https://earningsbeats.zoom.us/j/89566238276
Happy trading!
Tom