From a short-term trading perspective, options expiration presents a host of opportunities. The market makers were at it again this week, looking under every seat cushion for a few extra bucks. The key is to beat them to the seat cushion. Let's rewind to our EarningsBeats.com March Max Pain webinar from Tuesday afternoon.
The QQQ (ETF that tracks the NASDAQ 100) had closed at 320.58. Max pain, or the point at which the total in-the-money call premium exactly equaled the in-the-money put premium, was at 311.31 by my calculation. Let's look at the before and after charts of the QQQ for a little visualization:
Before: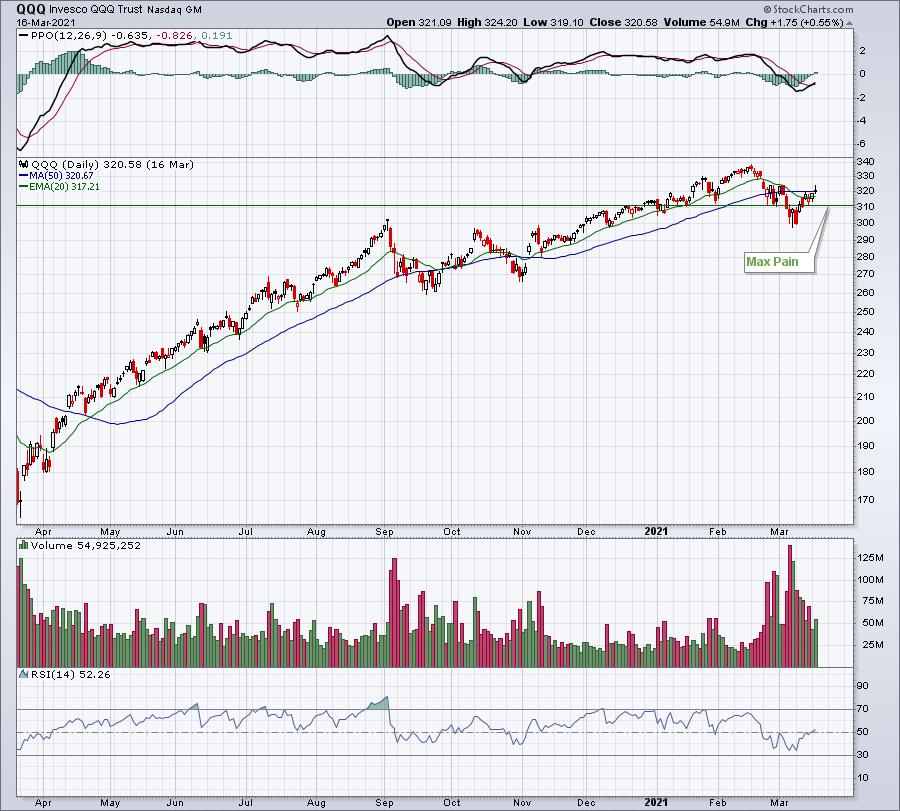 So what were the chances the QQQ would fall another 3% or so in just 3 days?
After: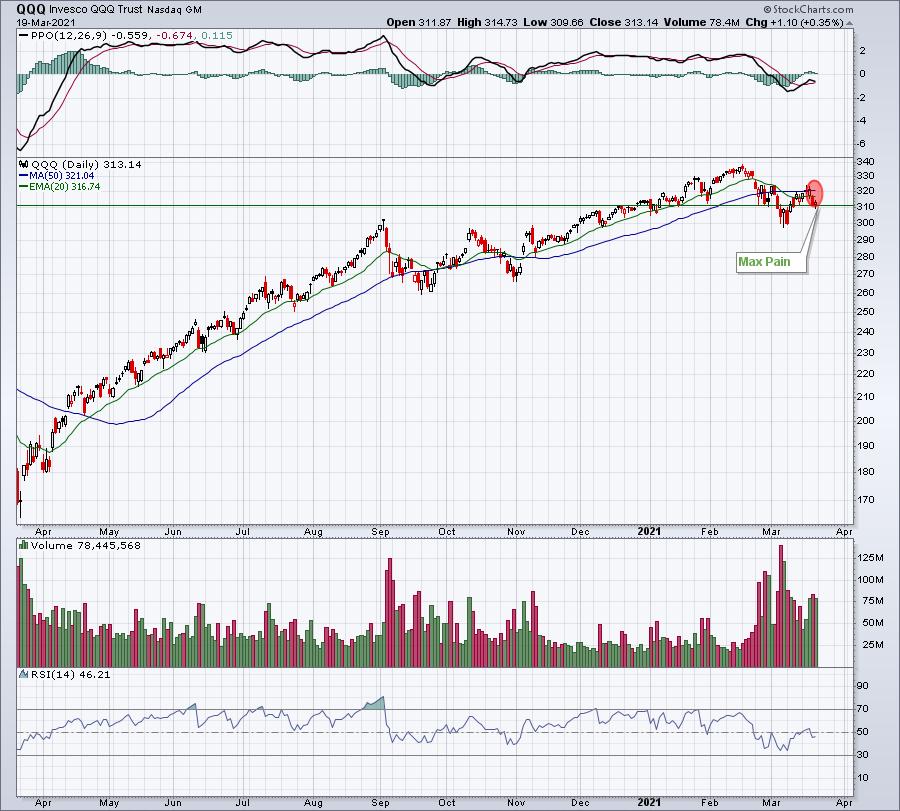 Voila! The QQQ closed at 313.14, but its intraday move to 309.66 completely wiped out all of the net in-the-money call premium. Over 3 days, they found $513 million under the seat cushion and that's just one ETF. Can you imagine how much net in-the-money call premium was lost in total, across all stock options, index options, etc?
But the amazing part is that those stocks that have been beaten to a pulp somehow manage to quickly catch a bid, going against the grain of the market.
Again, let's rewind back to Tuesday afternoon when we provided Alibaba (BABA) as a potential LONG trading candidate. Here's what the BABA chart looked like then: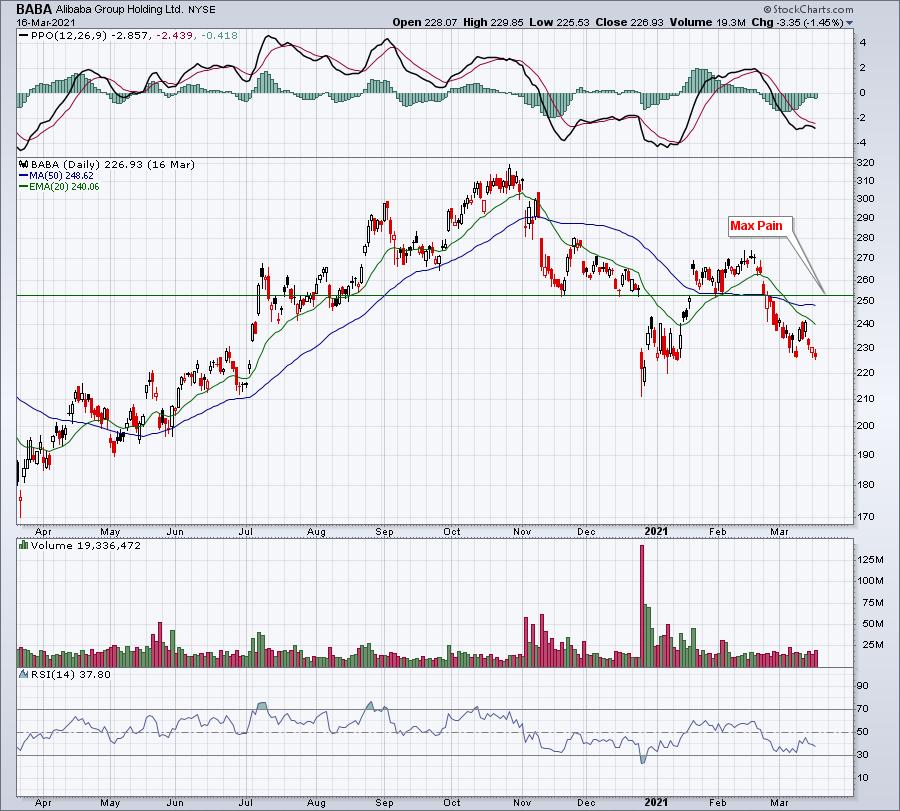 This is an ugly chart, right? Well, as of Tuesday's close, BABA had $466 million of net in-the-money put premium. But what were the chances that BABA would rebound, especially knowing that the QQQ could head lower by 3%? Well, those sneaky little market makers got "lucky" again: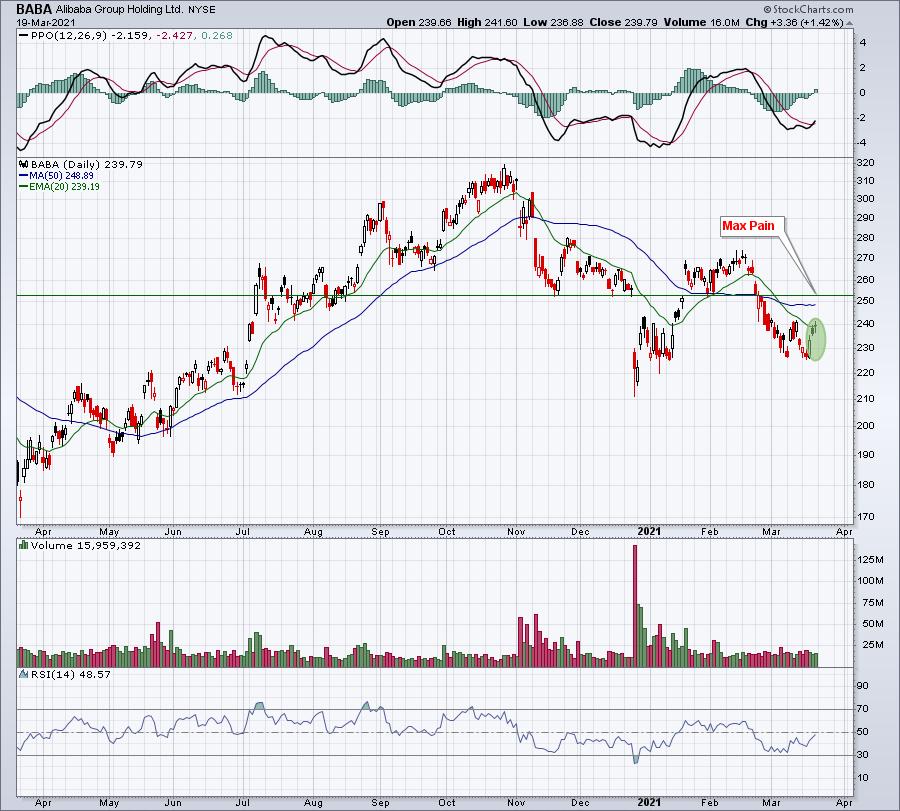 BABA didn't make it to its max pain of 252, but by gaining 13 bucks, the net in-the-money put premium fell from $466 million to $241 million, a savings of $225 million. Another seat cushion uncovered!
Personally, I don't look at "max pain" as a guaranteed destination for a stock or ETF. I simply view it as another directional clue, knowing that there's financial incentive for market makers to make it happen. Much more often than not, we see these directional clues work well.
If you're not already part of our EarningsBeats.com community, we'd love to have you join. Our FREE EB Digest newsletter is published 3x per week and is enjoyed by thousands of investors/traders around the globe. CLICK HERE to provide your name and email address to get started! There is no credit card required and you may unsubscribe at any time.
Happy trading!
Tom