Investing in ETFs (exchange-traded funds) is no different than trading stocks in many respects. We still need to plan the trade. The biggest difference, obviously, is that ETFs hold a basket of stocks so purchasing an ETF requires that you understand what the ETF holds. Or maybe you don't care? I hope you do. ETFs come in many shapes and sizes. One size definitely does not fit all. Some ETFs are widely diversified, while others are much more concentrated. I'd consider one ETF, like the SPY (tracks the S&P 500), to be solidly diversified. You own 500 of the largest multi-national companies in the world in all 11 sectors. Currently, here's the breakdown of the SPY by sector:
Technology (XLK): 24.22%
Financial services (XLF): 14.23%
Health care (XLV): 13.09%
Consumer discretionary (XLY): 12.00%
Communication services (XLC): 11.14%
Industrials (XLI): 8.86%
Consumer staples (XLP): 6.32%
Energy (XLE): 2.86%
Real estate (XLRE): 2.57%
Utilities (XLU): 2.45%
Materials (XLB): 2.27%
Top holdings include:
Apple (AAPL): 5.90%
Microsoft (MSFT): 5.60%
Amazon.com (AMZN): 4.05%
Alphabet (GOOGL): 3.98%
Facebook (FB): 2.29%
These are the only 5 stocks that make up more than 2% of the entire ETF. That's fairly solid diversification. But you have to be careful because there are plenty of ETFs that do not diversify across all sectors as many are quite concentrated. If you've followed cloud stocks, you know this group has been obliterated. When one area of the market is in favor, it will likely perform extremely well. But when it's not in favor, like now, it can be very humbling. For instance, let's look at the Global X Cloud Computing ETF (CLOU):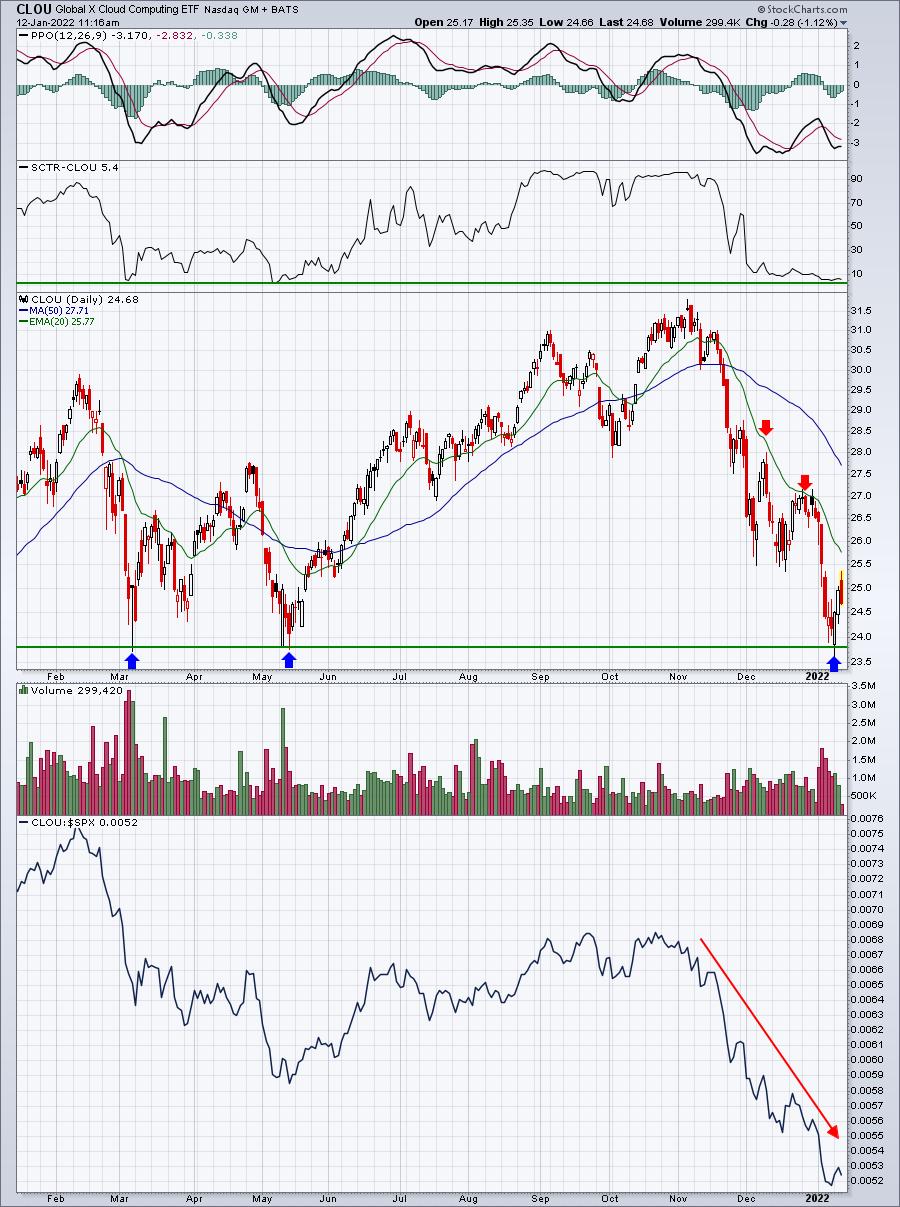 A value investor might look at a chart like this and think, "Now's the time to jump in!", while a momentum investor would likely respond, "Are you kidding me?" It's all in how you approach the market. I'd take it one step further, however. Let's remember that an ETF is nothing more than the sum of its parts. Which stocks does it own? What are its top holdings? When we dig a little deeper into CLOU, we find the following:
Sector Analysis:
Technology (XLK): 79.77%
Communication services (XLC): 9.86%
Real estate (XLRE): 5.29%
Consumer discretionary (XLY): 2.95%
Consumer staples (XLP): 2.13%
Top Holdings:
Shopify (SHOP): 4.71%
Zoom Video Communications (ZM): 4.65%
Twilio (TWLO): 4.58%
Zscaler (ZS): 4.54%
Dropbox (DBX): 4.35%
Fastly (FSLY): 4.33%
These 6 stocks comprise more than a quarter of the ETF. And all of these stocks are technology stocks.
So let's say a particular investor is not that familiar with ETFs and he/she heard from a friend that CLOU was a great deal now because it's lost close to 25% of its value recently. So he/she buys 50% SPY and 50% CLOU in a portfolio. Technology (XLK) is 24% of SPY and nearly 80% of CLOU. By combining these two ETFs, the XLK represents more than 50% of the entire ETF portfolio, which is irresponsible if the goal is to be somewhat diversified. There are a large number of growth stocks that comprise both ETFs, so the ETF will be very dependent on the performance of growth stocks. We know what's happened to growth stocks vs. value stocks over the past year. It's not been pretty.
My point here is that you need to do research if you plan to put together an ETF portfolio that matches your risk tolerance and financial goals. What if you put together 10 ETFs in a portfolio? Would have any idea how concentrated you were? Probably not, because it takes a lot of work. Fortunately, we take a lot of homework time out of the equation. Later today, at 5:30pm ET, I'm hosting an "Exploring the EB ETF Analyzer" webinar, where I'll show you our ETF Analyzer spreadsheet that helps you make more educated decisions regarding portfolio development. In order to attend this event today (or to receive the recording to review at your leisure later), you only need to be a FREE EB Digest subscriber (no credit card required)! CLICK HERE to sign up for our FREE newsletter and learn more about trading ETFs later today! We'll send out room instructions to all EB Digest subscribers later this afternoon.
Happy trading!
Tom