If only growth stocks could talk.
You've probably heard of the "it's not you, it's me" breakup excuse. Maybe you've had to endure it. Well, in the land of stock market trading, I believe it's a quite valid trading excuse. Let me give you a couple examples, one in the travel & tourism industry ($DJUSTT) and the other in software ($DJUSSW):
Airbnb, Inc. (ABNB)
Let's get straight to the numbers. ABNB reported its quarterly results last week and, on the surface, they were really, really good. Revenues came in at $1.51 billion, topping the $1.45 billion estimate. Earnings came in similarly strong at a 3 cent loss, easily beating the forecasted quarterly loss of 29 cents. ABNB then announced record bookings and raised its sales forecast. Q2 2022 revenues were previously estimated to come in at $1.97 billion, but management raised that forecast to $2.03-$2.13 billion. The initial Wall Street reaction was solid too. After closing at 145 on May 3rd, ABNB jumped to hit an intraday high of 158.74 in early morning trading on Thursday, May 4th. From that 20-day EMA test, however, it was all downhill: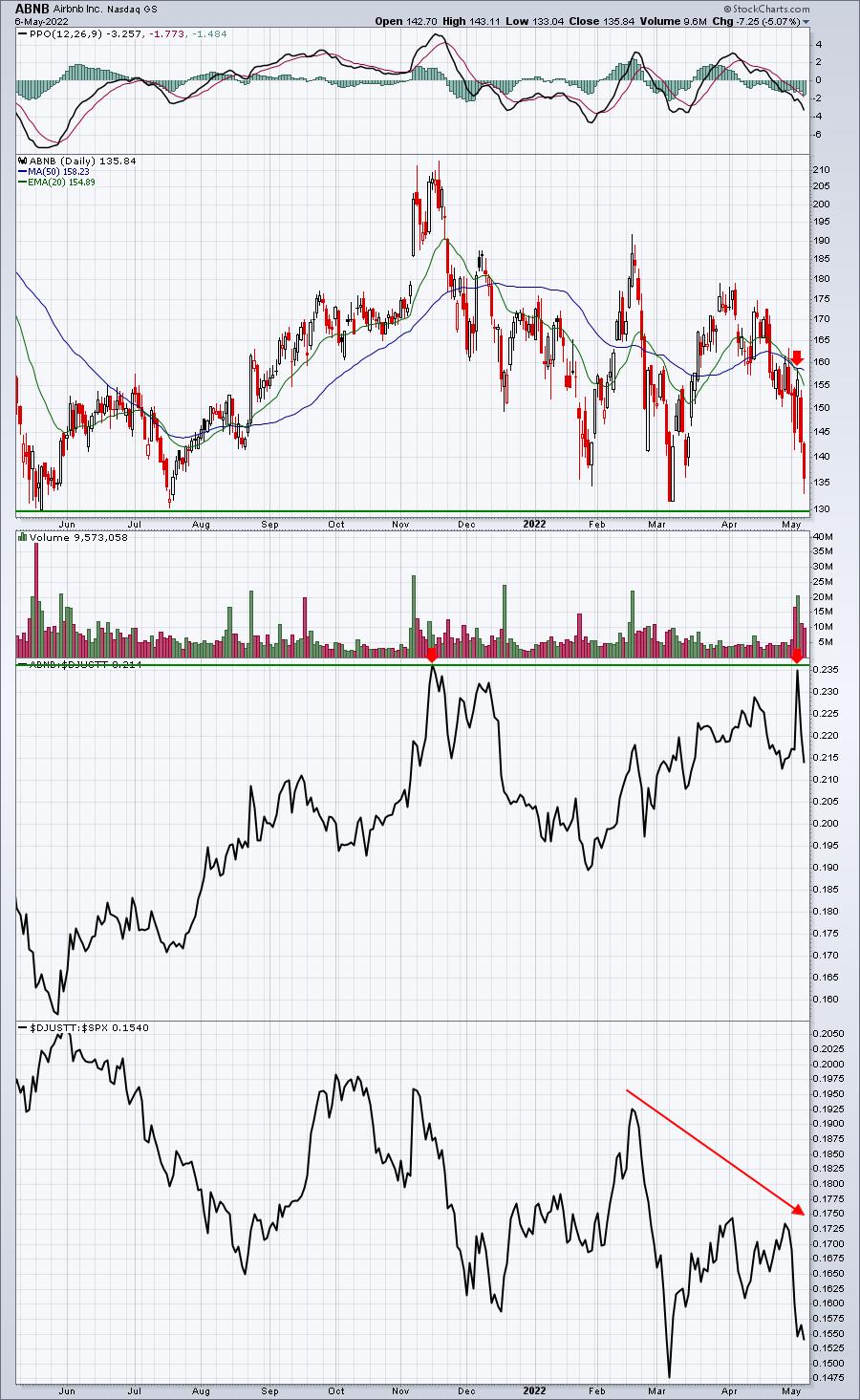 From its high on Wednesday to its low on Friday, ABNB dropped more than 25 bucks, or roughly 17%. I know many traders have probably had about all they can take from stocks like ABNB that seem to drop no matter what.
But, in the distance, I can hear the growth stocks talking to ABNB and its long traders. "It's not you, it's me."
Cloudflare, Inc. (NET)
Thursday was a BRUTAL day to own any stocks, but particularly growth stocks. After a massacre on Thursday, NET was set to report its quarterly results. Oh boy! They say "timing is everything" and alls I can say is that NET's timing in reporting great results was very poor. After the bell, NET reported quarterly revenues of $212.2 million, which exceeded analysts estimates by approximately 3.2%. Earnings came in at just one penny, but they beat the breakeven results widely expected. NET then raised its revenue forecast for next quarter from $217.9 million to $227.0 million. Full-year revenues were raised from $933 million to a range of $955-$959 million.
Sounds like a pretty decent report, right? Well, check out what Wall Street thought: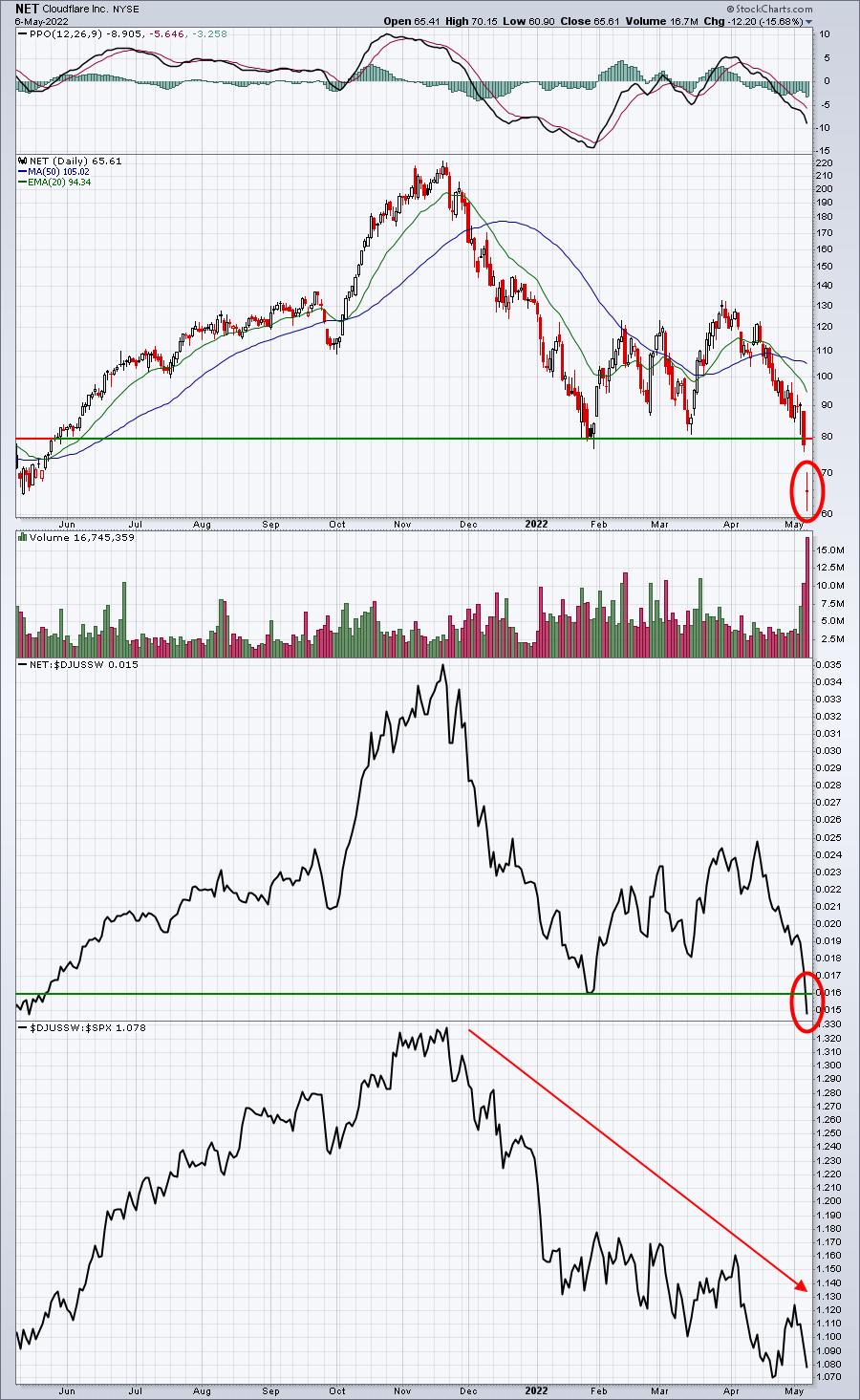 Ugly. It makes you wonder whether there would have been any different reaction if NET missed forecasts and lowered guidance. Software stocks ($DJUSSW) have been absolutely abysmal in 2022. With its earnings report and forecast, it was as if NET was trying to make up with Wall Street. Instead of working things out, though, I heard a familiar voice....
"It's not you, it's me."
Right now, it just doesn't matter whether you're executing your business plan. Growth stocks are under fire and, until the environment changes, it'll constantly be, "it's not you, it's me."
Fortunately, I was able to see much of this coming well in advance. I could feel the breakup starting back in December. Things just weren't the same. It's still not easy, but if you're seeing early signs of the breakup, you can prepare accordingly.
The good news is that I see things changing more positively sooner than many analysts, who just now are starting to turn bearish. It's a little late, don't ya think? On January 8th, at our MarketVision 2022 event, I suggested the S&P 500 could drop as much as 27% to 3500. We're well on our way as this year-to-date performance on our key indices shows:

As U.S. equities continue to fall, it'll be time to begin buying discounted shares. But if you wait for Wall Street to give you a buy signal, it'll be about 3 months and 20 percentage points too late.
Please consider subscribing to my FREE EB Digest newsletter. I'll be publishing an article on Monday morning that highlights a major upcoming economic report. The reaction to this report could help us determine the extent of further selling this summer. If you'd like to see what I have to say, CLICK HERE to enter your name and address and start your free subscription. We're also having a FREE "Sneak Preview - Portfolio Draft" event on Monday, May 9th after the close to highlight many of the considerations I'm evaluating in putting together our next quarter's portfolios. It should be a highly educational event and we'll be sending out room instructions to everyone in our EB Digest community, so be sure to subscribe NOW.
Happy trading!
Tom