LOOKING FORWARD TO 2015
by Chip Anderson | ChartWatchers
Hello Fellow ChartWatchers!
Happy 2015! All signs point to 2015 being a very interesting year for the stock market. The long-term rally that we've had since the lows of 2009 can't continue forever, can it? Regardless of you opinion on that question, remember that StockCharts.com gives you the perfect perch for monitoring the strength of the market as we head into this crucial 5th year of the rally. Your can use our long-term charts, our comparison graphs, our market commentators or, ideally, a combination of all of those things to stay on top of exactly what is going on with stocks.
Last time, I listed many of the improvements we made to StockCharts.com in 2014. Today I'm going to pull out my crystal ball and talk about improvements that we hope to make to the website in 2015. While I cannot state with 100% certainty that all of these things will come to pass, here's what the crystal ball is currently telling me we'll add:
International Stock Data - first up is the London Stock Exchange. After than, the National Stock Exchange of India. And after that, we'll have to see. It depends on the feedback we get from users throughout the world.
Webinars - Greg Schnell and Arthur Hill already have regularly scheduled webinars on Tuesday and Thursday. Watch for Erin Heim to begin her "DecisionPoint" webinar later this month. And I plan on starting up my own webinar series with interviews and "how-to" tips in January also.
Improved Webinar Registration - The current webinar registration process is a kludge. We'll have a dedicated webinar area of our website available soon that will make it much easier to find and register for whichever webinars you are interested in.
More Tom Bowley - Watch for Tom's new blog and webinar series to crank up in February. Tom's talks on Seasonality and repeating market effects was extremely popular at ChartCon and he'll be expanding on that work here soon.
Wyckoff-oriented Blog - Another very popular talk at ChartCon was Bruce Fraser's talk on Wyckoff analysis. Bruce will be expanding on that talk via another new blog on our website starting later this year.
More ChartPacks - Watch for Greg Schnell to release a ChartPack just as soon as I can pin him down and force him to do it. Greg - seriously? No ChartPack yet?
Paper Trading Games - This one will be huge. (I've buried it here in the middle of my list because we still have a bunch of work to do and I don't want the causal readers to get all excited about it just yet.) Later this year we hope to allow people to practice trading from a virtual brokerage account using either live price data or pseudo-data from the past. In addition, we also will be allowing people to set up trading competitions between groups of friends. Stay tuned!
New ChartNotes - We are in the middle of a complete re-write of our ChartNotes annotation tool. When complete, the new version won't require plug-ins (no more Flash or Java!), will run faster, will have an easier-to-use interface, and will allow you to create better looking annotations for your charts. That's win-win-win-win!
New P&F Chart Workbench - The current P&F workbench is one of the oldest pages on our website. We'll be giving it some love later this quarter with a big update. There won't be many changes to the charts themselves, but the workbench controls will work much better.
Index and Market Indicator Improvements - We will be greatly expanding the documentation for all of our indexes and market indicators (i.e., the symbols that start with "$" or "!"). We will also continue to improve the accuracy and historical data for those symbols as well.
Online SCU Events - Watch for us to announce webinar versions of our popular SCU seminars later this year.
Fundamental Data - Watch for us to add historical earnings information and other fundamental data to our charts "soon."
An App - OK, this one is a stretch. I'm pretty positive all the things I've listed up to this point will happen. This one, not so much. But we will be seriously investigating the possibility of creating an App for your smartphone. At the very least, we will do a major revamp of our current mobile website: http://m.stockcharts.com
And, just like last year, all of these features will be added to the website without a price increase. Our strategy remains unchanged - we will continually increase the value of a StockCharts membership without increasing the price. The only time we've increased prices in the past was when the stock exchanges raised their per-user-per-month fees. Unless that happens again, we will not be raising prices this year either.
Quick Note for ChartCon enthusiasts: We probably will not hold a ChartCon in Seattle this year. Instead, we are angling towards holding one in 2016. That said, we are also looking into holding a one-day, webinar-based version of ChartCon online later this year but there are still several issues that need to be worked out. Stay tuned for more later.
So happy 2015 everyone! Now, where did I park my flying car...
- Chip
SITE NEWS
RECENT ADDITIONS TO STOCKCHARTS.COM
WEBINARS RESUME THIS WEEK! - Our popular webinars with Arthur Hill and Greg Schnell return this week. Click here to register for Arthur's (Tuesday at 1pm Eastern). Click here to register for Greg's (Thursday at 4:30pm Eastern).
CHIP ANDERSON'S "HOW TO" WEBINAR DEBUTS NEXT SATURDAY! - Join Chip on Saturday at 1pm Eastern and learn how to "Get the Most Out of StockCharts.com." Click here for details.
WEBINAR ARCHIVES - Have you not been able to attend our live webinars yet? Fear not - we've archived them in video form. Click here to catch up on our past events.
One of the biggest concerns for 2015 is the prospect for higher interest rates in the U.S. While it's true that the Fed may start to hike rates later in the year, that doesn't mean that bond yields will rise very much. The Fed controls short-term rates, while bond yields are determined by economic strength, inflation expectations, and foreign markets. The chart below shows two deflationary forces that should keep U.S. bond yields under control this year. The plunge in the CRB Index during 2014 suggests that any threat from commodity inflation is nowhere in sight. [The fact that the U.S. Dollar Index is nearing a ten-year high should also keep commodity prices from rising much this year]. The second factor weighing on Treasury yields is the plunge in foreign yields. The blue line in Chart 4 shows the German 10-year yield falling to 0.50% which is the lowest in history. [The five-year German yield has turned negative for the first time ever]. The spread between the 10-Year U.S. and German yields has reached the widest level in 15 years. Foreign money moving into higher-yielding Treasuries (also attracted by a stronger dollar) should keep Treasury prices from falling too far and yields from moving too high. All of which suggests that fears of rising rates this year may be somewhat overblown.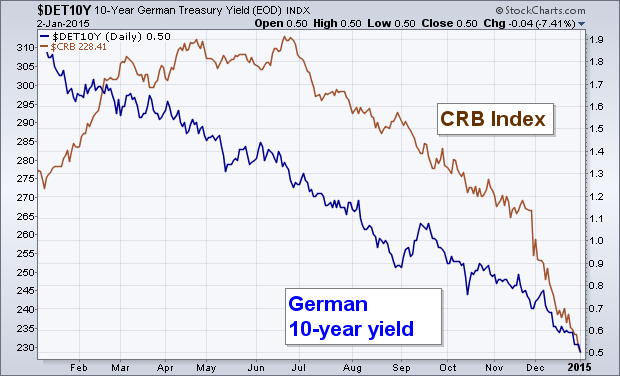 A month ago in ChartWatchers I wrote about the bullish seasonal pattern for small-caps and featured a big flag pattern on the chart for the Russell 2000 ETF. Trading turned volatile in mid December, but the bullish seasonal pattern held up and the Santa Claus rally ultimately materialized. The Russell 2000 gained 2.68% in December and outperformed the S&P LargeCap 100, which lost .86%. So what now? First, let's review the price action in the Russell 2000 over the last few weeks. The index consolidated from early November to early December and the Bollinger Bands narrowed as volatility contracted. Notice how BandWidth was below the 3% threshold in early December. The Russell 2000 appeared to break down in mid December, but formed an inverted hammer on 16-Dec and confirmed this bullish candlestick reversal pattern with a surge and gap the next two days. This head fake is not as uncommon as one might think. In fact, John Bollinger advised chartists to beware the "head fake" in his book, Bollinger on Bollinger Bands.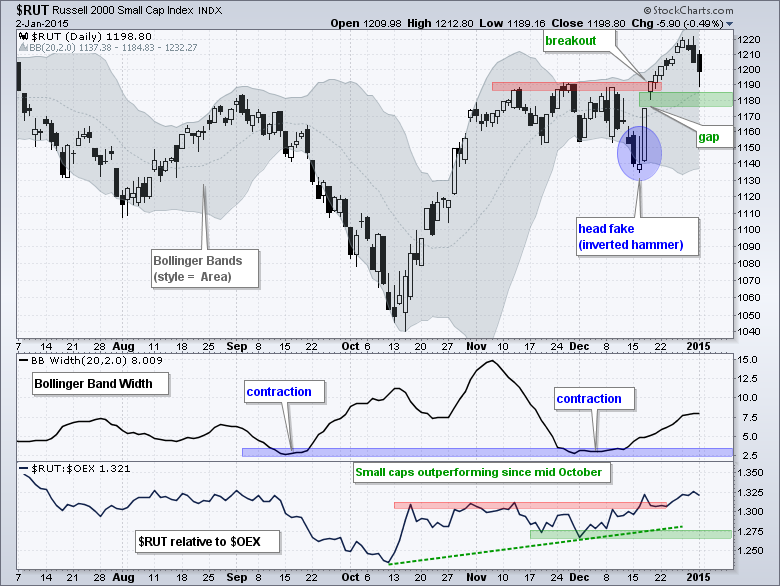 Thus, with the head fake and subsequent breakout in mid December, the Russell 2000 is on the bullish track and showing relative strength. Chartists should now look for levels that would invalidate the bullish case. My first important level is in the 1180 area. A move below 1175 would put the index back below the breakout and fill the gap. This would negate the breakout and call for a reassessment. The bottom indicator shows the Russell 2000 relative to the S&P 100 ($RUT:$OEX). This ratio has been rising since mid October and recently broke above its October-November highs. This means the Russell 2000 (small-caps) is outperforming the S&P 100 (large-caps). A move below the early December low would signal a return to relative weakness in small-caps.
Thanks for reading and best wishes for 2015!
Arthur Hill CMT
IS GOLD THE GOLDEN NEW YEARS TICKET?
by Greg Schnell | The Canadian Technician
Last year, the bond market surprised us by making its low on December 31 and it went on to rally all year. Gold and the gold miners made a tradeable low December 2013 and rallied for a few months. So I though I would dive into the gold charts today to see if this might happen again.
One thing we want to see happen is Gold Miners (GDX) outperform Gold (GLD) . Here is the ratio chart. If it is turning up, the gold miners are starting to outperform the metal. That is usually a precursor to at least a good rally. When this moves above the 50 DMA its a good place to pay attention. Notice the big rally off the December 2013 low and June 2014. December-June-December has a nice spacing. A particular point of interest for me is the higher MACD on the most recent low even though the ratio made a lower low. This positive divergence is nice to see.
---
There are 4 big pushes up on the GDX shown in the bottom of this gold (GLD) chart (Chart 2) off the lows. Compare GDX to GLD. This price action on the gold miners even though gold didn't do much is very interesting price action confirming my suspicionn that something might be changing on the gold related trades.
Staying on Chart 2, the MACD for the GLD on the most recent low is trying to turn up just below zero which is also very important. We see these MACD tests near the zero line on nice breakouts. Should it not cross the signal line here and roll back down, that would change my view to negative. So this is a critical place to watch, but the MACD for GLD is improving and has not signalled yet. However, the momentum of the GDX chart in the bottom panel is right up against the down sloping blue trend line where it is not on GLD. This suggests something is changing and the miners are trying to get going. Even though the $USD soared on Friday, the gold miners had another good day as shown in the zoom panel. That is the fourth good up day in the last 2 weeks since the December 18th low on GDX. Lastly, some individual charts are starting to break out to 2 or 3 month highs.
Below is Agnico Eagle (AEM.TO). Look at the big push Friday in the face of a soaring $USD and GLD only moved up almost a 1/2 % on the day.
There are other good looking gold charts right now. It may all fall apart, but it looks interesting here. The seasonality of the GDX:GLD, the big pushes up in GDX, both the miners and GLD climbing even though the $USD is still making new highs are all working together to tell me something is worth watching here. Find your favourite gold miners this weekend and put them on your radar. It might make for a very profitable first quarter.
Good trading,
Greg Schnell, CMT
Now that 2014 has drawn to a close, analysts are reviewing history and hoping to prognosticate about 2015. I'd like to review some of the DecisionPoint Trend Model charts for not just the S&P 500 (SPY), but also for the dollar, gold, oil, commodities and bonds. We can see what the current long- and intermediate-term Trend Model signals are going into 2015.
---
The intermediate-term Trend Model signal has been on a BUY since the 20-EMA crossed above the 50-EMA in October. We cannot see the long-term Trend Model's last signal change on this chart, but as long as the 50-EMA is above the 200-EMA it is in a bull market. The 2nd chart shows that the last time the 50-EMA was below the 200-EMA was in 2011. In the very long-term, we are very bullish and currently we are bullish in the intermediate term too.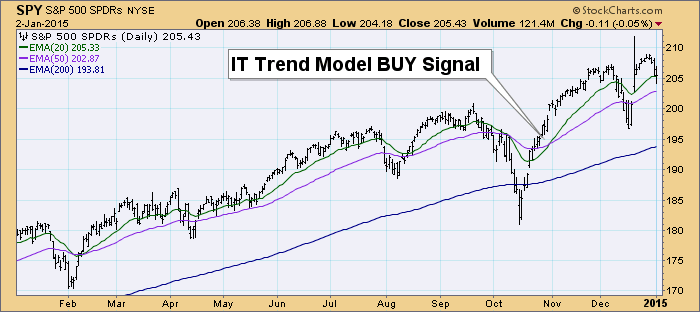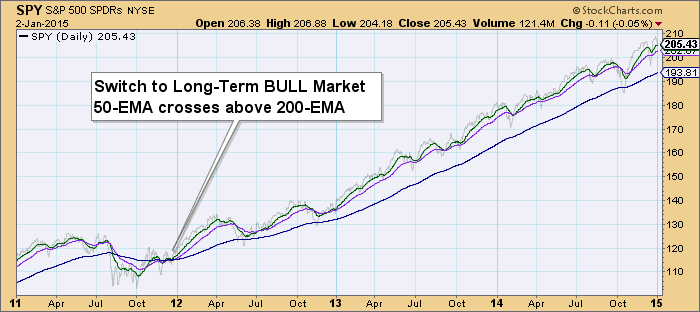 The dollar enjoyed a great rally in 2014 following a period of consolidation. Our long-term Trend Model moved to a BUY in the 3rd quarter of 2014 when the 50-EMA crossed above the 200-EMA. Just before that, the 20-EMA crossed above the 50-EMA generating an intermediate-term BUY signal. So DecisionPoint remains very bullish on the dollar closing out 2014.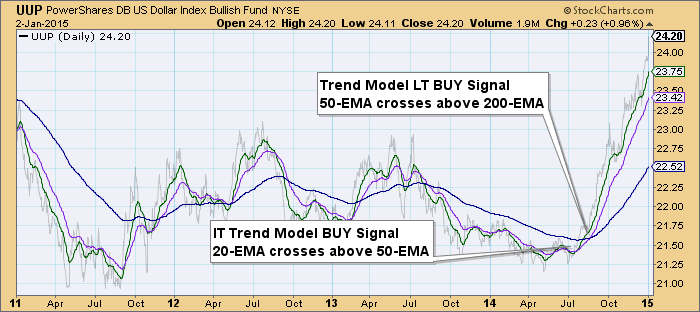 Gold has suffered which isn't surprising given the strength of the dollar. DecisionPoint's long-term Trend Model went on a SELL signal back in mid-2013. Since then there have been a number of intermediate-term Trend Model signal changes. Right now, the intermediate-term Trend Model is on a SELL signal generated in August.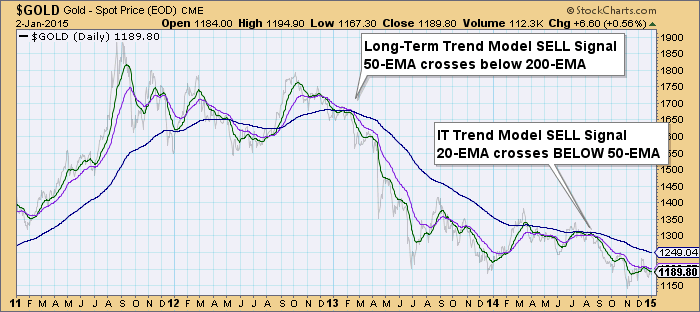 USO like Gold, took a hit this year, mainly due to the price of oil lowering due to an unexpected increase in supply due to fracking, among other factors. An intermediate-term Trend Model Neutral signal was generated when the 20-EMA dropped below the 50-EMA while the 50-EMA was above the 200-EMA. Had the 50-EMA been below the 200-EMA before that 20/50 crossover, it would have been a SELL signal. Given the very negative configuration of the EMAs, DecisionPoint remains very bearish regarding oil.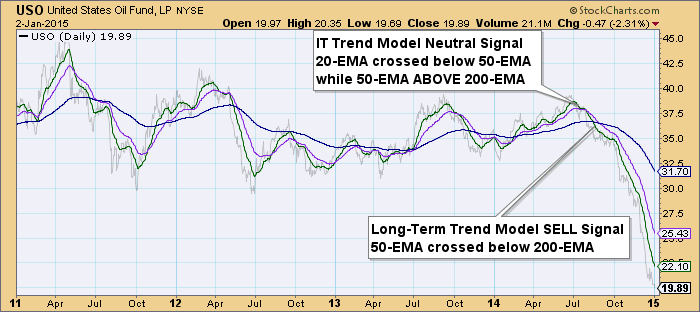 Commodities ETF (GSG) suffered like USO this year, again because of the strong dollar more than any other factor. The set-up is nearly identical to USO so we remain bearish on Commodities going into 2015.
Finally looking at long bonds, TLT, DecisionPoint has been on an intermediate-term BUY signal since the beginning of 2014. This was followed by a long-term Trend Model BUY signal as the 50-EMA crossed above the 200-EMA. DecisionPoint is in the running for Timer Digest Bond Time of the Year by staying on a BUY signal or nearly the entire year. We remain bullish going into 2015.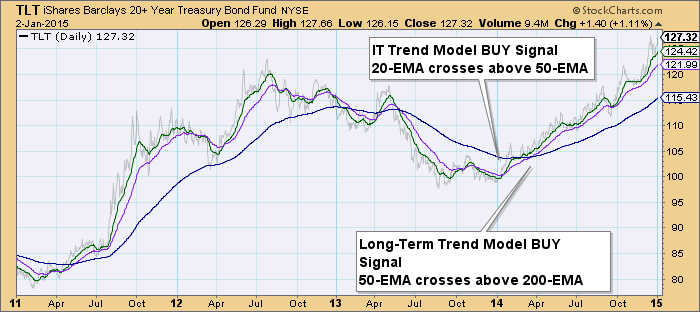 So to conclude, here is the top of the table from the DecisionPoint Daily Alert Report which summarizes DecisionPoint's intermediate-term Trend Model positions. You can find this report in the DP Reports blog where it is published shortly after the market closes.

DECISIONPOINT ALERT DAILY REPORT
Friday, 1/2/2015

************************ DECISIONPOINT MARKET POSTURE ***********************

The following is the market posture suggested by our mechanical trend-
following tools. These are not trading recommendations, rather they are price
activity flags that should be qualified by chart analysis. The Trend Model is
used on all indexes.


                                     Days   Index     01/02   Points  Percent
Index               Posture     Date Elap  @Start     Close      P/L      P/L
------------------- ------- -------- ---- -------   -------  -------  -------
Stocks Medium-Term  Bullish 10/31/14   63   200.55   205.43    +4.88    +2.4%
Stocks Long-Term    Bullish 10/31/14   63   200.55   205.43    +4.88    +2.4%
Gold (NY Spot)      Bearish 08/21/14  134  1275.40  1186.20   +89.20    +7.0%
20+Yr T-Bond  (TLT) Bullish 01/17/14  350   102.43   127.32   +24.89   +24.3%
------------------- ------- -------- ---- -------   -------  -------  -------
Dollar Index  (UUP) Bullish 07/21/14  165    21.47    24.20    +2.73   +12.7%
Commodities   (GSG) Neutral 07/14/14  172    32.64    21.22     ....     ....
Crude Oil     (USO) Neutral 07/30/14  156    36.92    19.89     ....     ....

Happy Charting and Happy New Year!
Erin
It's easy to follow the crowd and buy what keeps going higher. But generally larger gains can be found in healthy areas of the market where we've seen months of consolidation, awaiting that next breakout. As an example, it wasn't that long ago that home construction stocks ($DJUSHB) looked like a broken group. Take a look at the DJUSHB chart as of early October: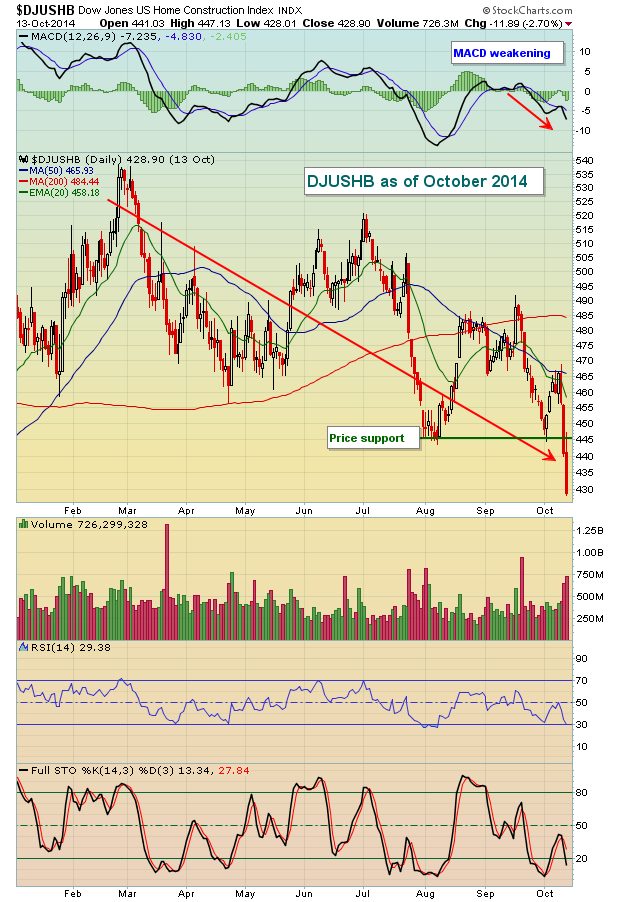 As our major indices struggled back in October, it was fairly clear to see that home construction stocks were not exactly desirable from a technical perspective - at least not based on this year-to-date chart. They broke down to a fresh 2014 low on October 13 and appeared to have accelerating momentum to the downside to boot. But astute technicians realized the big picture wasn't bad at all and the selling in October actually created opportunities within the space. While that daily chart was looking so bearish, take a look at the longer-term bullish continuation pattern (ascending triangle) that was forming: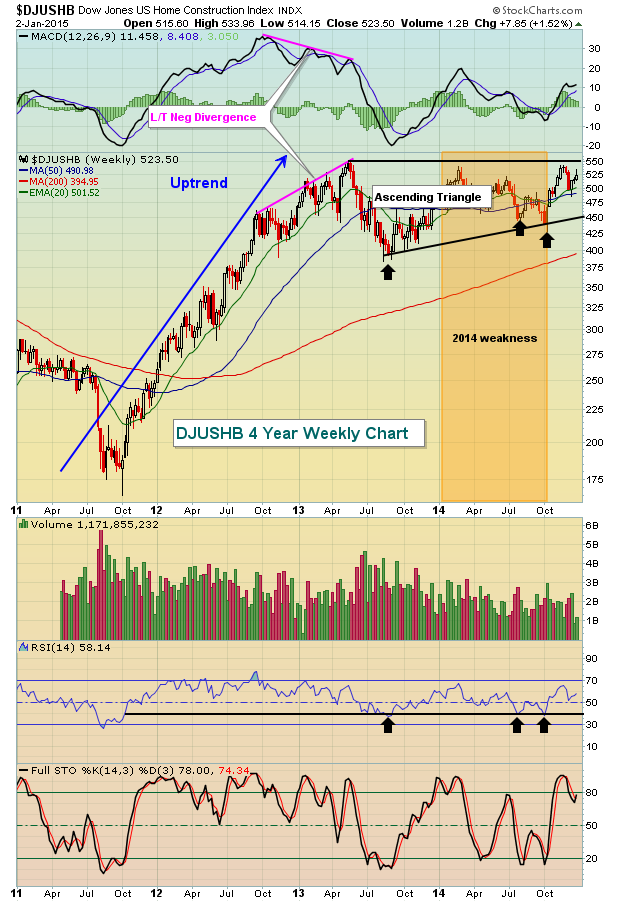 This longer-term view shows a much different technical picture than the 2014 year-to-date view as of October. Home construction stocks appeared to be damaged goods, not worthy of attention based on the shorter-term view. Yet on the long-term weekly chart, that October low was firmly within a very bullish ascending triangle pattern and showed a weekly RSI near 40 - generally a solid entry point during an uptrend. The rest is history as home construction stocks performed among the best consumer discretionary industry groups in the fourth quarter. In addition, a breakout on the DJUSHB above 550 triangle resistance could lead to substantial gains in 2015 so this group is worth keeping on your radar.
Now let's move on to 2015 and a group that's struggled on a relative basis in 2014, but certainly could be poised technically for a major breakout in 2015 - industrial machinery ($DJUSFE). Look at the 4 year weekly chart: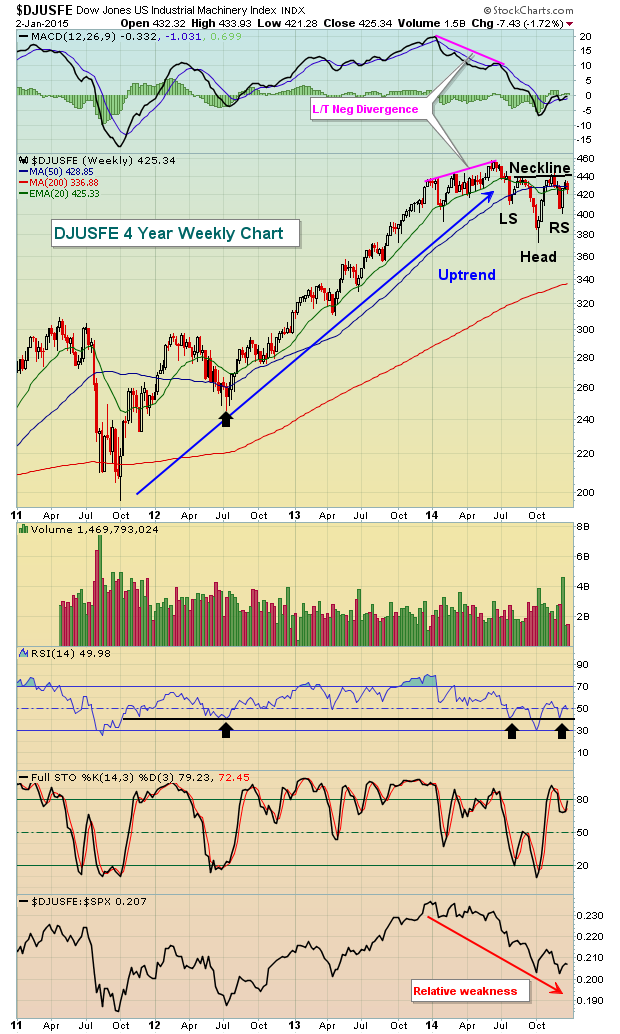 It's clear to see a major uptrend from late 2011 through early 2014. At the bottom of the chart you can also see that the DJUSFE was outperforming the S&P 500 throughout much of this advance. It's also easy to see the nasty long-term negative divergence that formed on the highs in the first half of 2014. That was a clear sign of slowing upside momentum and the DJUSFE struggled during the second half of 2014. Put another way, money rotated away from this group for awhile as the consolidation process unfolded. The good news - and perhaps the overlooked news - is that the DJUSFE is currently in a very bullish continuation inverse head & shoulders pattern. Should it break above 440 with force, this pattern measures ultimately to 510, or 20% higher than where it begins 2015.
I've searched to find an individual stock within this space that could be poised for a significant move higher if, in fact, this breakout in the DJUSFE occurs. I'm including it as my Chart of the Day for Monday, January 5th. CLICK HERE to sign up for my Chart of the Day for FREE!
Happy New Year and Happy Trading!!!
Tom Bowley
Chief Market Strategist
Invested Central