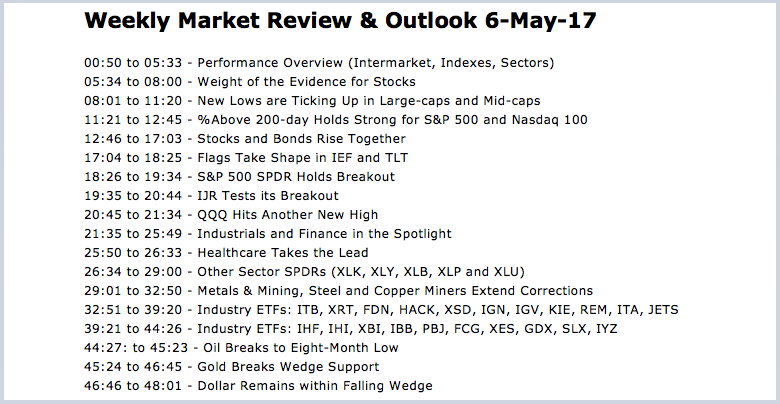 ----- Video Link ----- Art's Charts ChartList (updated 6-May) -----
Stocks were mixed this past week as the S&P 500 SPDR (SPY) and Nasdaq 100 ETF (QQQ) moved higher, while the Russell 2000 iShares (IWM) and S&P SmallCap iShares (IJR) edged lower. SPY is holding it triangle breakout, QQQ remains the clear leader and IJR is testing its breakout zone. Today's video will cover these charts in detail and look at the relationship between stocks and bonds, as well as oil and bonds. I will also review the setups in the Metals & Mining SPDR (XME), Copper Miners ETF (COPX) and Copper ETN (JJC). In particular, copper remains at an interesting juncture as it tests support. Elsewhere, we saw leadership in the healthcare sector over this past week. I am also watching the finance sector because the EW Healthcare ETF (RYH) and Regional Bank SPDR (KRE) were leaders this past week.
******************************************************
ETF Master ChartPack - 300+ ETFs organized in a Master ChartList and in individual groups.
Follow me on Twitter @arthurhill - Keep up with my 140 character commentaries.
****************************************
Thanks for tuning in and have a good day!
--Arthur Hill CMT
Plan your Trade and Trade your Plan
*****************************************