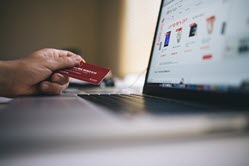 As noted in ChartWatchers this weekend, the Mobile Payments ETF (IPAY) came to life in November with a 7% gain, which was almost twice the gain in the S&P 500 SPDR (+3.62%). IPAY was lagging in September and October, but is now leading the market as the holiday shopping season begins.
Among the top 10 holdings in IPAY, Square (SQ) came to life over the past month with the largest gain. The PerfChart below shows performance for SPY, IPAY and the top ten stocks in November. Notice that SQ is up double digits and leading the charge. Fiserv (FISV) is next with a 9.5% gain and Global Payments (GPN) is third with a 7% gain.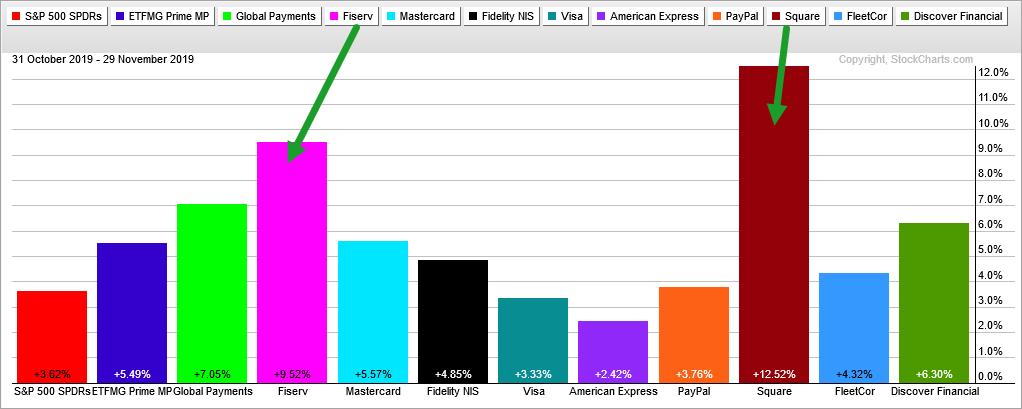 On the price charts below, FISV, GPN and Fleetcor (FLT) are the leaders with new highs in November. Mastercard (MA), Visa (V) and Fidelity NIS (FIS) are very close to new highs after breakouts and follow-through the last six weeks. I expect these three to hit new highs before yearend.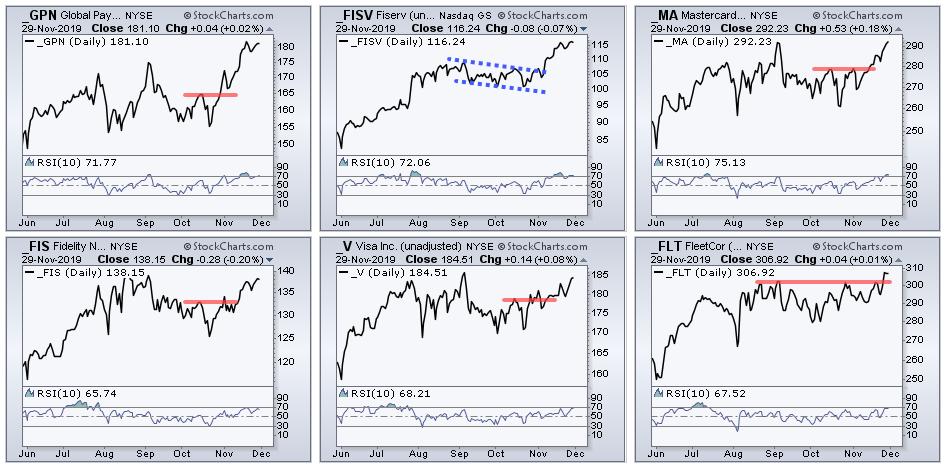 There is clearly a lot of strength within this industry group. Chartists looking for a leading ETF and leading stocks should focus on IPAY and these six.
Special Offer for StockCharts members!
Good analysis starts with focus! We need to tune out the noise and narrow our analytical focus. This starts with a robust chart list that narrows our universe. Tired of wading through thousands of ETFs? Let TrendInvestorPro.com do the work for you with a comprehensive and focused list of carefully chosen ETFs.
These ETFs are organized with numerical prefixes that make it easy to follow a top-down analysis process with just one ChartList. The TrendInvestorPro ChartList includes a core list of 60 ETFs and a master list of 200 ETFs. Subscribe to TrendInvestorPro with the email you used to sign-up or log-in to StockCharts and I will share this ChartList.
The master list includes: 8 Broad Index ETFs, 6 Factor ETFs, 8 Style ETFs, 31 Sector ETFs, 51 Industry Group ETFs, 17 Fixed Income ETFs, 6 Commodity ETFs, 54 International ETFs, 11 Currency ETFs and a few others. The core list refines this master list by filtering out ETFs with low volume and reducing redundancy.
Note that you must be an Extra or Pro member of StockCharts to have more than one ChartList. Subscribe to TrendInvestorPro with the email you used to sign-up or log-in to StockCharts and I will share the ChartList to that email. Those who are not StockCharts members can receive a CSV file and upload the list to their preferred charting platform.