It has been a long time since we could say anything positive about the mining sector. After a 5 year beat down which saw a meaningful top in 2011, the sector has bounced off the January lows. Let's not get too excited, but a potential trend change nevertheless.
Walking through the chart, the Relative Strength in purple broke out to 3-month highs today. That is important. If the sector can start to outperform, this will attract inflows. Looking at the price panel for the index, we still have room for a 20% move just to get to the 200 DMA. It is unbelievable how far down these stocks have gone. In 2015, we had a rally from mid-January to May 1 as well. It was a strong 60% rally off the lows! This looks like a very similar rally.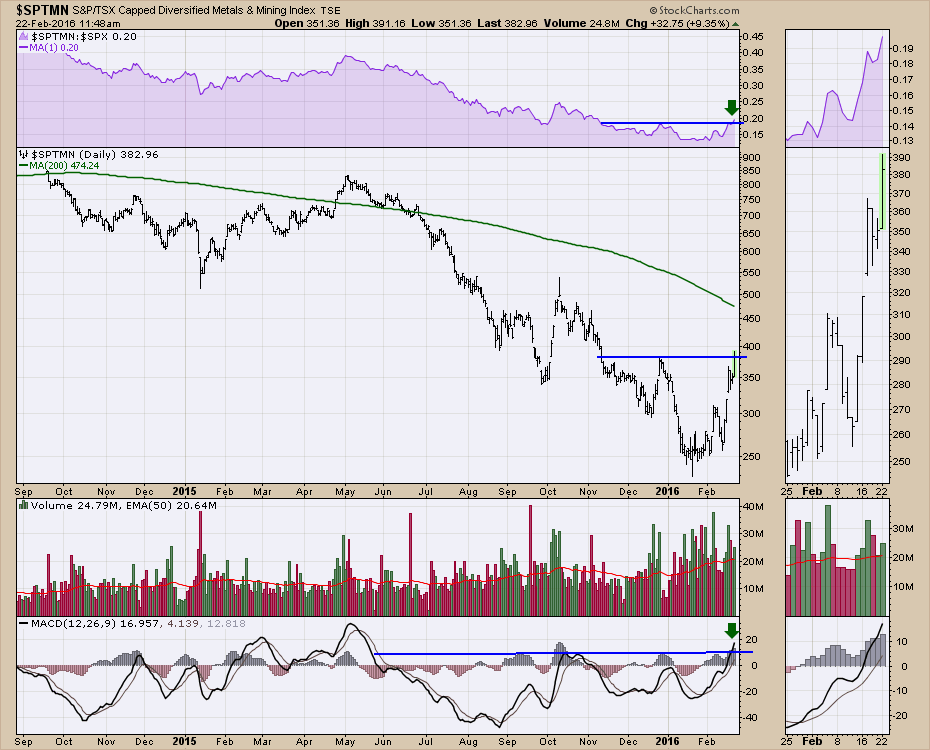 ---
The volume in the first two months of this year has been exceptionally strong. The average volume is now over 20 Million a day, up from a 15 Million average last year. Lastly, the MACD has moved to its highest level since last June.
If you followed some of the webinars and the blog articles, I have been talking about the breakouts in Gold, the volume resurgence in industrial metals miners and how to spot the breakouts when the oil stocks are ready to rally. Here is a link to a January 29th, 2016 article discussing Material Stocks. (Can Material Stocks Breakout Here?) We can start to drill into these sectors and look for some trading ideas. If the sector rolls over, how will we know to exit near the top? This is a great topic for my upcoming webinar.
I will be doing an All-Canadian webinar on Tuesday at 5 PM EST on The Canadian Technician Webinar. You can register by clicking here. The Canadian Technician Webinar 20160223. If you are not already subscribing to the blogs by email alert, click yes on the button below this article to subscribe. You have to register for each blog individually. You can also find me on twitter @schnellinvestor.
Good trading,
Greg Schnell, CMT, MFTA.