Following a dip at the start of the week, the market rebounded nicely, with the jobs report giving the market some soaring confidence to wrap up the week. While it was a stretched-out price bar, we closed right back near the highs. One of the big concerns the market has been worried about has been the China trade deal. As soon as the president suggested waiting until after the election, the market sold off significantly. Once a big change in trend started to emerge, more positive comments came out to reverse the situation.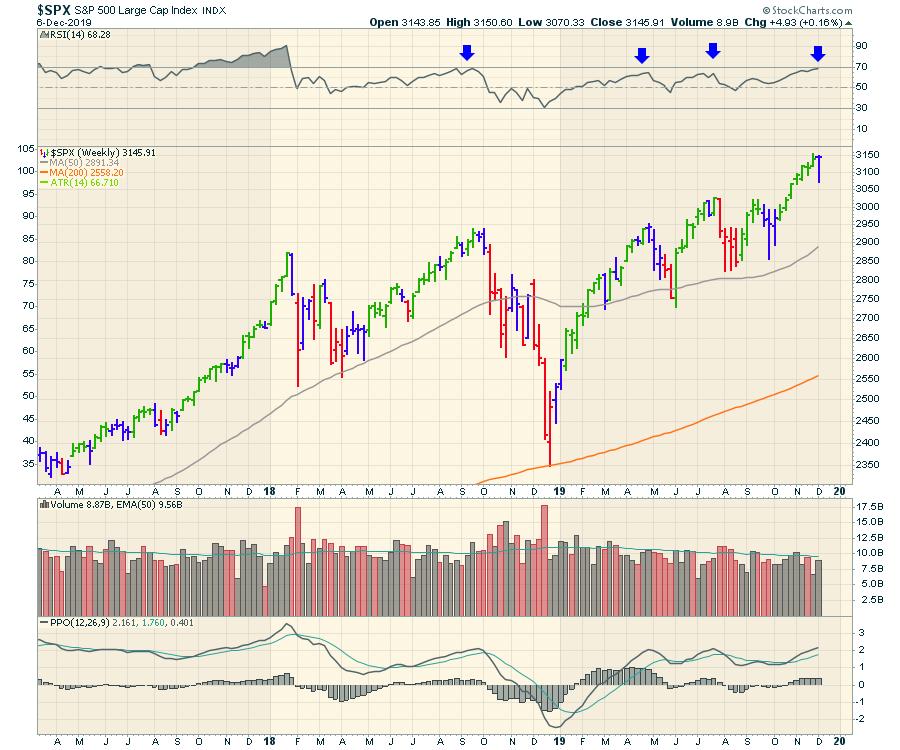 What's ahead? There are some tariffs scheduled to start next weekend (Dec 15), so that should add a little pressure to the China trade talks. They can always be deferred, so it is a wiggly Jell-O date so far. We also have the Fed meeting this week (Dec 10-11) so that could add a few fireworks. Quadruple witching is December 20th.
On the chart above, I placed some arrows up on the RSI. We are getting a little "overbought" but the breadth is still very strong.
It is always important to watch the big tech leaders and they look very solid. While Apple (AAPL) is clearly extended, a $70 billion buyback plan is pretty supportive. Microsoft (MSFT) has a $40 billion buyback, so these stocks continue to stretch the highs knowing the downside has some solid support. I love the breakout in Alphabet (GOOGL). That is a strong move. Netflix (NFLX) is still wounded from all the competition but it is climbing. Amazon (AMZN) has taken the year off.

Energy was the best performer on the week. The oil and gas charts are really ugly. This Exploration and Production ETF (XOP) is really low. Crude Oil closing up over $59.00 on Friday could help attract some attention, but currently it is very bleak.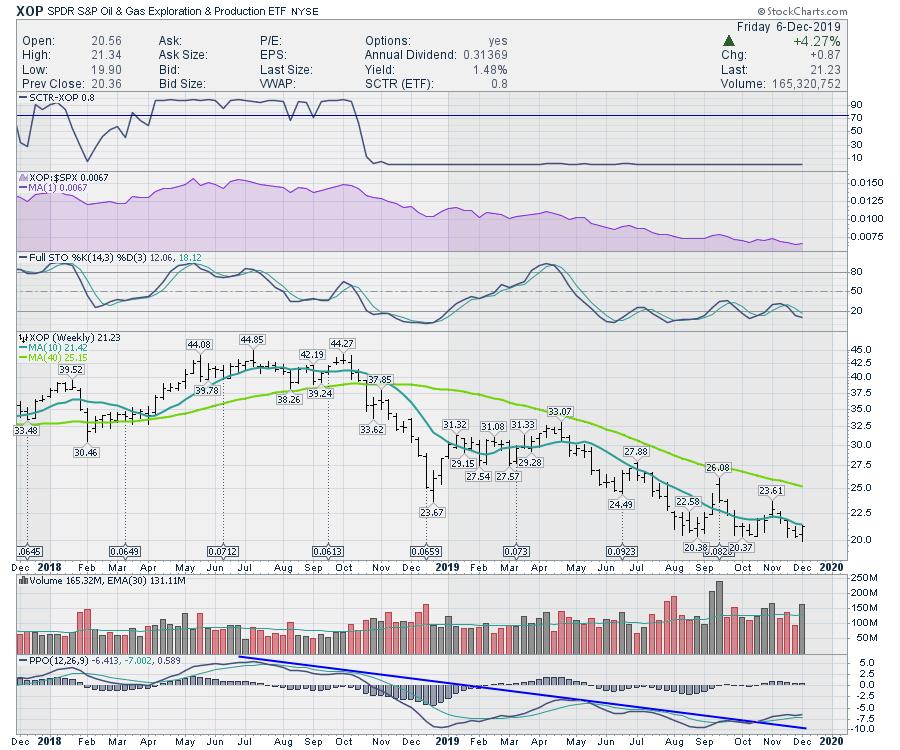 I think one of the areas to watch for 2020 is a big change in the trend in oil. We'll find out if I am right in time, but I like buying commodities when they try to bounce. While I was on vacation, there were no new videos, so here is the link to the current one, Bouncing Through November.
This market still looks bullish to me, with lots of nice setups.