The US market has been dinging the new high bell for a while. But most of the world was still out for lunch in the back half of 2020 and did not have new buyers showing up for work to keep the buying party rolling. Some of that is starting to change as we kick off 2021.
Let me start with America's neighbor to the south and the third party in the USCAM agreement.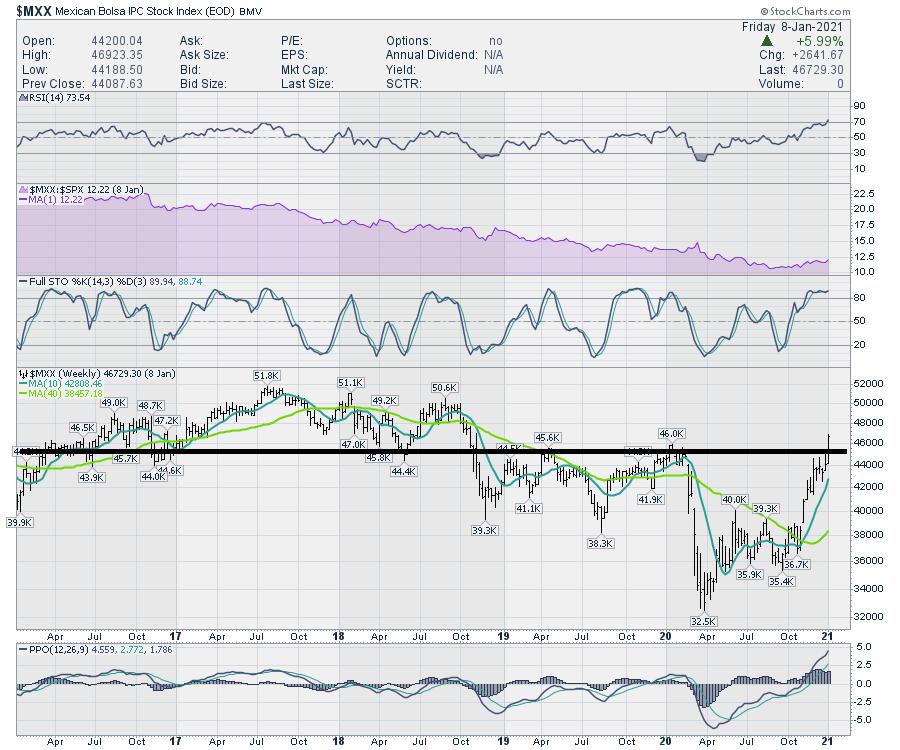 Mexico hit new 52-week highs to start the year. Bullish! I don't want to point out that it did the same pattern last year and failed to hold the breakout. But as another positive, the PPO wave is the highest it's been on the chart. That is very strong momentum. It was a lot more tepid in the start of 2020.
Canada, the neighbor to the north and the second party in the USCAM agreement, also had a great start to 2021. It finally broke out to new 52-week highs as well. At this point, it is still testing a prior high, but breaking out to new all-time highs is a great way to kick off 2021. Notice the PPO breaking out to 5-year highs on the chart, suggesting strong momentum!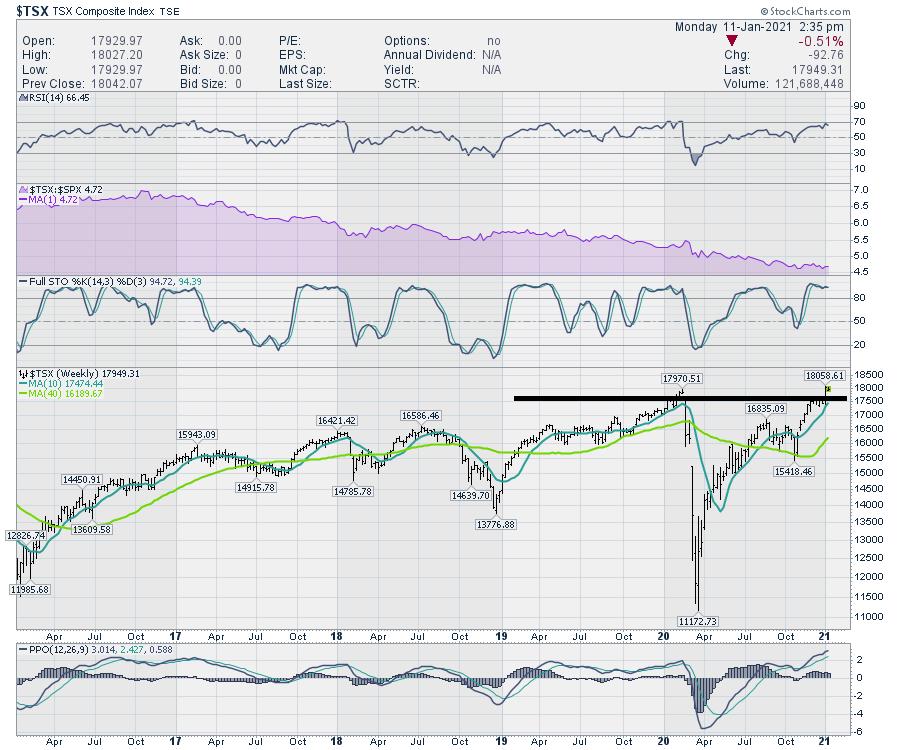 On another note, GregSchnell.com is also breaking out to new highs! After a big year in 2020, we have a lot more planned for 2021. This week, I received numerous compliments on the quality of the weekly videos and how much members cherish the clear, descriptive intermarket analysis.
With two CMTs on staff, working to share meaningful, clear data is a big job. If you are living in a world with a barrage of ticker symbols being thrown about and feel like you are always the day after the big move, I would encourage you to try the service at GregSchnell.com.
After receiving compliment after compliment about the thorough, in-depth and helpful videos we produce, it's clear that subscribers are enjoying a technical view delivered with clarity. Some of the most important trades happen on the back of big setups. If you find you are bouncing around trying to find winning stocks using a pogo stick and a buy button, you might like catching the big setups to produce major winners.
From one of our clients:
"Greg I am a charter subscriber and am writing to thank you for your incisive commentary, timely investment ideas and encyclopedic knowledge about charting and markets. Membership at gregschnell.com has been the best investment decision I have ever made. The educational content alone is priceless, in my opinion. It is not lost on me just how much time and effort you must devote to sharing your ideas with your subscribers. So, again, thank you"
If you are looking for a stock-picking service throwing 100 tickers around, there are other fast-talking sites for you.
The subscription model we have built over the first year has been improving every month. We plan to deliver increasing value through 2021. There is always a 30-day trial. If you are looking for big sector moves, timely signals, and a continuous map of market strength or weakness, you'll find value at GregSchnell.com.