Last week's battering of the high-flying club was a little painful. After a bounce yesterday, the buyers missed most of the work on Tuesday, giving back more than 1/2 of Monday's thrust. While the Dow is only down slightly on Tuesday, the Nasdaq is unwinding at 1.64%. Once again, the hot names are chilling.
Stocks like C3 AI are off the highs, but, more importantly, are threatening to roll over. On Tuesday, C3AI closed below the IPO price and sold off on high volume. The volume was the highest down day volume on the chart.
The purple area on the chart shows this high-flying name underperforming the $SPX. The topping pattern is a double top where the price retested the prior high and fell away. The current levels are important to hold or the stock will need to go lower, find new buyers and build a price base from which it can start to improve.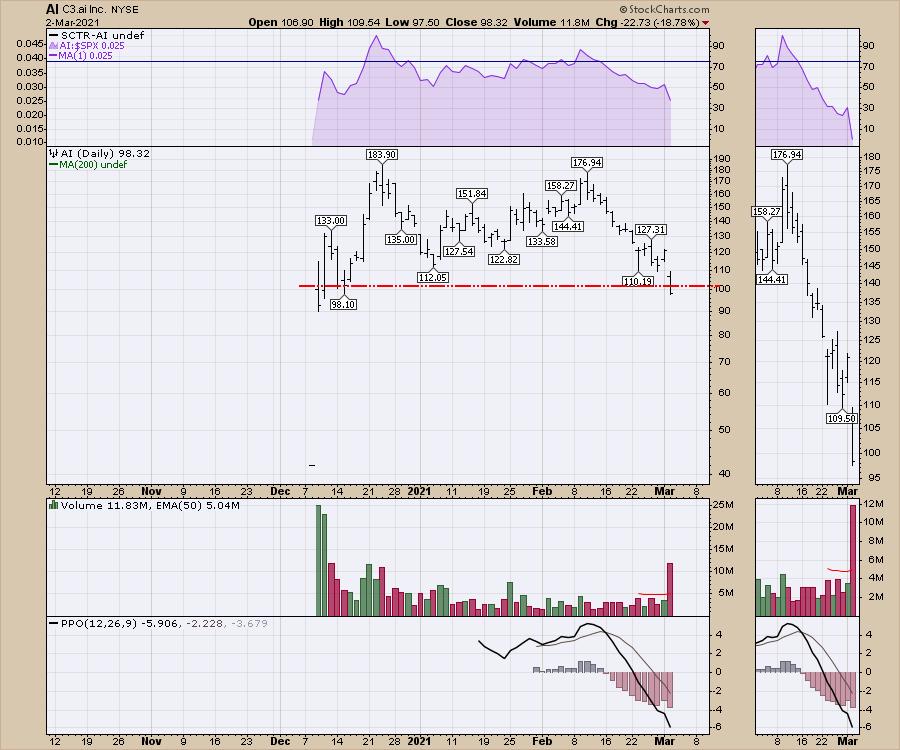 Next is Snowflake. SNOW waddled out of the IPO price bar, doubled in three weeks and is now back to the IPO price close on the first day, which is the red line. Tuesday shows a stock holding in very resiliently as it threatened to go lower. Warren Buffett is in this name (yeah, really!), so it's nice to have a boat anchor shareholder who can pick up a couple of billion dollars worth of available shares, should they go on sale. He had a $735 million stack of shares, so it will be interesting to see if he supports it here or lets it fall away and then builds a larger nest.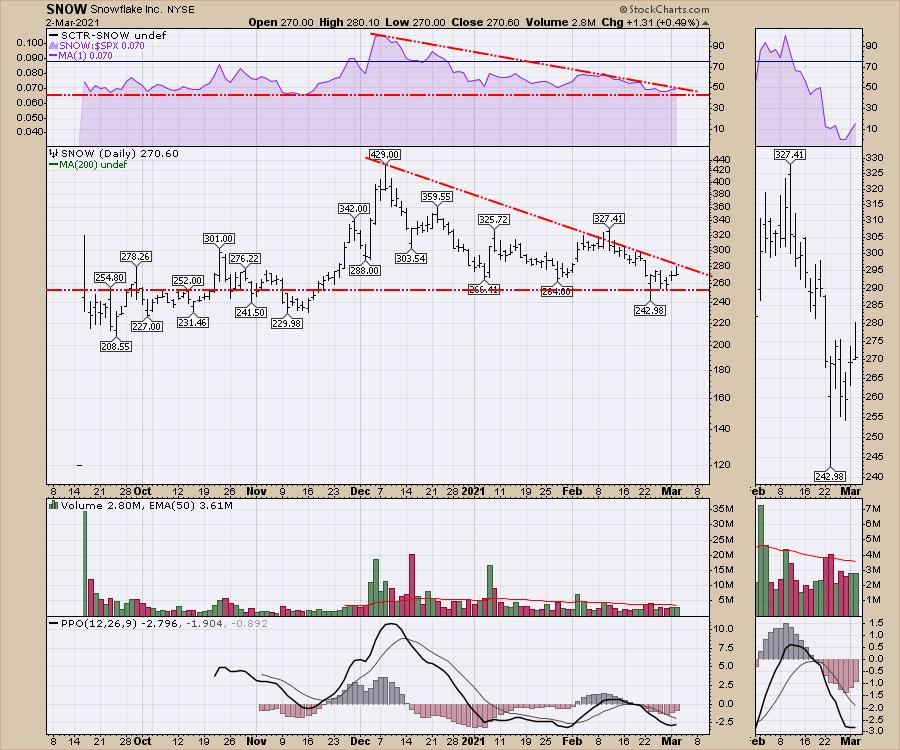 ROKU, the much-hyped media platform, is starting to soften as well. After a big rally on Monday to start the month, the stock reversed, gave it all back and closed below Friday's low. The daily PPO is going below zero for the first time in a while.
The stock looks like it is done outperforming the $SPX (purple area chart), as it broke the uptrend last week and is moving down again. That is one of my favorite indicators to watch for end of the trend on the fast-moving momentum names. When they go from strong outperformance to underperformance, something in the investor mindset is changing. It's typically not a bad idea to change with it!
The $380 level looks pretty important. Watch to make sure it finds support there!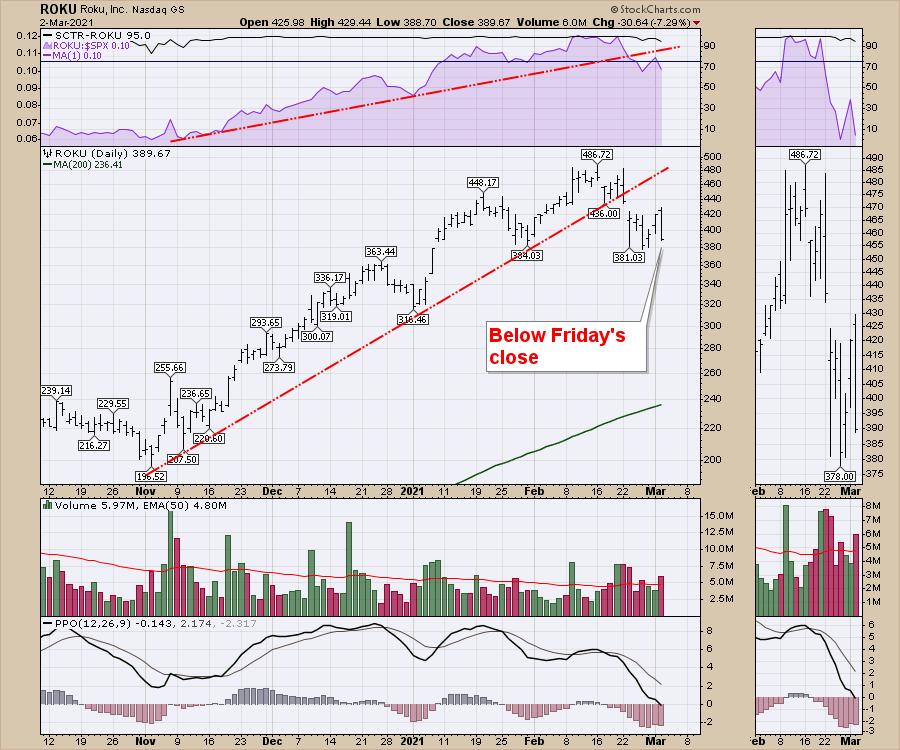 Things are getting a little jittery. My Schnell Strength Index has been waving the giant caution flag! If these moves have been catching you by surprise and you would rather be told before the prices start losing $100 here and there, you'll find my Schnell Indicators very helpful in preserving capital. I've been getting a few notes of thanks for timely tightening of stops in February. (In case you missed my article of three weeks ago before the recent top, here is a link back to it.)
The Schnell Strength Index is also very helpful for getting back in!
I am kicking off March with sale prices on annual memberships! You can access those low sale prices by following this link for a limited time: GregSchnell.com/Explore
Thank you for considering our work important!