I've been very cautious about the stock market throughout most of 2014. There are warning signs galore. But the Russell 2000 has been hit particularly hard year-to-date, dropping approximately 10% from the high set in early March. That was the time when money began rotating away from many of the momentum names and traders turned from "risk on" to "risk off" mode. Many small cap stocks have taken the brunt of the selling. The short-term news isn't great as a bearish head & shoulders top is in place and the upcoming week is quite bearish historically for small caps. Next week has produced annualized returns on the Russell 2000 of MINUS 17.04%. That's the bad news. The good news is that overall May is one of the best calendar months of the year for the Russell 2000 and late May/early June tends to be VERY bullish historically. From the May 25th close through the June 5th close, the Russell 2000 enjoys annualized returns of 66.20%, one of the best historical periods of the year for the aggressive and highly volatile small cap group.
So the first question becomes "can the Russell 2000 hold onto neckline support in the near-term to enable the bulls to do what they do best - namely carry prices higher from late May into early June?'. Check out the bearish head & shoulders pattern and the relative weakness since March: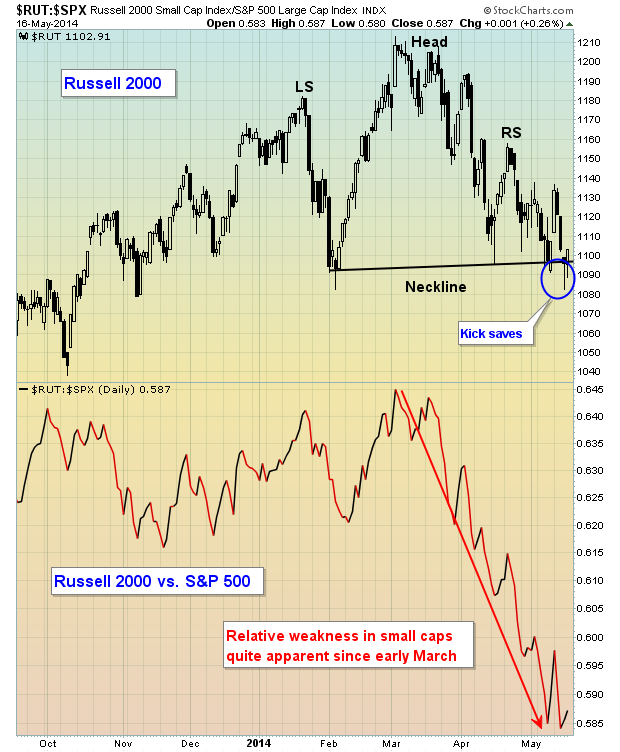 If the Russell 2000 breaks down this week, we have to respect it. But after this week, the tendency is to see bullishness and relative strength from small caps and that could set up a number of opportunities. Truckers have been a source of industry strength of late and there's a small cap trucking company that provides a very solid reward to risk entry point at its current price. This stock is being featured as my Chart of the Day for Monday, May 19th. CLICK HERE for more details.