Hello Fellow ChartWatchers!
While the major averages were mixed last week with the Nasdaq up 0.5% and the Dow down 0.5%, in general the markets continued to weaken. Check out the Bullish Percent Index chart for the Nasdaq Composite: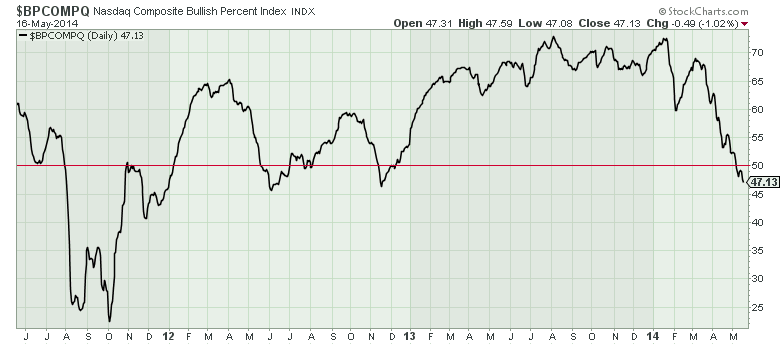 It has continued to move lower even after crossing the 50% line. That doesn't bode well for Nasdaq stocks. For more, skip down to John, Arthur, Greg and Tom's articles. I, on the other hand, want to talk about something that is increasing in value...
All the New Things at StockCharts.com This Year
As long-time members know, we are constantly increasing the value of a StockCharts.com membership without increasing the price. The first half of this year has proved that point in dramatic fashion. Here's a (mostly) complete list of all the things you now have access to on StockCharts, that you didn't have on January 1st:
(The ones marked with an asterisk are brand new features added within the last 2 weeks.)
All of these items have been added to the site since January 1st without any changes to our pricing. Think about that for a second. What other web site or software service do you know of that has continually added new features at this same rate? Our philosophy is that we always want to be increasing the VALUE of your StockCharts.com membership. We have consistantly demonstrated that throughout our history - which goes back over 15 years now - however this recent stretch of 4.5 months may have seen our biggest rate of functionality improvements ever. And we're aren't stopping now - look for another new, major charting tool to be added to our website in the coming weeks as well as two new exciting bloggers and much more.
And, no, all you cynics out there, there are currently no plans to change our pricing for the foreseeable future.
Enjoy!
- Chip