The Dow Jones US Industrial Suppliers Index ($DJUSDS) experienced a HUGE bull market run off the 2009 lows through mid-2013, quadrupling in value during the period. Momentum on the weekly chart turned negative, as evidenced by the long-term negative divergence on its MACD. As a result, this index has gone nowhere for the past 15 months or so as money has rotated away from the group into other areas like semiconductors, transportation, etc. The good news is that this basing has set up what could be another powerful move to the upside as money rotates back into what is quickly becoming a very attractive area of the market technically.
First, take a look at the 5 year weekly chart: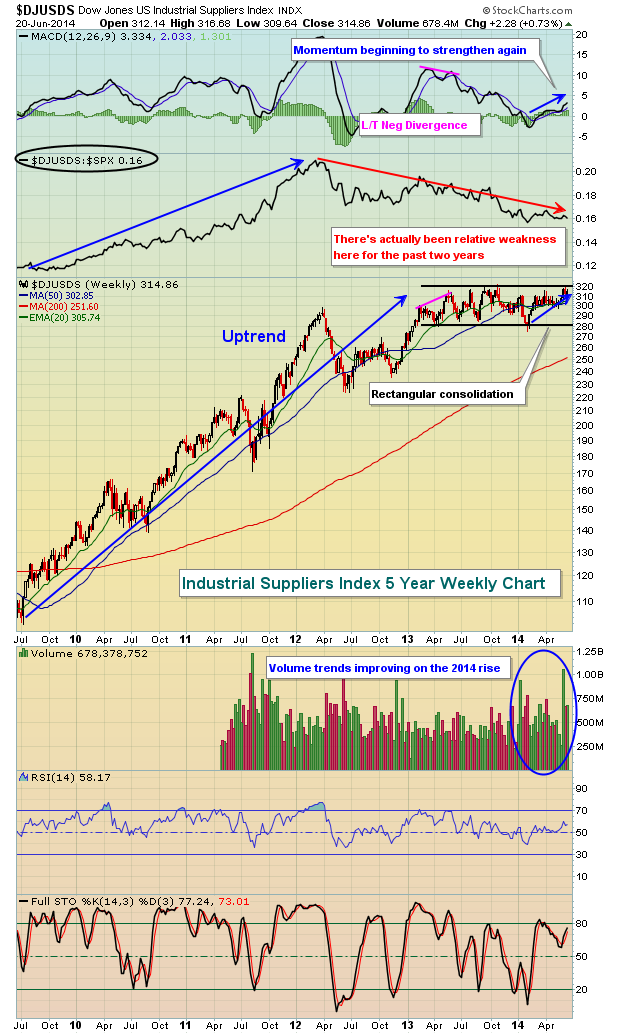 The weekly RSI on the industrial suppliers has not reached overbought territory at any point during the past year. A breakout above key technical price resistance near 320 could lead to a lengthy period of relative strength vs. the S&P 500. Currently, the relative strength line is downtrending, but I wouldn't overlook the bullish continuation pattern and the improving volume trends in 2014, not to mention the strengthening weekly MACD off the recent centerline test. These bullish patterns do require a confirming breakout, but moving through 320 on the index is likely to send many traders back into the industrial suppliers stocks.
I'm including one of the stocks in this industry group as my Chart of the Day for Monday, June 23. You can CLICK HERE to receive your copy of the chart.
Happy trading!
Tom Bowley
Chief Market Strategist
Invested Central