The Fed is winding down its asset purchase program and the historically weak month of September is now behind us. So what's in store next? Earnings season. The stock market sends us signals all the time and given the recent performance of certain sectors and industry groups, we can surmise where to look for positive earnings surprises. One of the best looking areas of the market technically right now is investment services ($DJUSSB). Off the early August lows, the DJUSSB rose sharply (approximately 13%) over the next 6-7 weeks. During this same period, the S&P 500 rose about 5%. The relative strength in investment services has been trending higher since 2012 as can be seen in the chart below: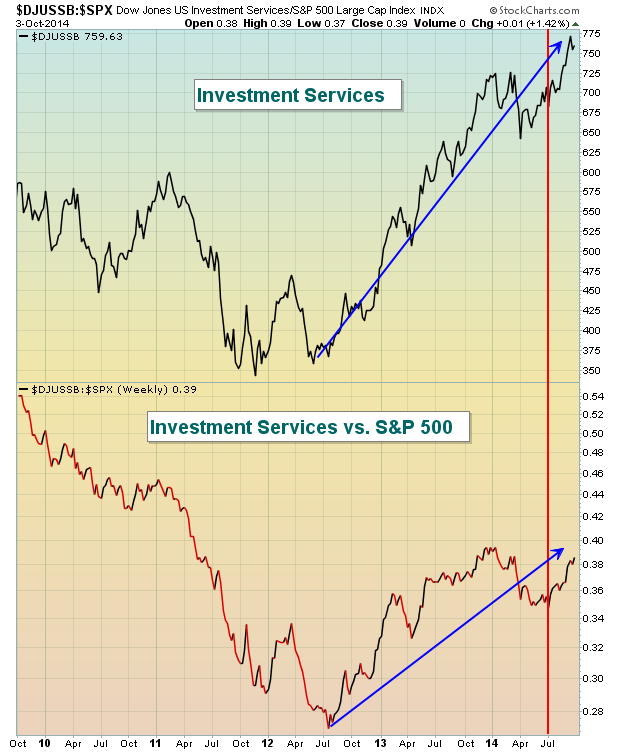 The red vertical line also shows how strongly this industry has performed over the past few months leading up to this earnings season. That tells me we're likely to see some excellent quarterly results from companies within this space.
Railroads ($DJUSRR) have also been a shining star - not just over the past couple months, but throughout 2014. There are going to be very high expectations for earnings within this transportation group for sure. Check out the relative outperformance here: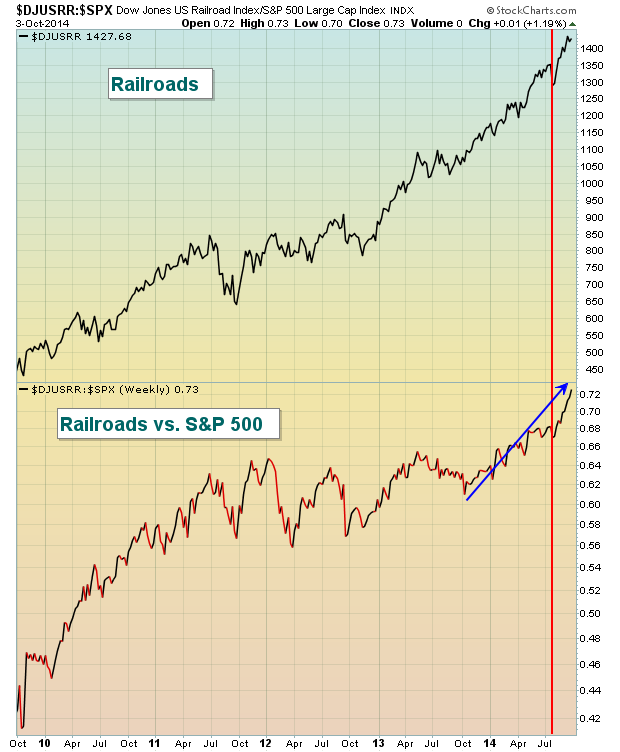 I also placed a red vertical line on this chart that shows the strong relative strength of railroads over the past couple months leading up to Q3 earnings reports.
On Thursday, October 9th, I will be hosting a FREE webinar discussing the best ways to trade gaps resulting from earnings reports, among other topics. With earnings season just around the corner, this will be quite timely. For more information, simply CLICK HERE.
Happy trading!
Tom Bowley
Chief Market Strategist/Chief Equities Strategist
Invested Central/EarningsBeats.com