Hello Fellow ChartWatchers!
It was definitely a roller coaster ride for stocks this week. The bears were firmly in control on Wednesday but then the Bulls roared back Friday on the strength of the US Employment numbers. A quick glance at the Market Cap PerfChart shows that Large Caps were the big "winner" last week while Mid-Caps lost twice as much.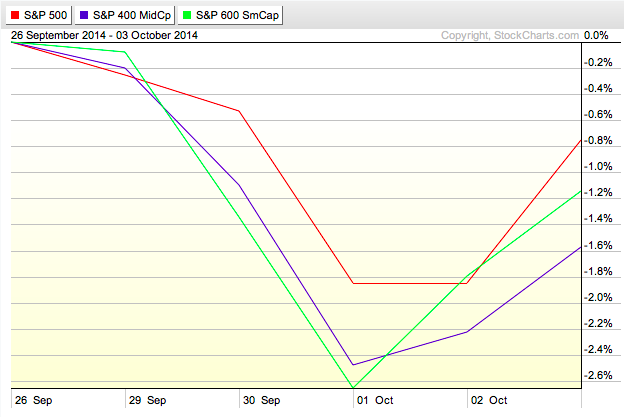 All this squabbling shows up clearly on the broader index charts as well. Have you checked out the charts in Arthur Hill's free "Market in a Nutshell" ChartPack recently?
Side Note: A ChartPack is a pre-created collection of SharpCharts and ChartLists that StockCharts Extra members can install with just a couple of clicks. Last year, our Senior Technical Analyst, Arthur Hill, created a free ChartPack called "Market in a Nutshell." It's a collection of 10 very useful charts that Arthur reviews every day. If you are member of our Extra (or PRO) service, you can install the ChartPack by clicking on the "Your Account" link in the upper right corner of the page and then scrolling down to the "ChartPacks" area. For more on installing and using ChartPacks, click here.
OK – sorry about that – here is one of the more interesting charts from Arthur's collection: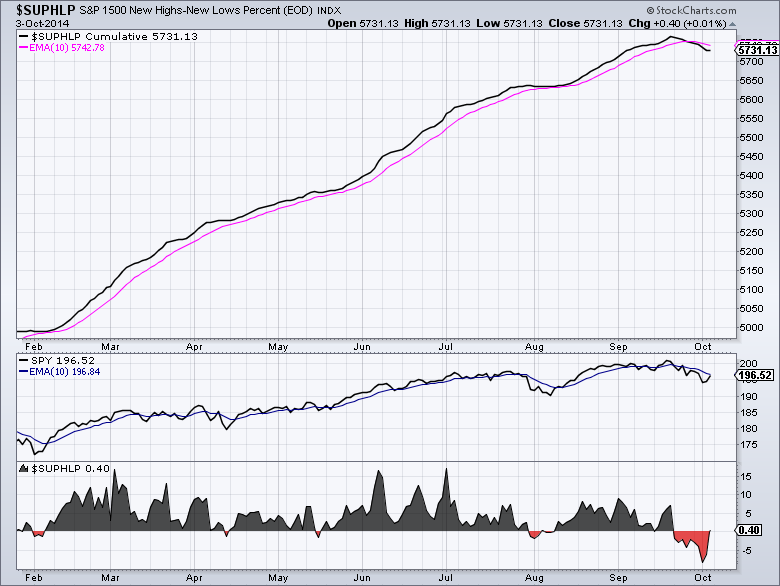 (Click the chart for a live version)
This is a slightly modified version of Arthur's first chart - the S&P 1500 High-Low Line (I just shrunk it a little bit so it fits into the newsletter format). Back on September 26th, this broad market indicator - one that very few people watch closely - gave a clear bearish signal confirming the red signal given by the non-cummulative version ($SUPHLP) several days earlier. Since that is based on 1500 important stocks from all different market-cap categories, it is definitely a signal worth watching.
Again, ChartPacks are a great resource for StockCharts members, but if you are like most people, you have to remember to use them after you install them!
Greg Schnell's Thursday Webinars
The other big news from past two weeks is that we held two very successful webinars with Greg Schnell presenting. We are continuing to explore the possibly ways that webinars can help our users. Last Thursday, over 500 people attended Greg's webinar and the feedback was overwhelmingly positive. Based on that, we have tentatively scheduled additional webinars by Greg on every Thursday in October.
Each Thursday at 4:30pm Eastern (30 minutes after the markets close), we'll hold a one hour live session with Greg. The webinar format allows you to see Greg's screen and hear his voice as he walks you through his charts. He'll cover his currently thoughts on the markets and then demonstrate how to use various features of StockCharts.com. We also leave time at the end of the session for live Q&A.
If you have the bandwidth, you can click here to review last week's webinar.
If you are interested in attending this Thursday's upcoming webinar, first click here and follow the instructions for installing and testing the webinar software. Make sure you use all the resources on that page to get the webinar software working smoothly otherwise you'll just be frustrated when the webinar starts.
After you have verified that everything works, you can click here to register for our next webinar. Greg and I are looking forward to seeing you in the (virtual) audience.
Look for us to expand our use of webinars soon. As we improve things, we'll be inviting Arthur Hill, John Murphy, Erin Heim, Tom Bowley, and others to join in the fun. Stay tuned…
- Chip