The falling Dollar is boosting large-caps and they are outperforming small-caps. This makes sense because large-caps are typically multinational companies that derive a good portion of their revenue abroad. The Financial Times estimates that companies in the S&P 500 generate around 40% of their revenues abroad. These foreign earnings must be converted to Dollars and a strong Dollar translates into lower earnings. A weaker Dollar, on the other hand, helps the bottom line for companies that generate revenues abroad.
Chartists can see this relationship in action by comparing large-cap performance against the Dollar. The first chart shows the S&P LargeCap 100 relative to the Russell 2000 using the price relative ($OEX:$RUT ratio). $OEX outperforms when this ratio rises and underperforms when this ratio falls. As the chart shows, large-caps underperformed small-caps as the Dollar rose from October to March. This performance ratio reversed in April and turned up as the Dollar turned lower. Notice that large-caps have been outperforming small-caps as the Dollar moved lower the last five weeks.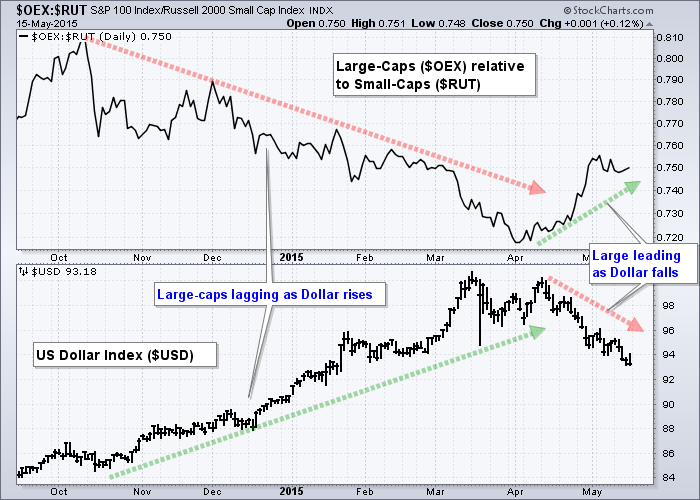 ---
The second chart shows the S&P LargeCap 100 hitting new highs on Thursday and Friday. $OEX was the first of the major stock indices to hit new highs in May and this confirms large-cap leadership right now. Note that the S&P 500 hit a new closing high on Friday. Large-cap outperformance is likely to persist as long as the Dollar weakens so chartists should keep an eye on the old greenback.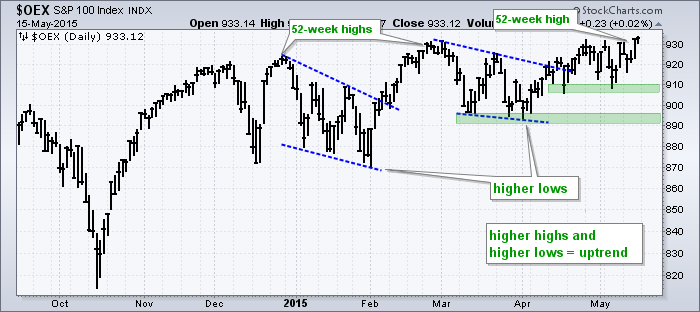 Thanks for reading and have a great weekend!
Arthur Hill CMT