It's Kentucky Derby Day so of course! Oops, wrong blog! :-)
We know that the stock market goes through periods of consolidation and rotation. Groups that lead for a period of time eventually fall out of favor as new groups emerge as leaders. Then we rinse and repeat. So the question is whether it's time for the Dow Jones U.S. Gambling Index ($DJUSCA) to "repeat" because they are thoroughly rinsed, downright soaked, at this point. On March 7, 2014, the DJUSCA hit an all-time high at 1096.46. From that point through Friday's close, the DJUSCA had fallen over 420 points, or 38.4% in 14 months. This drop occurred while the benchmark S&P 500 index was rising more than 12%. Check out the diverging charts of these two since March 2014: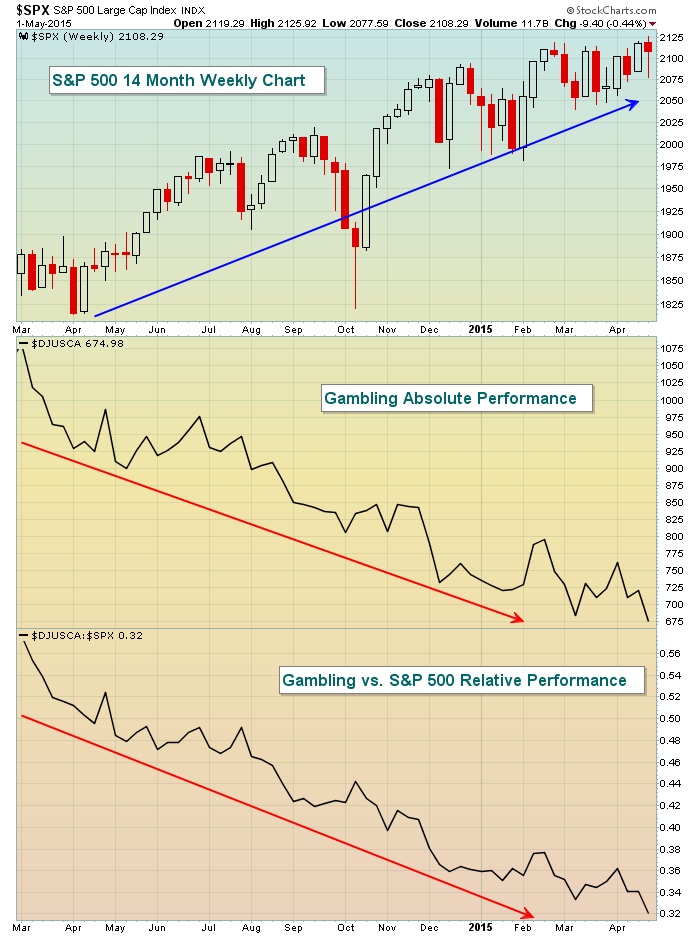 What would ever compel you to consider buying anything to do with gambling stocks? According to this chart, not much. However, this is a snapshot of the last 14 months and doesn't tell the entire picture. For instance, prior to this 420 point drop, did you know that the DJUSCA gained 153% in just 20 months? Did you also realize that the DJUSCA is currently hitting long-term trendline support, relative strength support, while at the same time printing a long-term positive divergence on its weekly chart? Perhaps stepping back and looking at the big picture would provide us a completely different picture. See what you think: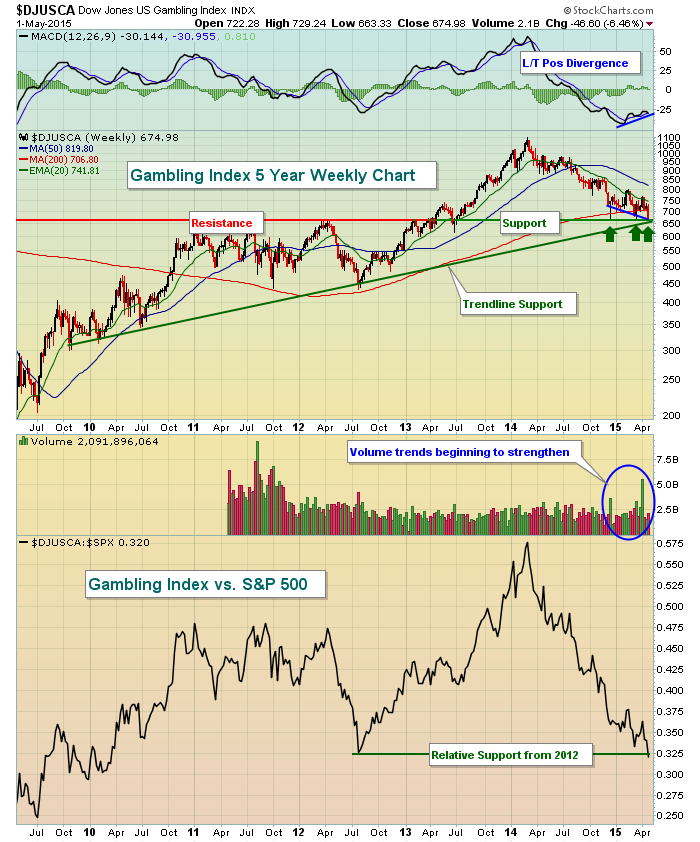 Now you might look at this chart and still decide to stay away from this group. But you have to admit the long-term weekly chart gives us a much different perspective. I always like to have a solid reward to risk scenario and I believe the DJUSCA certainly gives me one at current prices. While it may be a "longshot" on Derby Day, I believe gambling stocks are moving closer and closer to a solid entry point.
By the way, I'm taking Firing Line (#10) over Dortmund (#8) in the Run for the Roses!
Happy trading and enjoy your weekend!
Tom
About the author:
Tom Bowley
is the Chief Market Strategist of
EarningsBeats.com
, a company providing a research and educational platform for both investment professionals and individual investors. Tom writes a comprehensive Daily Market Report (DMR), providing guidance to EB.com members every day that the stock market is open. Tom has contributed technical expertise here at StockCharts.com since 2006 and has a fundamental background in public accounting as well, blending a unique skill set to approach the U.S. stock market.
Learn More