Bears are awaiting price breakdowns in key areas of the market, but thus far they remain highly disappointed. Last week they had their chance to take down the small cap universe on two fronts and both failed. This isn't meant to say that the bulls are out of the woods, but at least for now, support has won out. Multi-month price support held mid-week last week as bullish hammer, then engulfing candlesticks printed. Take a look:
---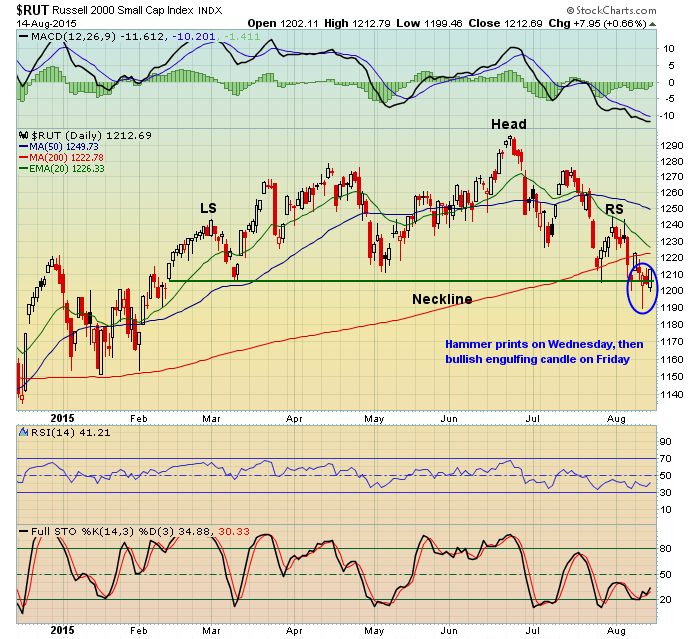 The reversing candles were important on a number of technical levels, one of which is that they saved the Russell 2000 from a confirmed head & shoulders breakdown. Small caps were not only able to avoid this bearish technical development, but also finished on a very strong note on Friday closing at its high. We'll want to watch the 1200 price support level closely in the days and weeks ahead. While a close below doesn't guarantee anything, it certainly begins to put the bulls on the defensive and could trigger much more technical selling.
On the weekly chart, it could be argued that this summer selling was expected. Generally speaking, while momentum remains strong, I look for rising 20 week EMA support to hold. But once negative divergences emerge, I look for the increased likelihood of a 50 week SMA test to "reset" the MACD at or near its centerline support. Check out how the negative divergence on the Russell 2000 weekly chart has played out: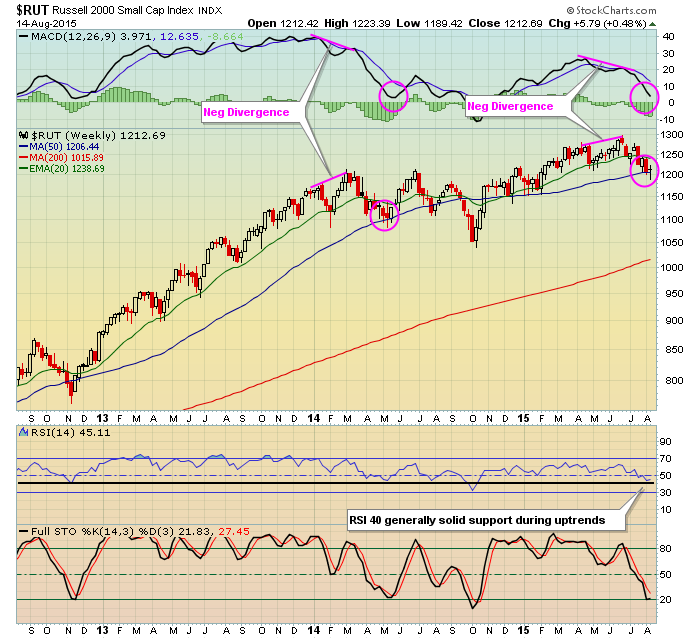 While the action this summer has been quite choppy, it would be wise to at least respect the short- and intermediate-term reversing candles that printed last week because of the significance of the support levels. The bulls do still have to withstand the historical headwinds that the calendar months of August and September present, but the kick save last week helped to extend the battle that's been taking place over the past several months.
Happy trading!
Tom