This time of year is on my calendar to start hunting the best in retail for Christmas. Everyone following momentum has seen the Consumer Cyclicals ETF (XLY) continue to be a top performer. I like to migrate my attention into retail like footwear, teen apparel, and toys to see who the strong ones are. Amazon (AMZN) dominates the broadline retailers with three stellar quarters of outperformance. None of the other Broadline Retailers have jumped up to compete in the Revenue Run to Christmas. But there are some interesting companies running in the other industry groups already. For the most part, I've highlighted the companies that have SCTR rankings around 70 and above. You can click on the screen shots to see the live versions all the way to Christmas.
Skechers (SKX) is one of the best stocks in the entire market. Nike (NKE) is a great marketer whereas Crocs (CROX) has managed to become a real stock again after imploding as a fad from years gone by. The long term chart for CROX says this level is important. The SCTR shows that it might have enough strength to push through.

With Jordan Spieth winning a few majors this year, Under Armour (UA) has been in the spotlight. According to the SCTR ranking, it's paying off.
---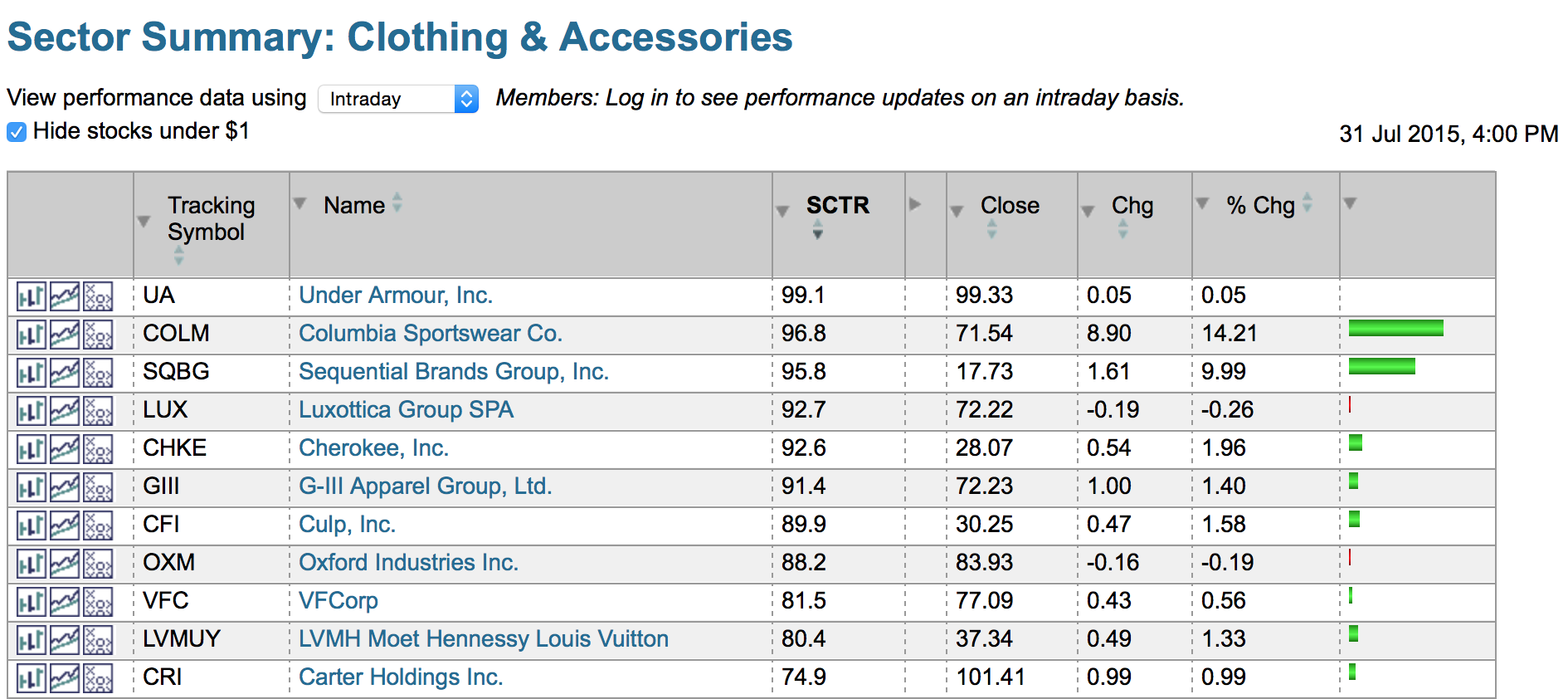 I highlighted all the way down to Mattel (MAT). With an SCTR ranking of 8.9 I won't expect much from Barbie this year unless they have some dramatic launches this fall. But the Electronic Arts (EA) chart is stunningly good.

Caleres (CAL) is the former Brown Shoes. Foot Locker (FL) tracks NKE. Boot Barn (BOOT) is a successful rising IPO. Express (EXPR) and American Eagle (AEO) are making 52 week highs.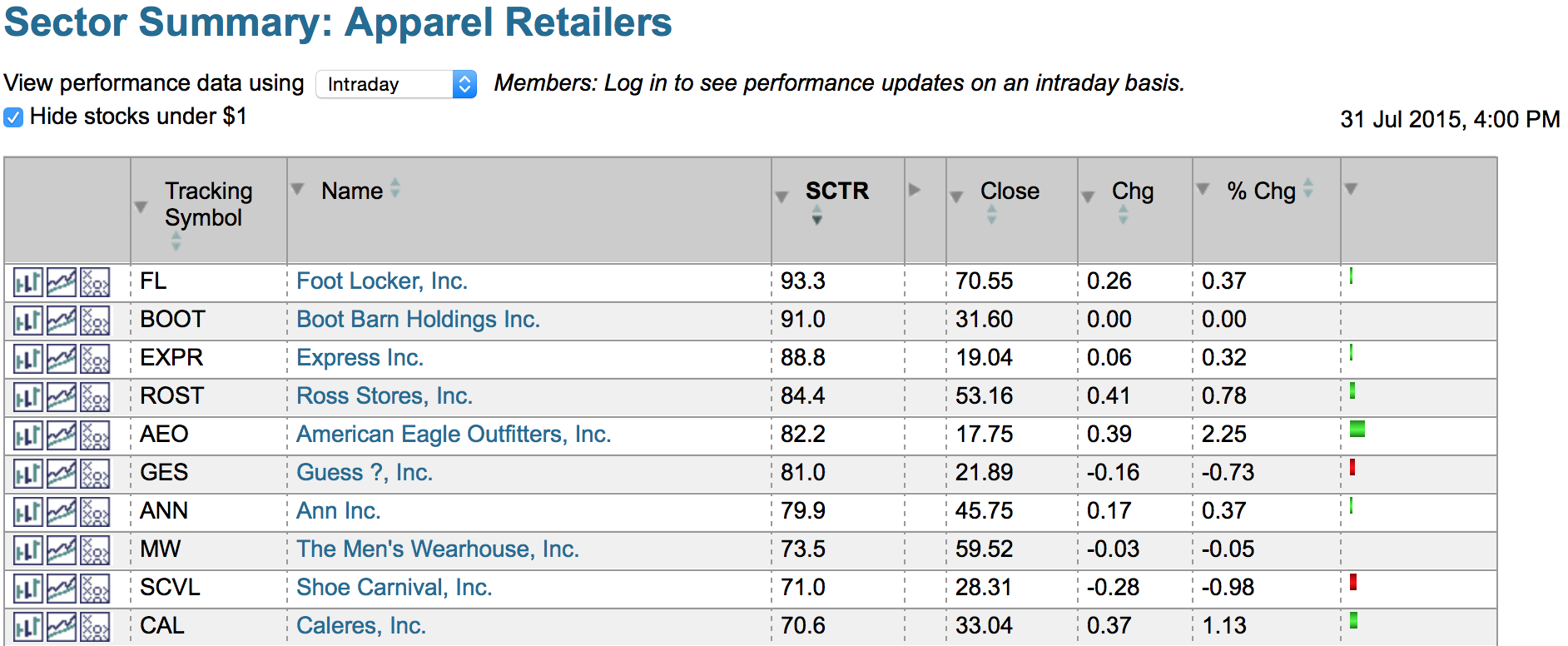 Lastly is the mixed bag called Specialty Retailers. Sportsman's (SPWH) and GameStop (GME) look stronger than Tiffany's (TIF) and Blue Nile (NILE).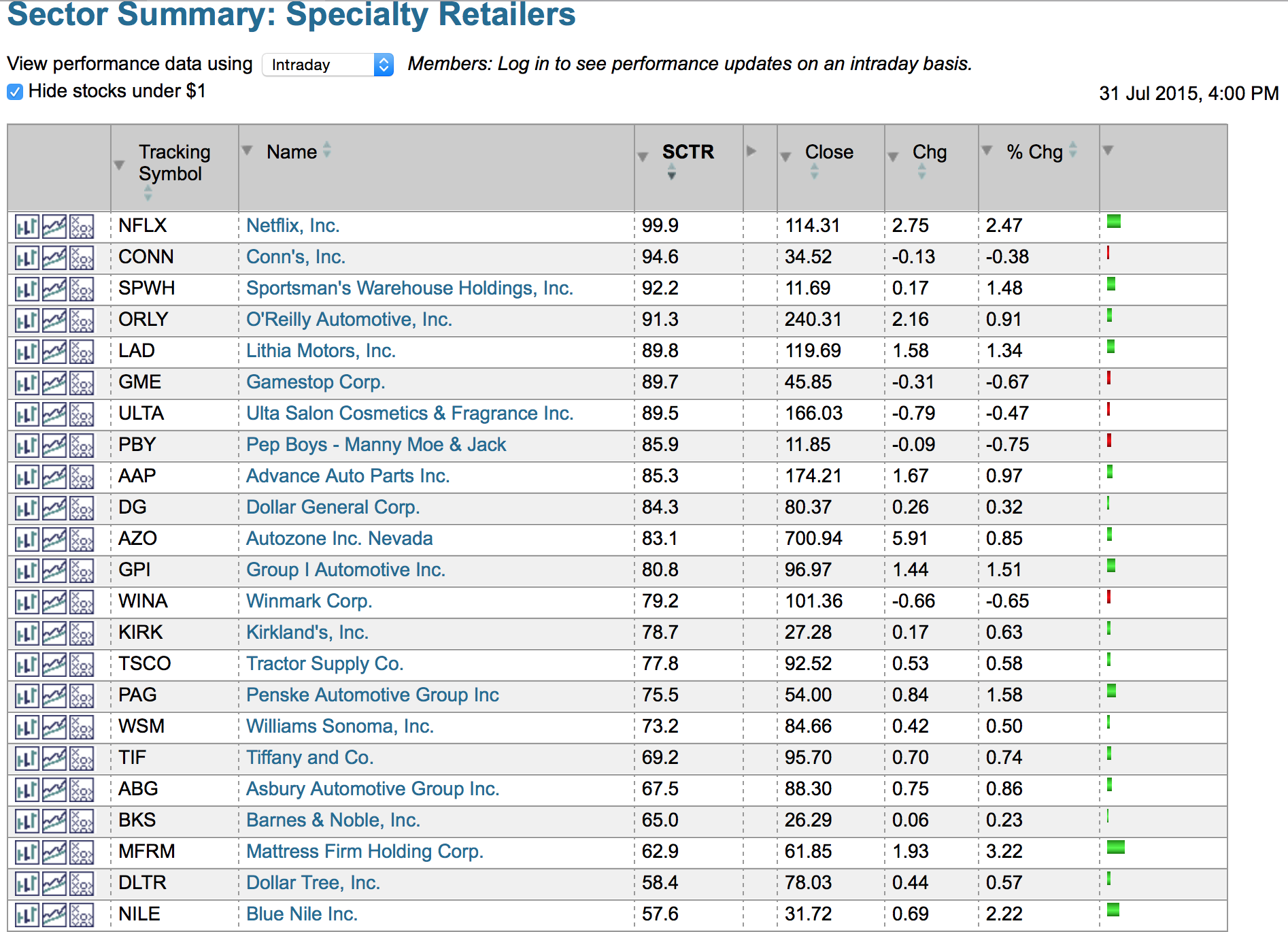 In a market where the numbers of stocks making new highs compared to new lows keeps dropping, only the best will do. This list might help set up a successful 3rd and 4th Quarter. Using the SCTR can help focus on the best.
Good trading,
Greg Schnell, CMT