With the big push in the markets recently, global markets continue to break out to 52-week highs. Brazil hosts the world in three weeks with the Olympics. I don't think the recent Brazilian stock market ($BVSP) performance is Olympics-related, but Brazil is pushing to new 52-week highs for the first time since September 2014.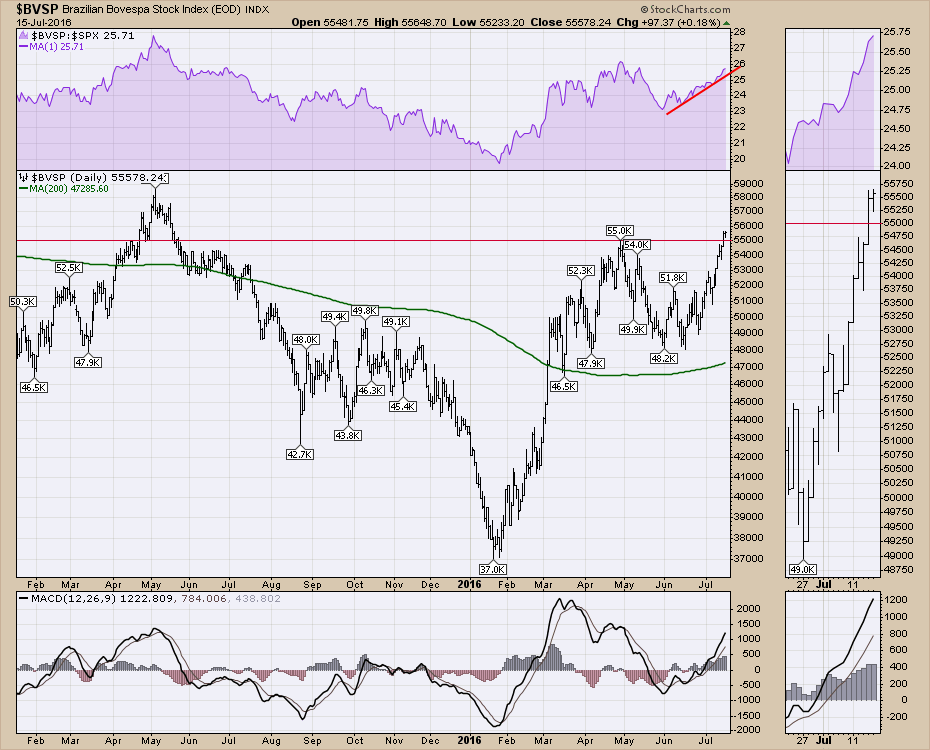 ---
The next commodity-based market to highlight is Russia ($RTSI). This is the first 52-week high since April 2011. Yes, the first 52-week high in 5 years. The 200 DMA has turned up and the Russian market is outperforming the $SPX slightly as shown on the purple area chart.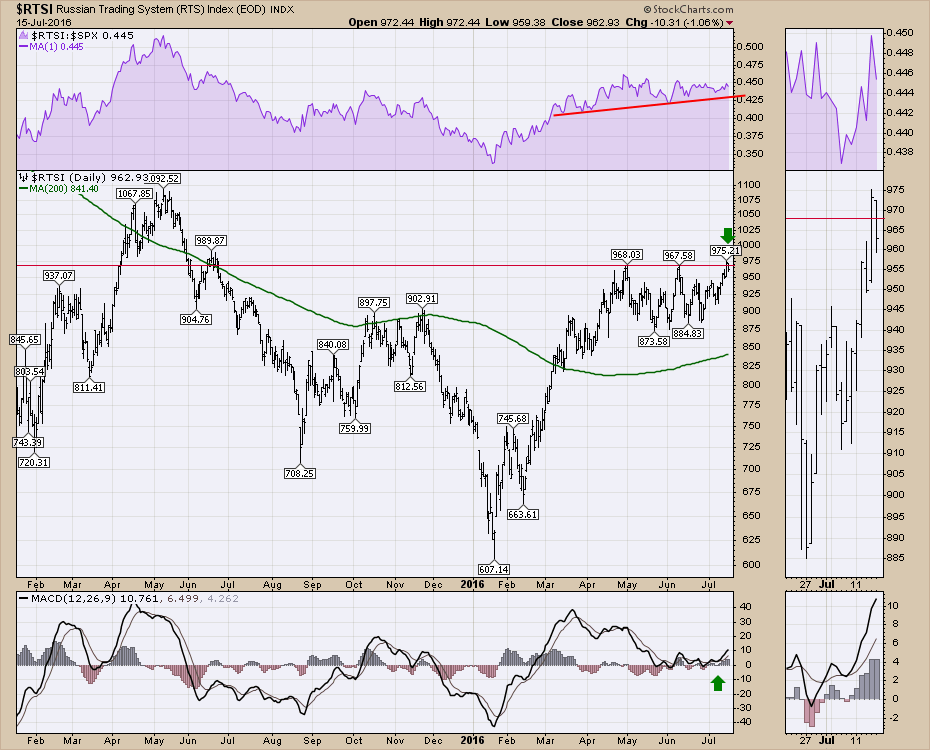 Australia ($AORD) posted a strong week but needs a little more work to make new 52-week highs. The last time this chart hit a 52 week high was April 2015.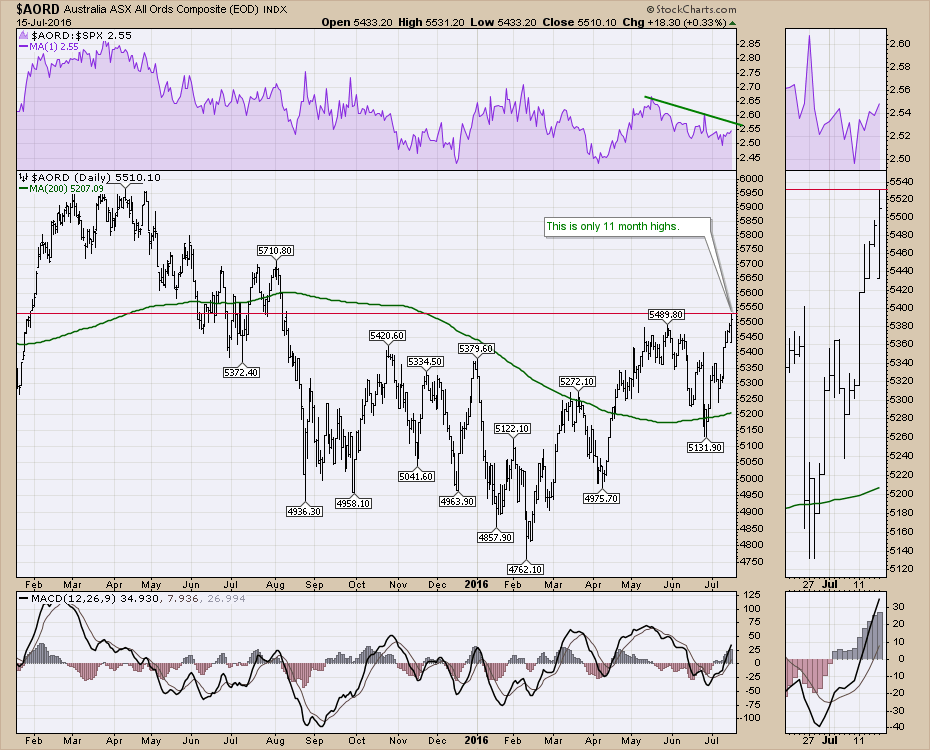 The Canadian $TSX has been rocketing up. This market is only 65 points away from a new 52-week high. Canada's last 52-week high was September 2014.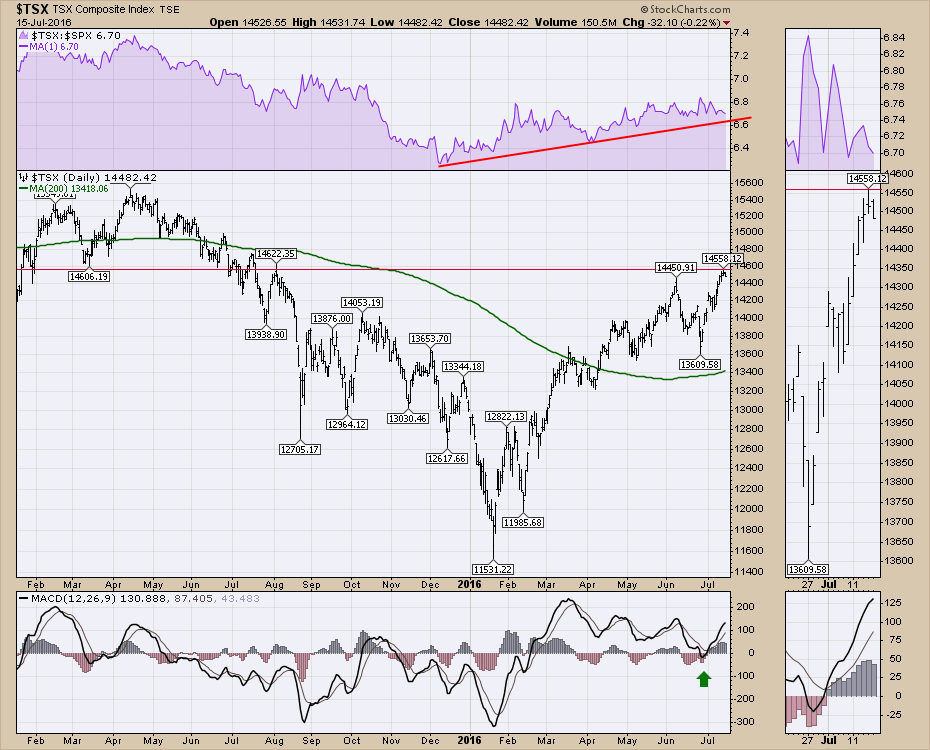 In summary, the commodity country indexes around the world are moving to new 52-week highs. In most cases, it has been multiple years since the last highs were made. This would appear to be a very broad, worldwide push. My take would be that we are probably not in a bear market when we are breaking out to new 52-week highs.
I'll continue to review some commodity industry groups later on in the week. I'll also cover this off on the Commodity Countdown webinar. Commodities Countdown Webinar 2016-07-21 is the next one, so I hope you can join me. Click on the link to register. You can also follow me on twitter @Schnellinvestor and LinkedIn.
Good trading,
Greg Schnell, CMT, MFTA
About the author:
Greg Schnell
, CMT, MFTA is Chief Technical Analyst at Osprey Strategic specializing in intermarket and commodities analysis. He is also the co-author of
Stock Charts For Dummies
(Wiley, 2018). Based in Calgary, Greg is a board member of the Canadian Society of Technical Analysts (CSTA) and the chairman of the CSTA Calgary chapter. He is an active member of both the CMT Association and the International Federation of Technical Analysts (IFTA).
Learn More