Hello Fellow ChartWatchers!
So as I write this, I'm crammed into seat 18F on the red-eye back to Seattle. I can barely type on my laptop thanks to the wonderful people all around me. It's not their fault, but I'm about to ask the flight attendant if I can crawl out on the wing so I can get this article written. According to the flight tracker, things do not look promising: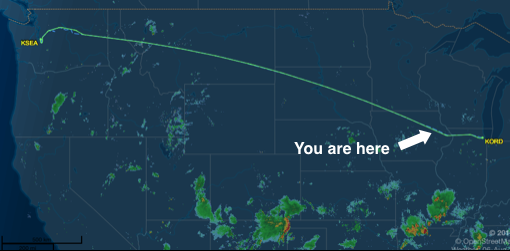 The good news is that I learned about several new technologies that will help us improve our website but - man - attending tech conferences can be a big, expensive pain! Check out the (approximate) costs for this one trip:
Conference registration: $800
Airfare: $350
Taxi rides: $120
Hotel: $1200
Non-Convention Food: $200
Parking: $130
So that's $2800 for this conference alone (I go to 3 or 4 each year) and that doesn't include these amazing, intangible "benefits":
Jet Lag
No Exercise
No Laundry
Bad Bed/Pillows
Sketchy Food
Our good friends at the TSA
The inevitable cold/illness
The crying babies in 17A, 18C, and 19E
TuRbULenCe!
Kamikaze Taxi Drivers
…and so much more!
Why am I boring you with this stuff? Because this stuff is exactly the reason we made ChartCon 2016 a virtual conference! Instead of suffering with all of this pain and expense, if you register for ChartCon 2016, you'll be able to watch everything from the comfort of your own home. And you'll be able to pause, rewind and re-watch any part of the conference as often as you want - something I wished I could do multiple times this past week.
ChartCon 2016 is being held - online - on Friday September 23rd and Saturday September 24th. It costs $200 period. That's all. None of the additional time and expenses like I mentioned above. $200 bucks. Done.
I also guarantee you that you'll learn more than I did this week. While I did get a couple of nuggets and some good tech contacts, there were lots of useless sessions and events that I had to suffer through to get those nuggets. Instead of that, we're working hard to make sure you'll get great, actionable takeaways from each and every session. Check out this agenda:
Friday:
Keynote: "Profiting from the Special K" - Martin Pring
"Building a Successful Technical Trading System" - Grayson Roze, Arthur Hill and yours truly
"Why Technical Analysis Works (and It Does Work!)" - Greg Morris
"The Ten Stages of Successful Technical Trading" - Gatis Roze
"The TechniTrader Analysis Approach" - Martha Stokes
"Tech Titans Power Panel: Where's the Market Headed?" - Everyone
"Passing the SCU Certification Exam" - Grayson Roze
Saturday:
Keynote: "Why Intermarket Analysis is Critical for Understanding Today's Markets" - John Murphy
"Visualizing Relative Strength and Profiting from Relative Rotation Graphs" - Julius de Kempenaar
"How SCTRs Can Significantly Improve Any Trading Strategy" - Greg Schnell
"Understanding Wyckoff's Approach to Technical Trading" - Bruce Fraser
"Making Money from Repeating Historical Trends" - Tom Bowley
"The DecisionPoint Technical Trading System" - Erin Heim
"Building a Customized Action Plan Based on ChartCon 2016" - yours truly
OK, seriously, maybe it's the jet lag talking, but I think that is a conference agenda that just doesn't quit! I'm positive that everyone who attends ChartCon 2016 will come away with tons more "nuggets" than I got this week.
Something else to keep in mind is that there will be lots of great stuff between each of these sessions. Immediately after each talk will be an online Q&A chat with each presenter where you'll be able to ask questions and see their answers. You'll also see tips, tricks, motivational quotes, comments from other attendees, videos and much more!
And, in case you didn't notice, the emphasis for this year's conference is helping everyone put together a strategy - an actionable strategy - that you can use to improve your technical investing results. A way to cut through all the noise and get down to the business - the actual process - of making money using technical charts.
So, unless you want to end up in seat 18F like me (thank goodness for noise-cancelling headphones!), do yourself a favor and register for ChartCon 2016 - all the benefits of a world-class investing convention without any of the hASseLs (sorry, hit some more turbulence).
Click here to learn more and to register
See you (virtually) in September!
- Chip
P.S. Just to be clear, the only way you can watch the recordings from ChartCon 2016 is to register for the conference beforehand! So even if you can't watch the event live, you still want to register now so that you can watch it later.
About the author:
Chip Anderson
is the founder and president of StockCharts.com. He founded the company after working as a Windows developer and corporate consultant at Microsoft from 1987 to 1997. Since 1999, Chip has guided the growth and development of StockCharts.com into a trusted financial enterprise and highly-valued resource in the industry. In this blog, Chip shares his tips and tricks on how to maximize the tools and resources available at StockCharts.com, and provides updates about new features or additions to the site.
Learn More