There is the tech sector, and then there is the rest of the stock market. It is not that bad, but the tech sector is clearly head and shoulders above the other sectors. This is true with the Technology SPDR (XLK) and the EW Technology ETF (RYT). The first SharpChart shows the nine sector SPDRs in performance mode. Since May, XLK is up the most, by far. XLK accounts for around 21% of the S&P 500 and this is clearly helping the broader market.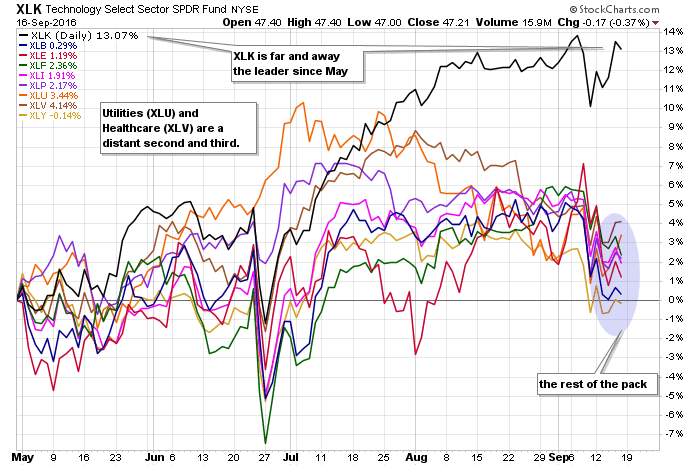 ---
The second chart shows the nine equal-weight sectors to prove that this is not just a large-cap affair. The EW Technology ETF (RYT) is up a whopping 14.79% since May and this is around triple the second place sector, which is the EW Healthcare ETF (RYH). Despite second place, RYH is still up a respectable 4.72% the last four and a half months. Note that the technology sector accounts for around 14% of the EW S&P 500 ETF (RSP).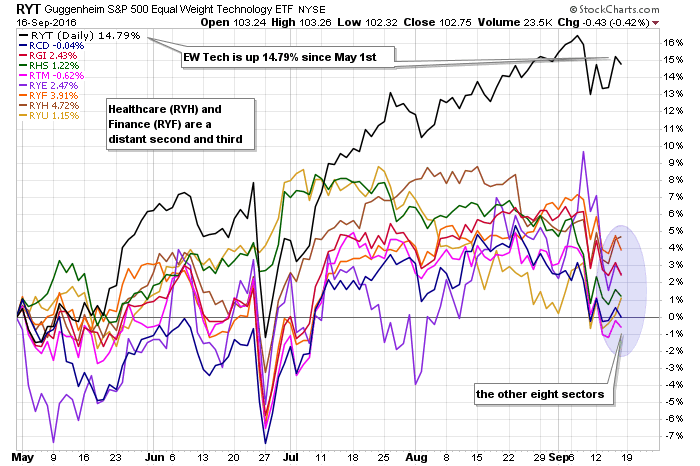 Programming note: ChartCon is just around the corner - like next week.
****************************************
Thanks for tuning in and have a good weekend!
--Arthur Hill CMT
Plan your Trade and Trade your Plan
*****************************************