We're two weeks away from another stock market year in the books. Where does the time go? Anyhow, since this is the last ChartWatchers newsletter of 2016, it would be an appropriate time to check out the best and worst industry group awards for 2016.
Drum roll please!
---
Best 2016 Industry Group: Dow Jones U.S. Coal Index ($DJUSCL, +143.14% YTD)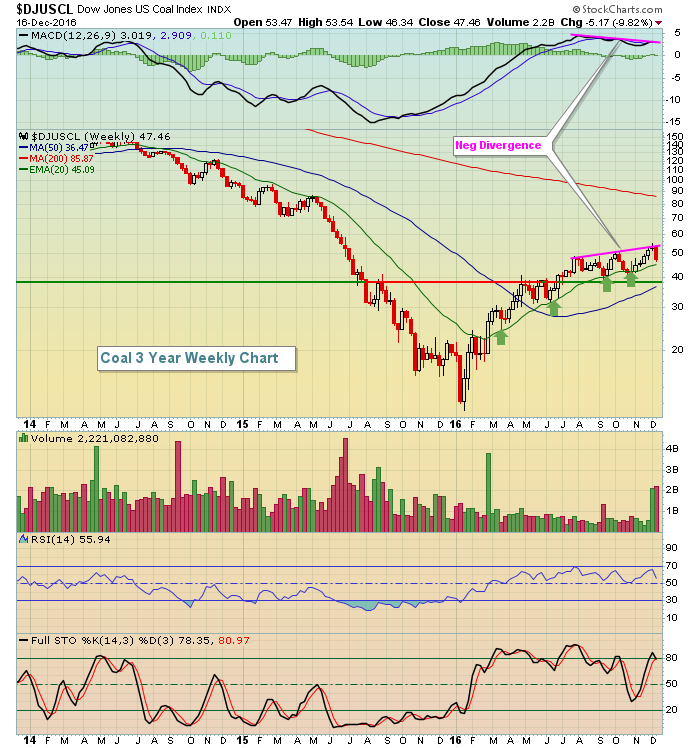 While it would have been difficult to pull the trigger to buy coal at the end of 2015, a dead cat bounce certainly was not out of the question. By the time 2015 had ended, coal had fallen close to 90% during the year and was primed for at least a bounce. Well, I suppose a 143% return qualifies as a bounce. The weekly RSI and stochastic oscillators were both very oversold throughout the second half of 2015, but check them out recently. We just saw the weekly RSI approach 70 and weekly stochastic well above 80. So conditions are much different entering 2016 and I would not look for the same type of advance. Furthermore, there's a rather ugly weekly negative divergence on the MACD and that suggests we could see a continuing pullback to start the year. I love the energy sector heading into 2017, but the reward to risk on coal doesn't improve for me until a 50 week SMA test and/or price support are tested. That occurs beneath 40. I'll look elsewhere for now.
Worst 2016 Industry Group: Dow Jones U.S. Renewable Energy Equipment Index ($DWCREE, -53.28% YTD)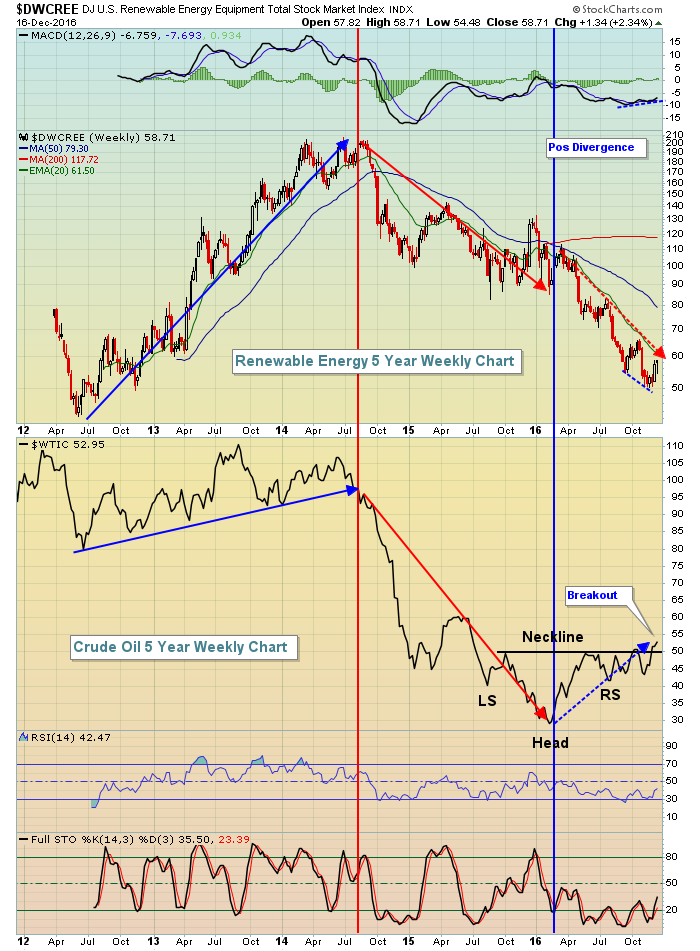 Renewable energy stocks tend to grab the spotlight when crude oil prices ($WTIC) are high and rising. You can see above that the DWCREE rose rapidly for two years ending in mid-2014, but when the trend higher in crude oil ended, so too did the rise in renewable energy stocks. Then it was a painful move to the downside in renewable energy as crude oil could not find a bottom. Renewable energy stocks are down 70% over the past 2 1/2 years. Sounds a little bit like the coal group as we wrapped up 2015, doesn't it?
I believe renewable energy is poised to have a very strong 2017 and rising crude oil prices will likely to be the catalyst. The WTIC broke out of a bullish reverse head & shoulders bottoming pattern recently and the measurement on this breakout is to $75-$80 per barrel. If that occurs, the DWCREE is likely to be much higher than it is currently. The positive divergence on the DWCREE also provides support for this forecast. I look for a significant test on the DWCREE between 70-75 and if that is cleared, we could see a rebound in excess of 100% in 2017. This bold prediction relies on my belief that we'll see $75 crude in the next 12 months.
For those interested, I featured energy and renewable energy a couple weeks back in my daily Trading Places blog. You can review that blog article by CLICKING HERE.
Finally, I'm very excited to announce for the first time that Greg Schnell and I will be jointly hosting a "Stock Market Outlook 2017" webinar to be held in mid-January. More details and information will be forthcoming. However, I wanted to mention this now as it will be a members only webinar and we are currently offering a holiday special for new members and renewals. You can subscribe or extend for 12 months and receive 2 additional months FREE or subscribe or extend for 6 months and receive 1 additional month FREE! CLICK HERE to subscribe or extend and then plan to join Greg and me for a great event to kick off 2017!
Happy holidays and happy trading!
Tom