I recently saw the new Star Wars movie, Rogue One, and found a way to tie technical analysis to one of the more interesting characters. This happens all of the time because technical analysis is so ingrained in my membrane. Chirrut Îmwe is a blind warrior monk who repeated: "I am one with the force; the Force is with me". If he were a trend-follower, I think he would simply substitute "force" for "trend". Works for me!
The chart below shows the S&P 500 hitting a new all-time high this week and the force is clearly bullish. In Dow Theory terms, think of the force as the primary trend. The bears may win some battles, but the force ultimately wins the war. After a big surge in 2013 and 2014, the S&P 500 corrected with a big channel that looks like the mother of all falling flags (blue trend lines). The index broke out of this channel in mid-2016 and hit a new all-time high in mid-July. The primary trend can only be up when the index hits a new all-time high.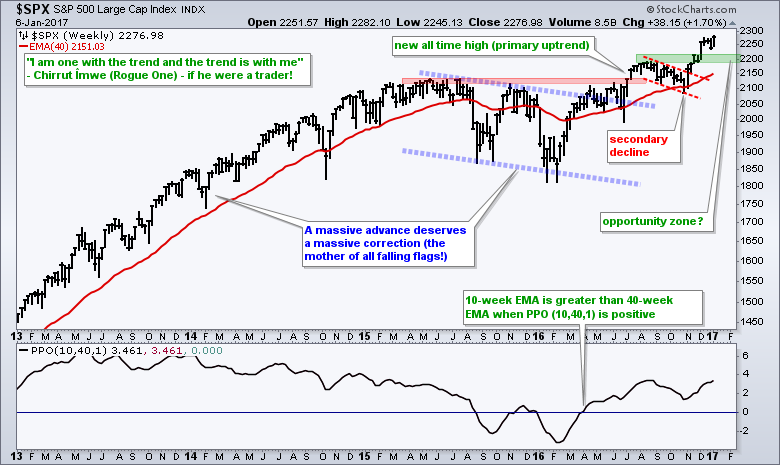 ---
The index corrected in September-October with a secondary downtrend. In Dow Theory terms, secondary trends run counter to the primary trend, which is still the dominant force. The S&P 500 reversed this secondary downtrend with a move above 2150 in early November and continued higher the last eight weeks. Even though the index "seems" overbought and ripe for a pullback, there are no guarantees of a pullback. At this point, I would use the broken resistance zone around 2200 to mark the first opportunity zone. A pullback to this area could offer an opportunity to participate in the primary uptrend.
I would like to personally invite you to Chart Summit 2017, a virtual conference on Technical Analysis on January 27th and 28th. Broadcast LIVE from the Internet, this FREE 2-day event will bring together an elite group of professional technicians who will walk you through their process and show you how to apply their methods in the current market environment. Our own Greg Schnell will be presenting on January 28th at 9AM ET and I will present later that day at 12PM ET.

****************************************
Thanks for tuning in and have a good weekend!
--Arthur Hill CMT
Plan your Trade and Trade your Plan
*****************************************