It's generally not a great idea to wait until after a stock or index breaks out to consider short-term trades. It would seem somewhat obvious to instead plan for those breakouts by watching patterns develop and keeping an eye on volume. So let's do exactly that and focus on a few potential trading candidates in the days and weeks ahead.
---
1. Sirius XM Holdings (SIRI):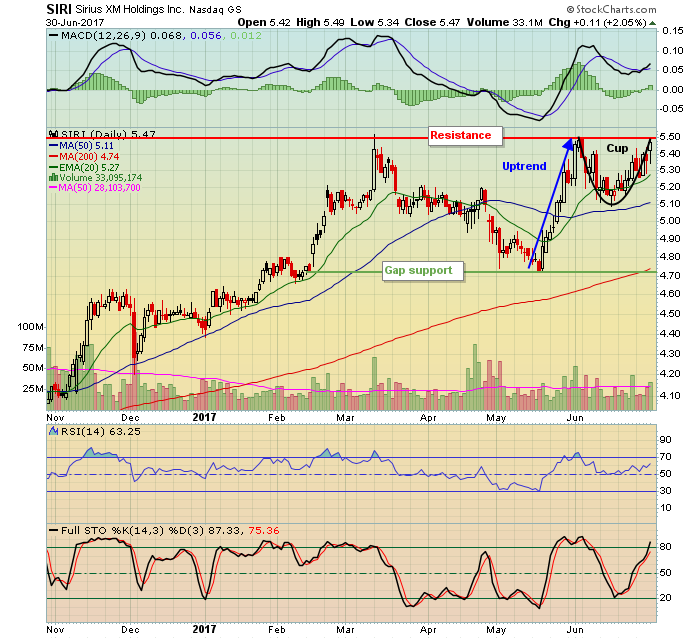 SIRI looks very promising as it remains very close to a breakout level despite all the volatility and bouts of selling that we saw in our major indices during June. The price resistance at 5.50 is firmly established, so a heavy volume breakout should be respected. I particularly like the latest uptrend, followed by a bullish cup. If a handle forms (perhaps down to the rising 20 day EMA?) with a subsequent high volume breakout, an initial measurement to approximately 5.90 would be established.
2. Automatic Data Processing (ADP):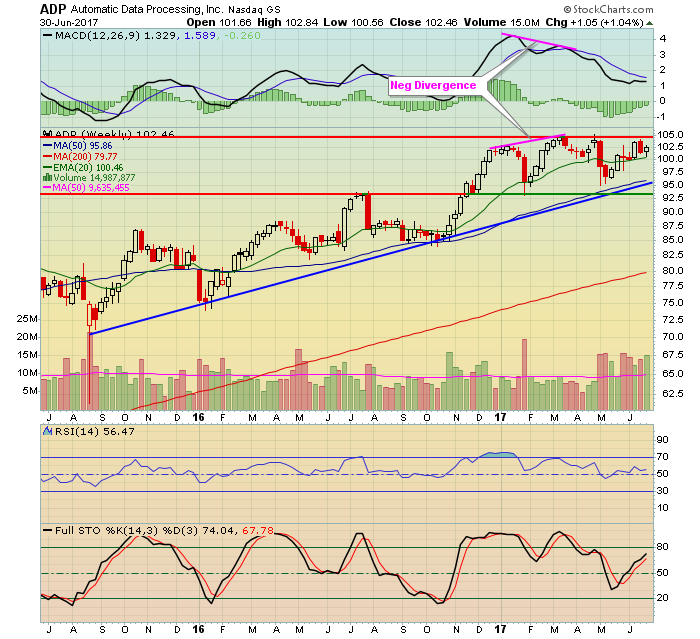 There's a fairly well-defined trading range from 93.00-105.00. Slowing momentum was an issue in March when ADP initially reached 105.00, but consolidation is helping that momentum problem. 93.00-95.00 is solid support as price support and trendline support, respectively, reside at those levels. A breakout above 105.00 on heavy volume would be confirmation and potentially lead to a measurement near 117.00.
3. Verisk Analytics (VRSK):
Since reaching its high weekly close in early July 2016, VRSK has spent the last year consolidating and testing trendline support. The current trading range is from roughly 78 to 86. A heavy volume breakout above 86 with confirming volume would likely result in a target price of 94-95.
While the NASDAQ 100 has been struggling over the past month, the above three stocks are components of this volatile index that look poised for further price appreciation if they see breakouts confirmed with increasing volume.
Happy trading!
Tom