One of the hardest parts about investing, is staying with the constant rotation of sectors. Amazon is already down more than $100 since the high last week. Gulp! While it's only 10%, $100 a share is an ouch.
As the Nasdaq 100 has been a little soft of late, I thought I would look for oversold stocks that are starting to improve on the weekly. There are a lot of them in energy and Gold, but I thought there could be some in other areas. So this ChartWatchers is a little about looking for something to start moving up and avoiding some of the selling in the names that have been at new highs recently.
Dollar Tree (DLTR) broke support a few weeks ago and this week got back above. The Full Stochastic looks like it is turning up and the SCTR is moving back up above the 25 level. Interesting.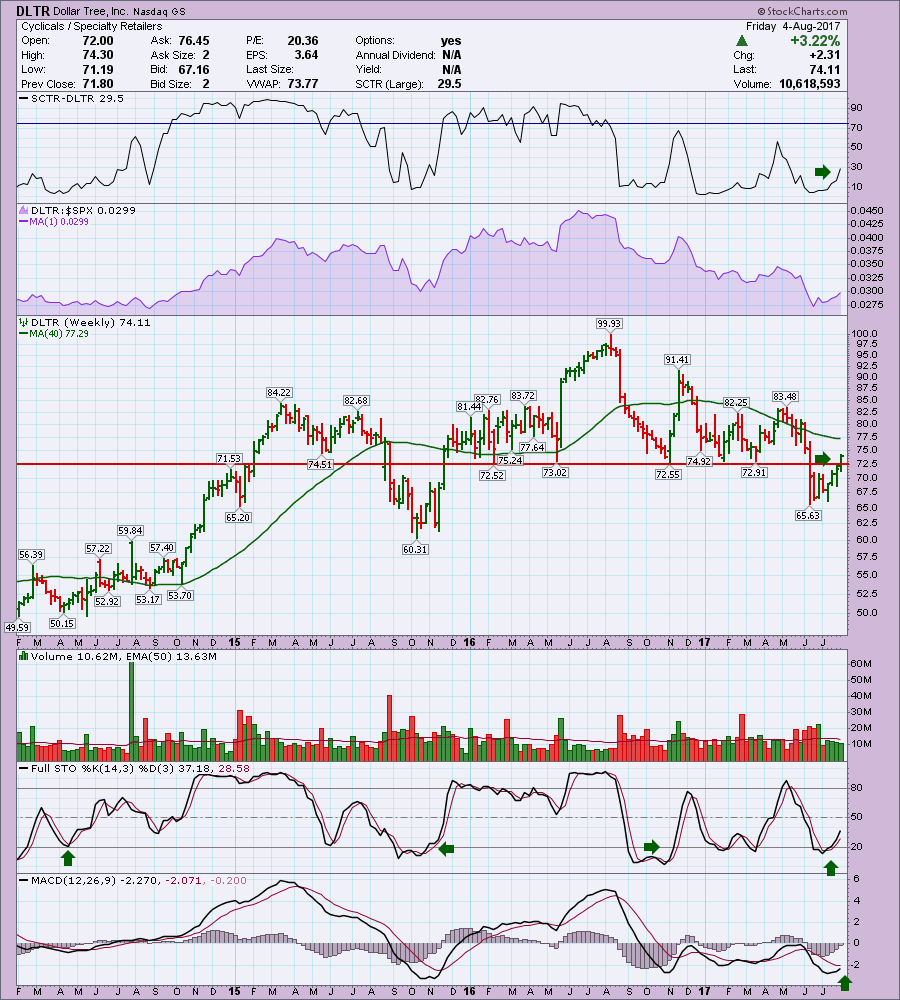 ---
Disney looks interesting with a nice setup on the Full Stochastics. The stock also appears to have a left shoulder, head and right shoulder building with a breakout to new highs for the neckline. The upsloping 40-week MA is a good place to expect support and the stock has been consolidating for a couple of years. Interesting.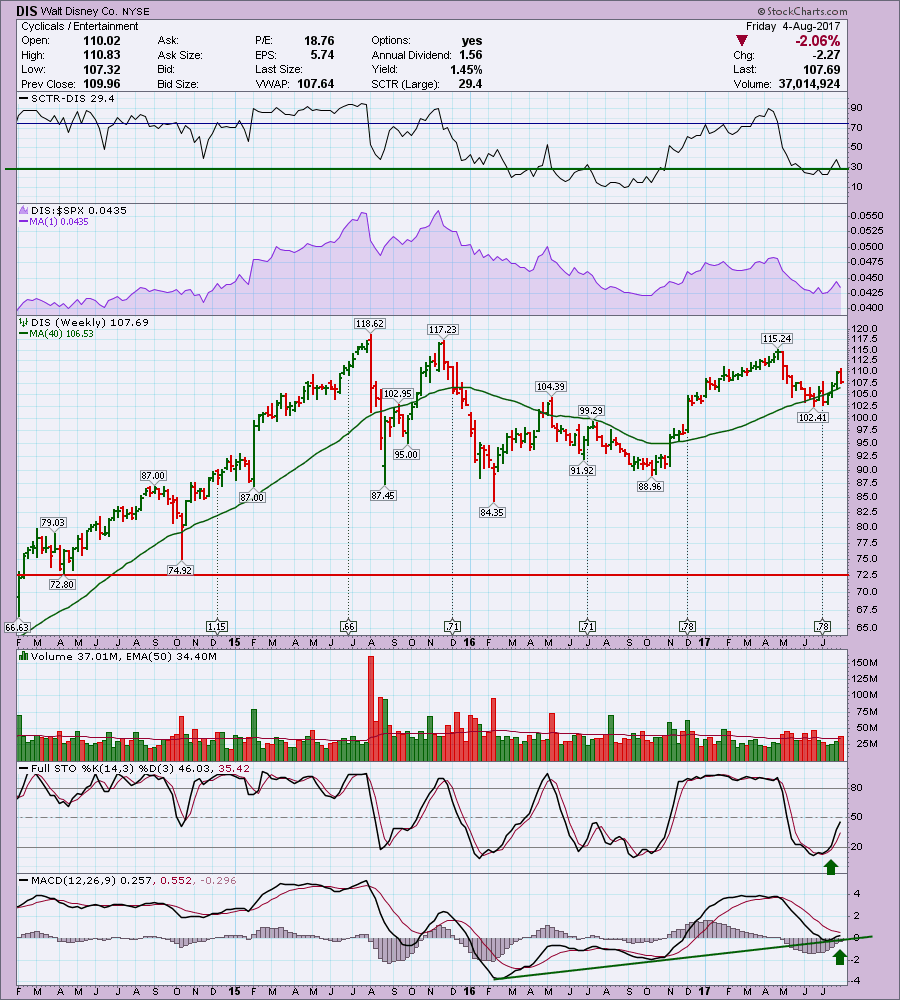 Stericycle is a beaten down stock with some nice basing action at play. After breaking the downtrend, it has pulled back and had a strong week with strong volume. While it closed in the middle of the weekly bar, it looks like it is trying to rally off support at $72.50. The stock has had some nice acceleration off Full Stochastic signals moving above 20.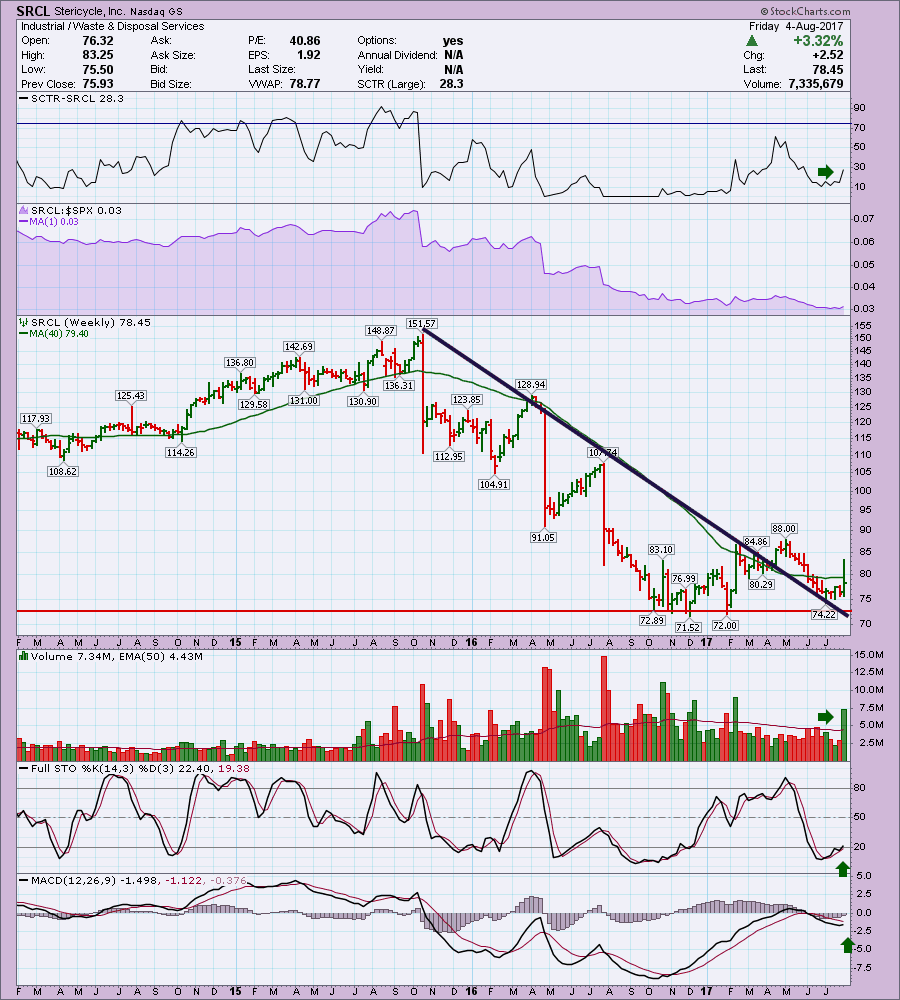 The scan I used was pretty simple and I talked about it with Tom Bowley on The Market Watchers Live show this week. You can paste this into the scan engine for more ideas. I looked for stocks that had a Full Stochastic reading below 20 four weeks ago, and the Full Stochastic was back above 20 this week.
---
[Country is US] and [type is stock] and [sma(20,volume) > 400000]
and [Weekly Full Stoch %K(14,3,3) >20.0] and [Weekly Full Stoch %K(14,3,3) <50.0]
and [4 weeks ago Full Stoch %K(14,3,3) < 20.0] and [close >4.00]
---
I will be on MarketWatchers Live during the day Monday, Wednesday and Friday for the week coming up. Here is a link to a webinar I did with a Forex group on Thursday. As well, I did a Commodities Countdown webinar on Thursday afternoon that has some of the Forex presentation and then a lot more ideas. Commodities Countdown Recording 2017-08-03. Don't forget to click the gray follow button on the right-hand side of the Vimeo page if you would like to be alerted to new videos being added. There are lots of ideas between the two.
You can also follow me on Twitter @Schnellinvestor.
Good trading,
Greg Schnell, CMT, MFTA