Happy holidays! I want to wish everyone a joyous holiday season and here's to a happy, healthy and prosperous 2018! Thank you so much for all your support of StockCharts.com in 2017!
To better understand the reasoning for the stocks selected below, you first need to understand that the December 16th through December 31st period has been unbelievably bullish for the small cap Russell 2000 since its inception in 1987. Here are the Russell 2000's annualized returns for each calendar day from December 16th through December 31st over the past three decades:
---
December 16: +172.84%
December 17: +45.24%
December 18: +35.68%
December 19: -33.51% (only down day in the second half of December)
December 20: +79.54%
December 21: +155.98%
December 22: +76.35%
December 23: +103.86%
December 24: +47.67%
December 26: +125.49%
December 27: +26.27%
December 28: +17.31%
December 29: +77.28%
December 30: +87.88%
December 31: +104.23%
December is the best month of the year for small cap stocks. But the second half of December is where the money's been made in the past. The breakdown of Russell 2000 annualized performance between the first and second halves of December is astonishing:
December 1-15: -3.27%
December 16-31: +74.88%
Talk about a Santa Claus rally!
So what do you get if we combine this small cap historical knowledge with my trading strategy of buying only companies that beat Wall Street estimates for quarterly revenues and EPS? Well, here are several of the small cap stocks on my Strong Earnings ChartList:
1. Green Dot Corp (GDOT) - $2.99 billion consumer finance company: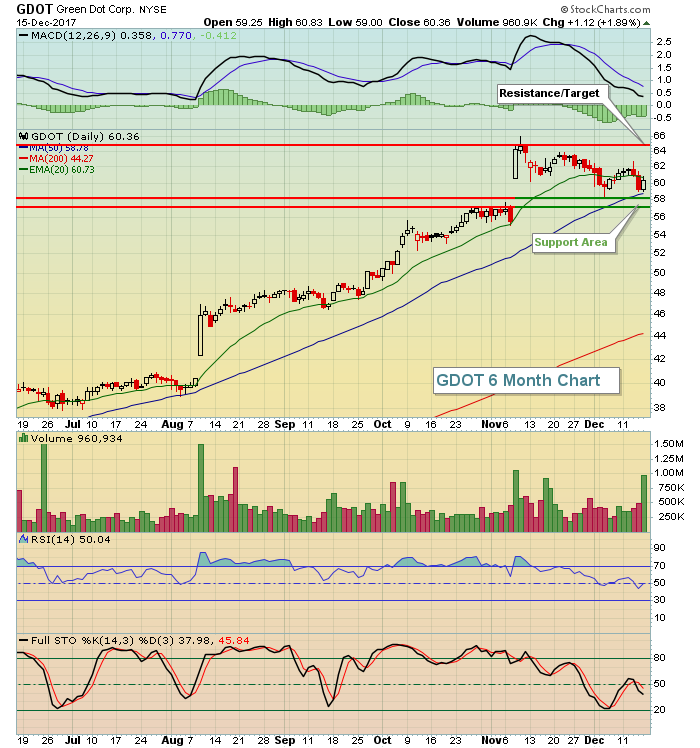 2. Insulet Corp. (PODD) - $3.98 billion medical equipment company: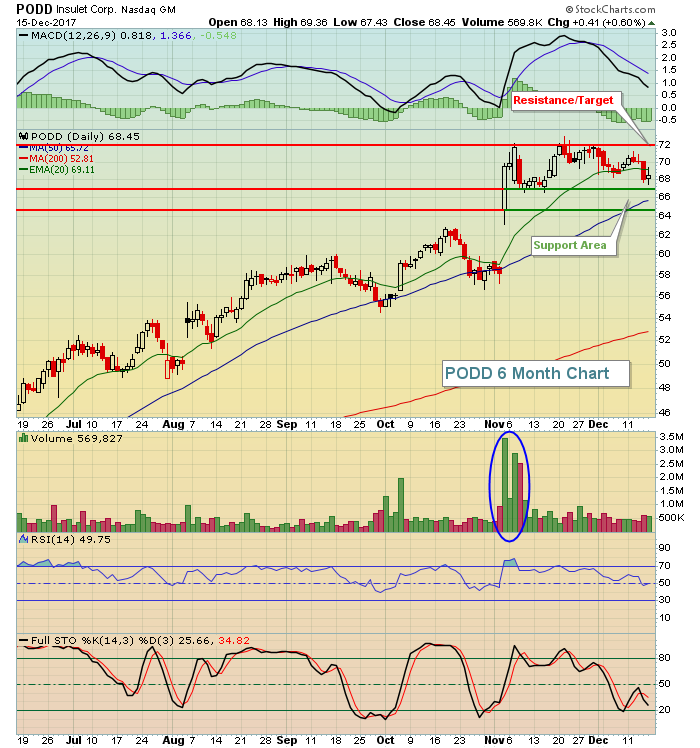 3. Generac Holdings Inc. (GNRC) - $3.04 billion building materials company:
4. Avid Technology Inc. (AVID) - $0.25 billion broadcasting company: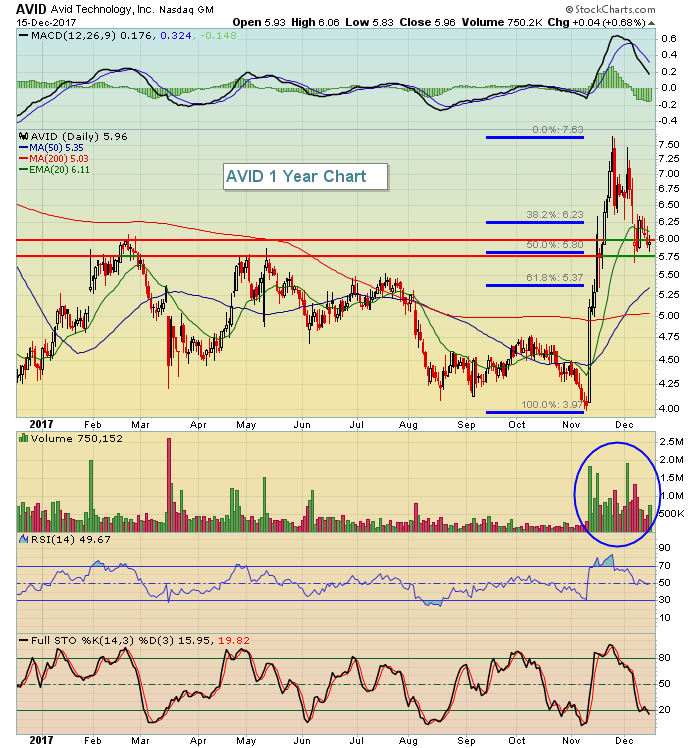 5. Granite Construction (GVA) - $2.49 billion heavy construction company: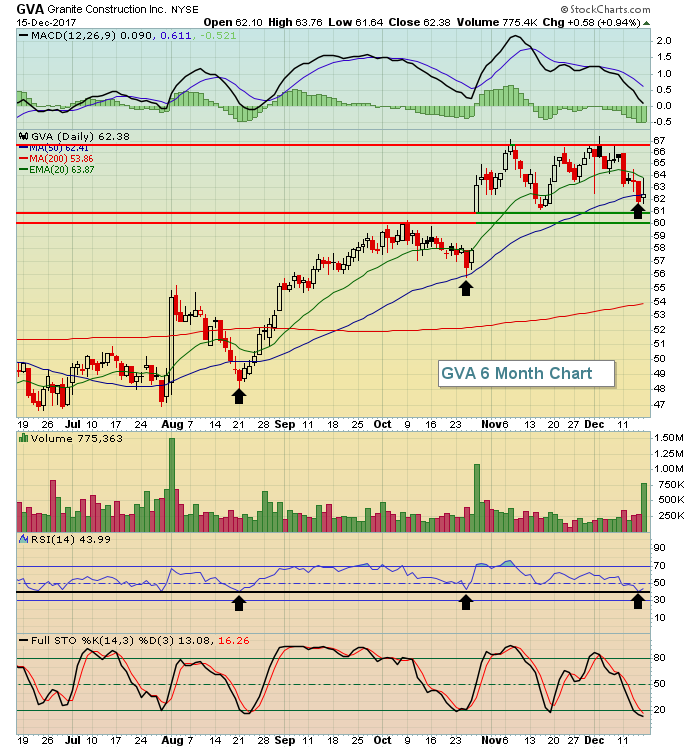 All of the above stocks came from my Strong Earnings ChartList that I keep at StockCharts.com. The use of ChartLists is a great way to organize potential trading candidates. You can easily add charts, annotate and save them, and then scan for certain criteria. And now, the best news of all!
As many of you know, prior to joining StockCharts.com full-time in March 2015, I was the Chief Market Strategist for Invested Central/EarningsBeats.com. In October 2013, I helped create the EarningsBeats.com Candidate Tracker (essentially the same list as my Strong Earnings ChartList). It's a list of companies that have beaten Wall Street consensus estimates as to both revenues and earnings, have strong technical charts and meet liquidity requirements (I don't like trading companies with light volume). It's honestly the only ChartList I use to look for trades. I've been asked to share my Strong Earnings ChartList many times, but I'd rather you get that information from my good friend and former business partner John Hopkins, President of EarningsBeats.com. For the first time ever, EarningsBeats.com has included this ChartList as part of a holiday promotion. They will send you the ChartList (if you're a StockCharts.com member) simply for trying their service. I'd highly recommend you try it, even if you later decide not to extend their service. The ChartList is that impressive!
Also, on Monday, December 18th, I'll join John for a 4:30pm EST webinar where he'll discuss EB.com's superior risk adjusted returns (+62% since March 31st) and strategies to minimize risk while improving returns. I will show you the power of combining the Strong Earnings ChartList and StockCharts.com's scan engine. The five stocks that I listed above were found by running a simple scan against the Strong Earnings ChartList. It took me maybe three seconds.
The webinar will be a blast and if, for some reason, you can't attend or get shut out (limited capacity), John will send you a video recording. For more details regarding EB's special holiday promotion, CLICK HERE. I hope to see you there!
Remember - you must be a StockCharts.com member to receive and download the Candidate Tracker ChartList from EarningsBeats.com, or a ChartList from any member for that matter. Good news - there's never been a better time to join StockCharts.com because of the current holiday offer. If you sign up for an annual membership by December 31st, you'll receive two extra months FREE! To kick the tires and start your FREE 30 day trial membership, CLICK HERE! Just remember that you'll need to extend your membership by December 31st to qualify for the special "buy 12 months, get 2 free" holiday offer.
Finally, since this is my last ChartWatchers article of 2017......
Happy trading, happy holidays and Happy New Year!
Tom