Let's first talk about a trading strategy that doesn't work.
I steer clear of companies that struggle to meet Wall Street expectations and there's a very simple reason why. Management helps Wall Street set their expectations. So when companies miss their targets, it's essentially a confession by management that they could not deliver on their promise. They weren't capable of executing. Let me give you a perfect example of what I avoid.
---
PriceSmart, Inc. (PSMT).
Here's a company that missed its earnings expectation for the fourth quarter out of its last five. They reported their quarterly results on Thursday after the bell and confessed that the expectations that they helped Wall Street set was too high. Quarterly EPS was $.61. Expectations? $.69. Yuck.
PSMT is in one of the best industry groups on the planet - broadline retailers ($DJUSRB). You'd never know it, though, by taking one look at this chart: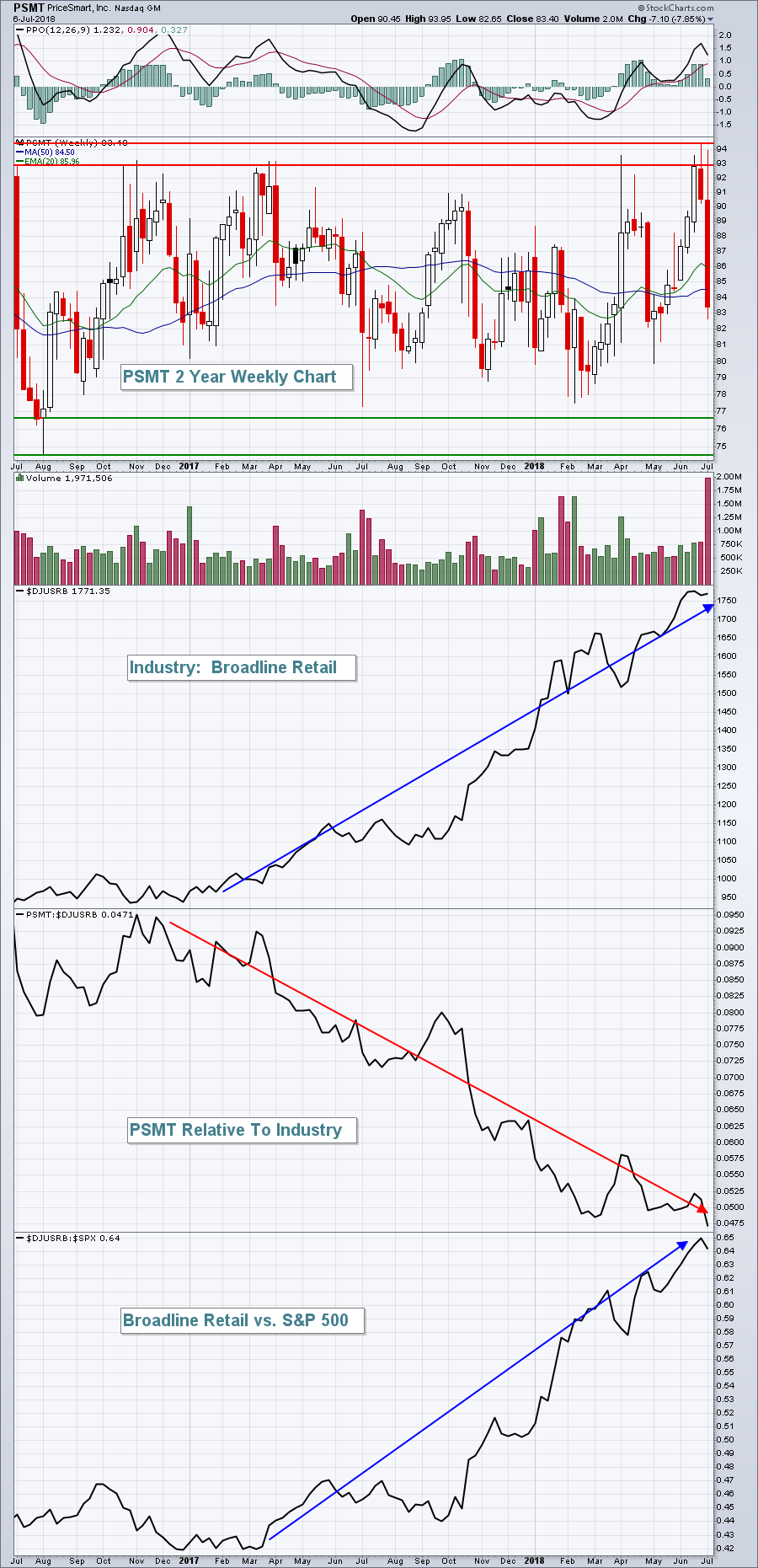 At first glance, you might say "well that ain't so bad, it hasn't really lost any value the past two years". But consider what its peers have done. For an analogy, I consider PSMT to be a dilapidated house in a beautiful, highly desirable neighborhood. The neighborhood props up the value of the dilapidated property, not the house itself. PSMT resides in a great neighborhood. But the owner doesn't even mow the grass. In real estate, it sometimes pays to own the lowest priced house in a great neighborhood. In the stock market? Not so much.
Wall Street doesn't trust PSMT's management. It's that simple.
So let's move on to what does work. Owning companies with managements that execute their plan above expectations. I'll give you an example and save the others for a webinar on Monday afternoon.
New Relic, Inc (NEWR) is a great example of a management team that is executing within a strong industry group. On May 8th, NEWR reported revenues and EPS well in excess of Wall Street estimates. Their EPS was nearly double expectations, $.09 vs. $.05. The result? A massive gap higher on very heavy volume: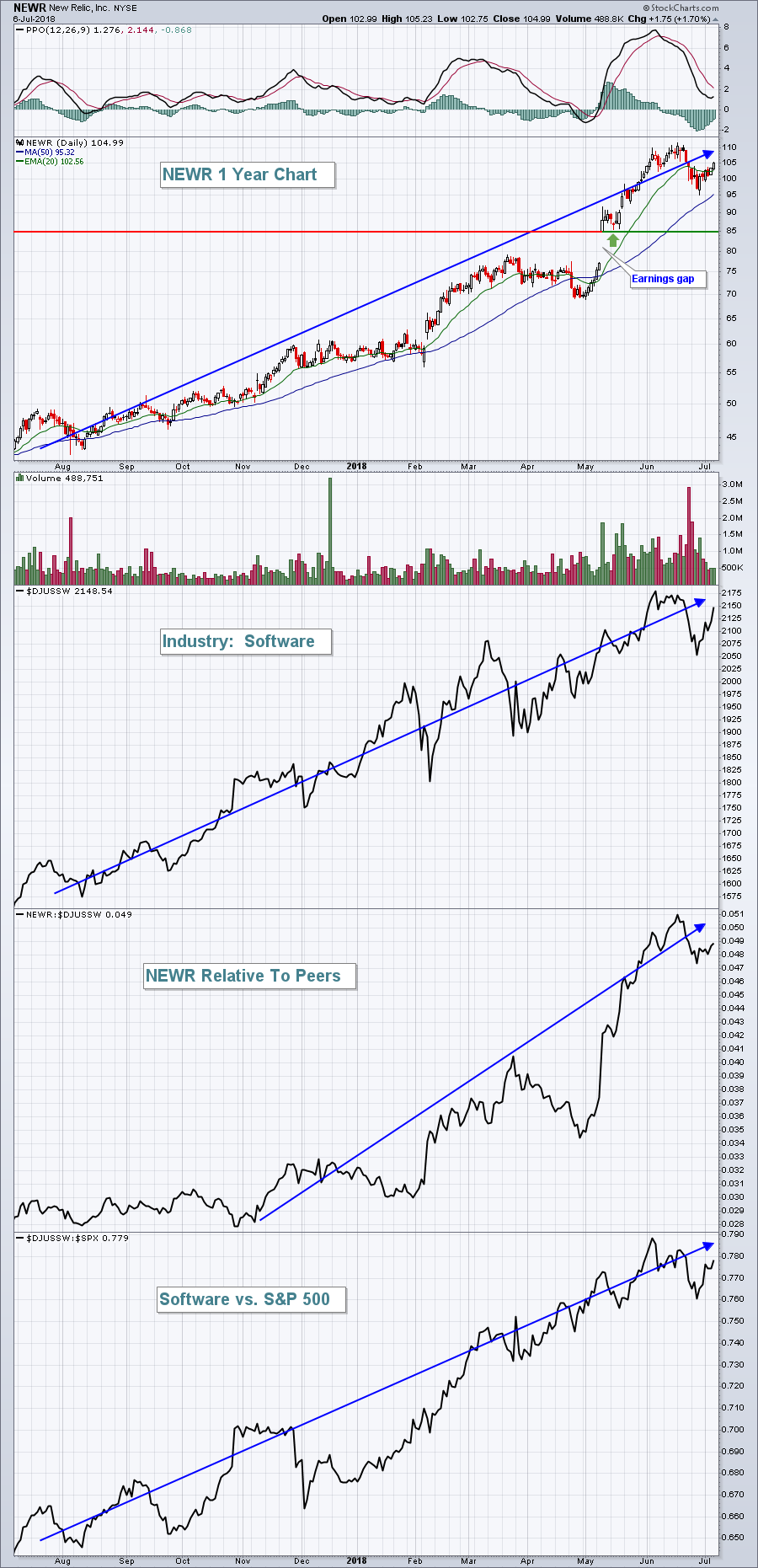 NEWR is the type of company that you should want to own. As a trader, I don't want to chase the gap higher, so I add it to my Strong Earnings ChartList at StockCharts.com. From there I monitor it on a daily basis and await potential entry. One week after earnings, NEWR returned to the "scene of the crime" and tested the top of its gap support near 85 (where it opened after its solid earnings report) before resuming its uptrend. Great stock. Great timing. Great trade.
NEWR also is a small cap stock, fitting into the theme of small cap outperformance as the U.S. Dollar Index ($USD) rises. I wrote about it here in ChartWatchers in my May 5th article, "Rising Dollar Should Change Your Investment Strategy". I continue to look for dollar strength in the second half of 2018 and, if I'm right, we're likely to see small caps shine on a relative basis and companies like NEWR will benefit.
Please do me a favor. Scroll all the way to the bottom of this page and subscribe to ChartWatchers. Type in your email address and hit the green "Subscribe" button. It's completely FREE and, once subscribed, you'll receive my CW articles via email. You can also subscribe to my daily "Trading Places with Tom Bowley" blog by doing the same.
Finally, please join me and John Hopkins, President of EarningsBeats.com for an information-filled webinar on Monday at 4:30pm EST. I'll show you how easy it is to set up a ChartList and track your favorite stocks and I'll also share the handful of stocks that I'm stalking right now, awaiting for perfect reward to risk entry! CLICK HERE for more details about the event.
Happy trading!
Tom