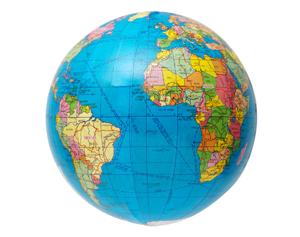 The Emerging Markets ETF (EEM) experienced a trend-momentum shift over the last few months as RSI moved from its bear range to its bull range. In addition, RSI came close to 70 (69.5) twice and EEM broke above its 200-day SMA. The downtrend reversed and I expect higher prices until the evidence proves otherwise.
The chart below shows EEM falling into October 2018 and then firming in the last two months of the year. EEM actually showed some relative strength from October to December because it forged a higher low when SPY forged a lower low. This is partly due to strength in China because Chinese stocks account for a third of the ETF. EEM went on to break resistance at the November-December highs and moved above its 200-day SMA. Most recently, the ETF consolidated above the 200-day and broke out of this consolidation this week. Price action is clearly bullish.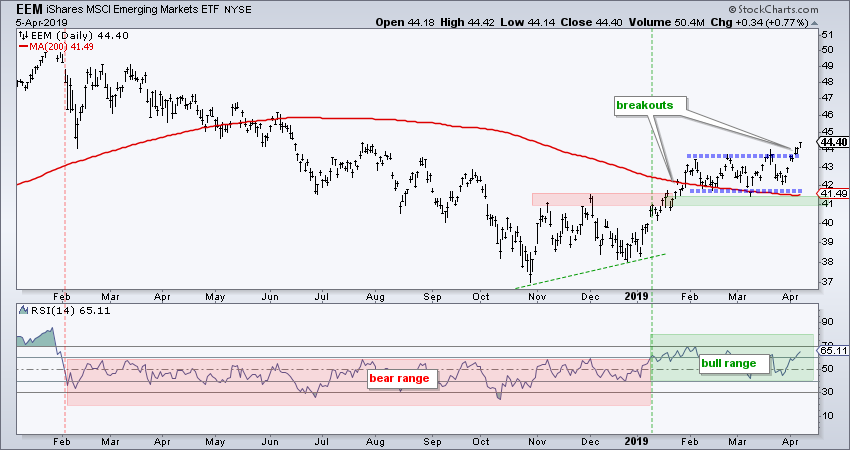 The indicator window shows RSI moving from a bear range to a bull range in January. Notice how RSI traded between 20 and 60 from February 2018 to January 2019. RSI broke above 60 in January and has since held above 40. This puts RSI in its bull range (40 to 80) and suggests that the trend-momentum cup is half full.
White Paper and On Trend Next Week
Want to know more about using RSI for trend-momentum strategies? On Trend will feature a two part series on using RSI to define trend consistency and persistency. These videos will breakdown RSI and then show how it can be used to find stocks with the strongest uptrends. There is also a link to a white paper below.
RSI for Trend Following and Momentum (Part 1)
Tuesday, April 9 at 10:30 AM on StockCharts TV
Testing RSI Range-Momentum Signals (Part 2)
Thursday, April 11 at 10:30AM on StockCharts TV
Recordings will also be posted on our Youtube channel.
This two-part series is based on a detailed research paper I wrote at the end of 2018. You view this paper on dropbox.
---
- Arthur Hill, CMT
Senior Technical Analyst, StockCharts.com
Book: Define the Trend and Trade the Trend
Twitter: Follow @ArthurHill
---