Earnings surprises can move a stock substantially, leading to either huge gains or big losses in your portfolio. Today, I'll be reviewing how you can trade during earnings season to your benefit. There is no single absolute way to do this; rather, as you'll see, it will depend on your willingness to put the work in before a company reports.
For those of you more averse to the inherent risk of buying into the release of earnings, I'll be reviewing profitable ways to trade a stock after it reports in my next ChartWatchers article (2 weeks from now!).
Before we review some basic tips for successfully navigating earnings season, it's important to assess the technical and psychological health of the broader markets, as this will determine your course of action. For those of you who watch my weekly MEM Edge show (which airs live Monday mornings on StockCharts TV), you'll know that, currently, my work shows that the markets are in a bullish uptrend and poised to trade higher. This healthy backdrop makes it safe to proceed.
Now that you have a solid sense of the market's condition, the next assessment can be even more important; you must ask, "How are investors responding to positive or negative earnings reports that have already been released?" Are positive reports being rewarded and bid up? This is bullish action, as opposed to strong earnings being ignored. Are negative reports being shrugged off, or causing only slight damage? That's another bullish sign.
Below are two stocks that reported positive earnings this week, both of which traded up on the news. Their charts are marked up with 1 of 3 positive characteristics to look for before a company reports. These will each be reviewed below.
DAILY CHART OF DELTA AIR LINES (DAL)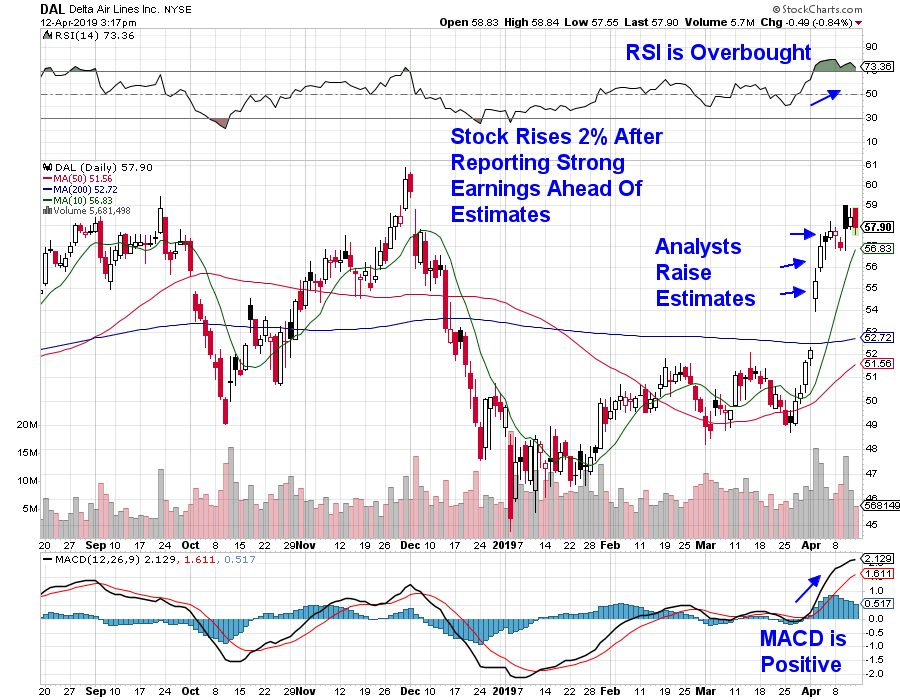 DAILY CHART OF BED, BATH & BEYOND (BBBY)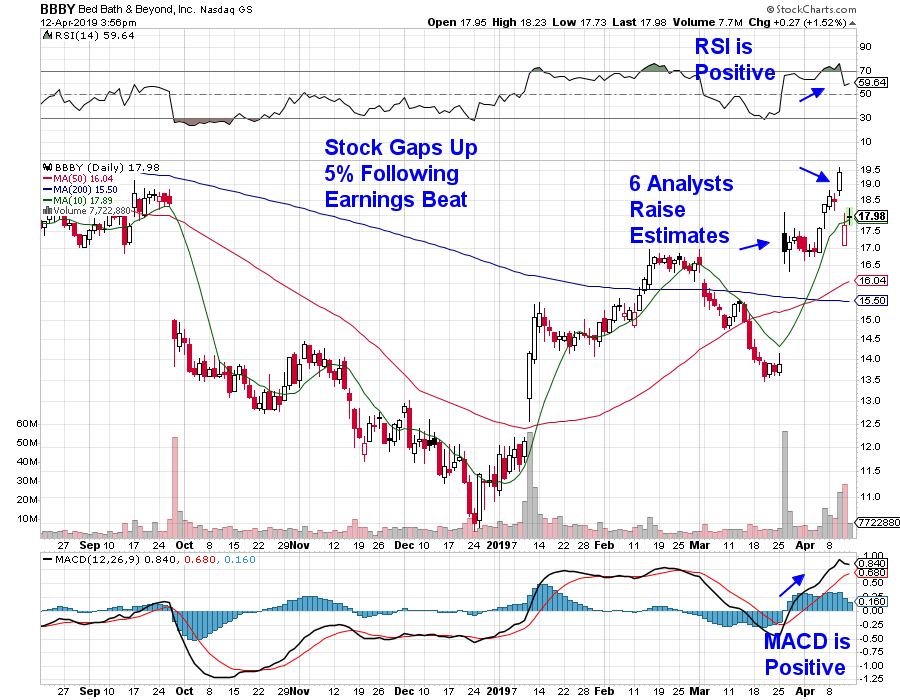 Additional stocks that have reported positive earnings this week and jumped up on the news include JP Morgan (JPM) and Fastenal (FAST), among others. Overall, this points to a bullish bias in the markets.
Now, on to selecting possible stock candidates for purchase before they report. Studies done by Zack's Research have shown that companies where management pre-announces upbeat earnings prospects prior to reporting have a much better chance of putting in positive results. This was seen last quarter with several Retail stocks that pre-announced positive earnings following robust holiday sales results. Most notable was Lululemon (LULU) which gapped up 14% recently on strong earnings and sales results. Management guided the stock higher in an announcement earlier this year.
The second characteristic from their studies shows that, when analysts are revising earnings estimates upward going into their report, the companies in question also have a statistically higher rate of coming in with results ahead of estimates. These analysts' upward revisions can occur as much as 4 weeks out, but tend to become more relevant closer to the report.
Here's a third element that will help tip the odds in your favor - when the company has a history of coming in ahead of estimates. In other words, does management keep expectations in check while consistently reporting exceptional results? Over time, you'll uncover companies that repeatedly have this tendency. Nasdaq.com does wonderful job of providing a chart (as well as a table) that provides historical earnings insights.
Beyond the 3 characteristics listed above, the remaining considerations are true of any stock you might consider for purchase. Number one is making sure your stock is technically sound. This is where StockCharts.com comes in. In addition to taking advantage of the website's exceptional charting tools, pay attention to a stock's SCTR. For those of you not familiar, this is the Stock Charts Technical Rating system developed by John Murphy. Generally speaking, the higher the number, the better, with 99 being the highest.
You also want to make sure the stock you're considering is in an area of the market that's outperforming the broader markets, as that's a sign of strength. Again, StockCharts.com will be your guide as you access their Sector Summary information. Sorting the sectors by performance over the last week to the last month can quickly show you what areas are in favor.
While uncovering a stock with the characteristics we've reviewed doesn't guarantee that your stock will have a positive report, historical precedent shows it certainly tips the scales in your favor.
- Mary Ellen McGonagle
Founder, MEM Investment Research