The price of gold ($GOLD) closed on Friday at $1400.10 per ounce. The weekly gain of 4.14% was the best such weekly advance since April 2016 and the close above $1400 was the first such close since September 3, 2013. Since testing 2019 lows on May 21st, GOLD has rallied more than 10% in just one month. What's not to like?
---
Well, for starters, there's the following 8-year relative downtrend vs. the benchmark S&P 500: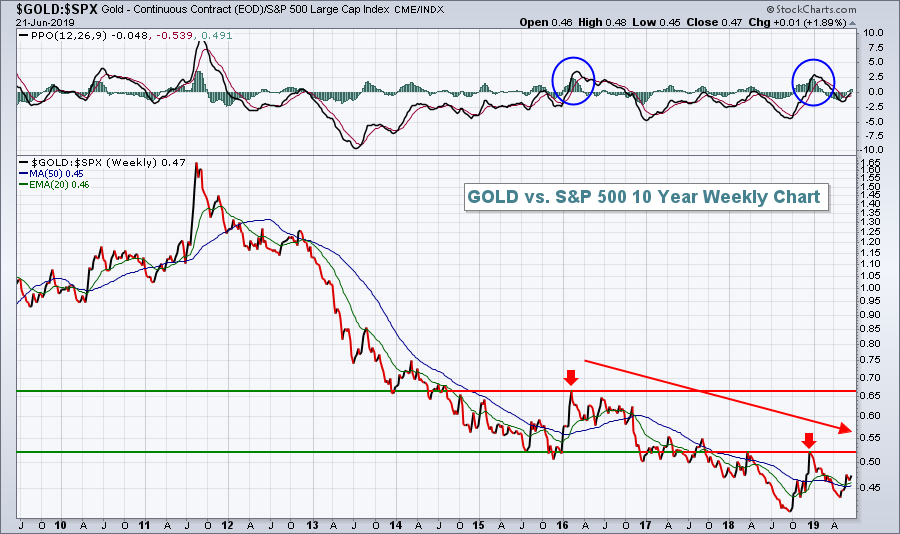 What drives that type of relative underperformance in GOLD? A rising U.S. Dollar Index ($USD). The USD has had some short-term issues of late, closing on Friday at its lowest level in nearly three months. For one of the few times in the past several years, I've been short-term bullish on GOLD because I believed we'd see short-term deterioration in the USD based on this chart: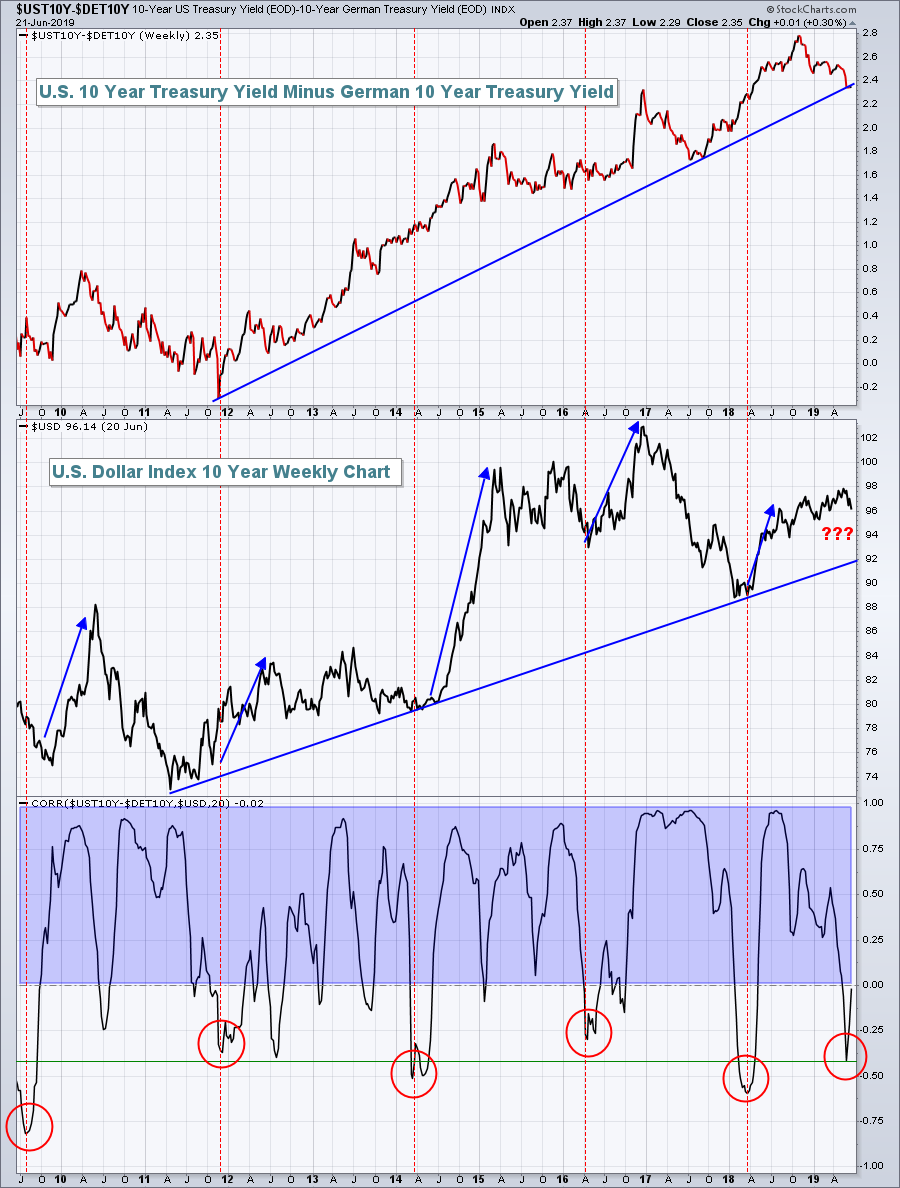 The USD had stubbornly been holding up despite a big drop in U.S. treasury yields vs. German treasury yields. If you look back to 2017, the relative drop in U.S. treasury yields resulted in a big drop in the USD. The red circles at the bottom of the chart show rare "inverse correlations" that have generally been resolved with a subsequent rise in the USD. At best, we have a mixed picture here.
If the USD rises from here, GOLD will most likely be in trouble based on this chart: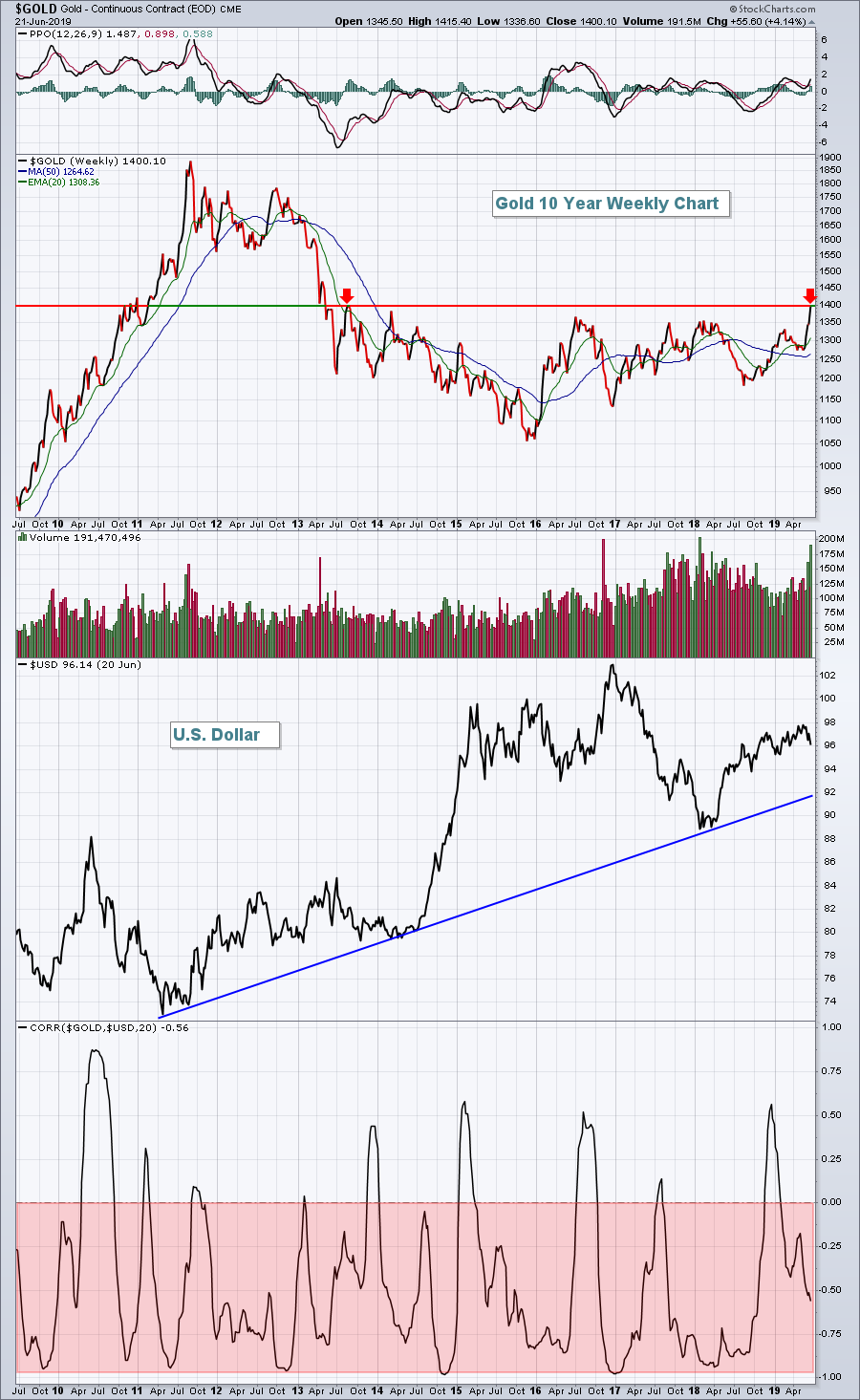 The red-shaded area highlights the inverse correlation between the direction of GOLD vs. the direction of the USD. Until the USD breaks that 8-year uptrend line, I am likely to have little interest in GOLD from a long-term perspective.
If we do see short-term continuing deterioration in the USD, then GOLD is likely to sustain its move above $1400, which would represent a 6-year price breakout. But guess what? The S&P 500 just broke out to an all-time high! Despite all the headline news that GOLD is receiving right now, the S&P 500 has outperformed GOLD thus far in June. That's right, the S&P 500 has gained more in June than GOLD - which is exactly my point.
Successful investing comes down to relative performance. If you can beat the benchmark S&P 500 index, I consider that successful investing. GOLD hasn't been able to consistently do that for 8 years! Will it finally begin to outperform consistently? I want to see it first. Show me the money!
Here's the bottom line: GOLD is competing with too many other asset classes. Treasuries and U.S. equities have been hot. Foreign equities are gaining strength and remain in long-term uptrends, unlike GOLD. Central bankers around the globe remain dovish with no inflation in sight. This isn't the best environment for GOLD, at least not in my view. Could it be a short-term trade? Yes. Would I put money in GOLD at current levels and expect it to outperform the S&P 500? Not a chance.
Relative strength holds the key. I'm sticking with proven outperforming sectors, industries and stocks - not GOLD. I recently joined EarningsBeats.com for a relative strength webinar; the recording is still available if you're interested. CLICK HERE for more information.
Happy trading!
Tom