U.S. retail sales came in stronger than expected for the month of August and, while internet sales and home goods saw a pickup, the real boost in last month's retail numbers came from auto sales.
The Auto Retail industry is experiencing considerable changes in its operating environments as new technologies and rapid digitalization spur a restructuring of their markets. These changes are bringing improved profit margins, which are also being spurred by an increase in sales due to low interest rates.
Today, I'd like to review several top Auto companies that are incorporating new technologies that have helped drive shares higher.
DAILY CHART OF AUTONATION INC. (AN)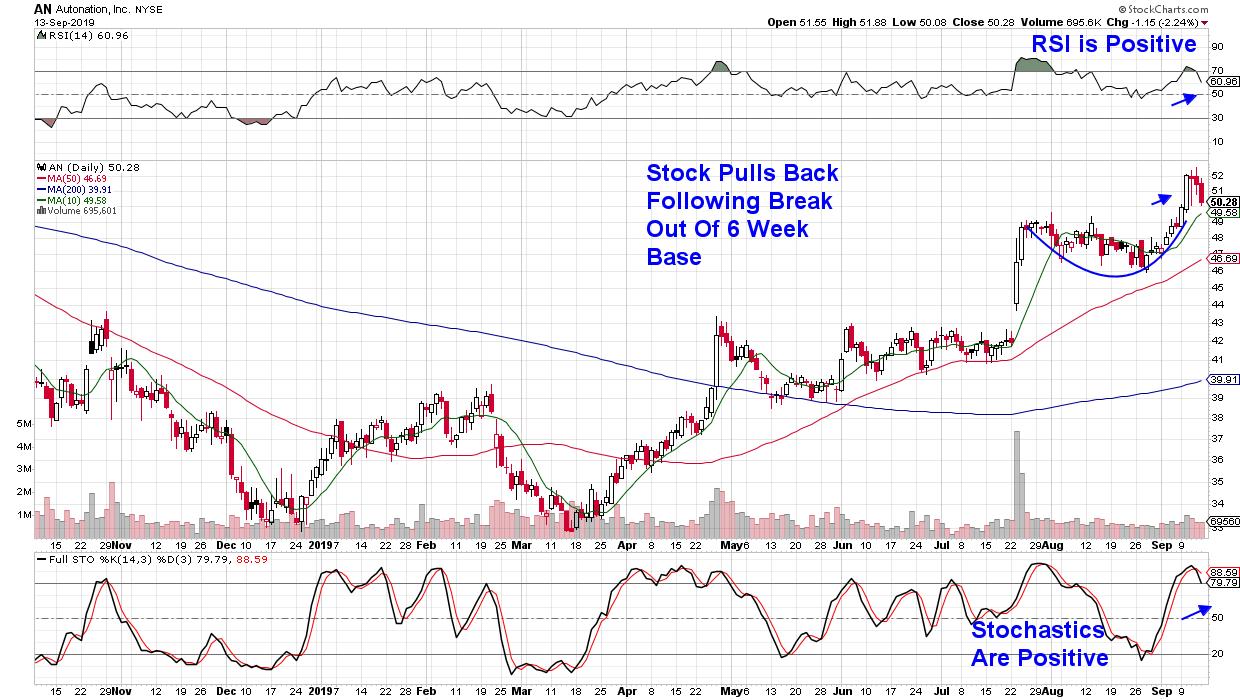 Let's begin with the country's largest automotive retailer - Autonation (AN). Shares of this company soared over 10% following their July release of 2nd quarter earnings that topped expectations. In addition to seeing a pickup in same-store sales, the company has struck a strategic partnership with Google's driverless vehicle unit Waymo, which has been adding value.
The stock consolidated for 2 months following its earnings-driven surge before breaking out of a base on volume earlier this week. Despite a pullback, the stock remains above its $40.6 breakout level and is in a strong buy zone.
DAILY CHART OF CARVANA (CVNA)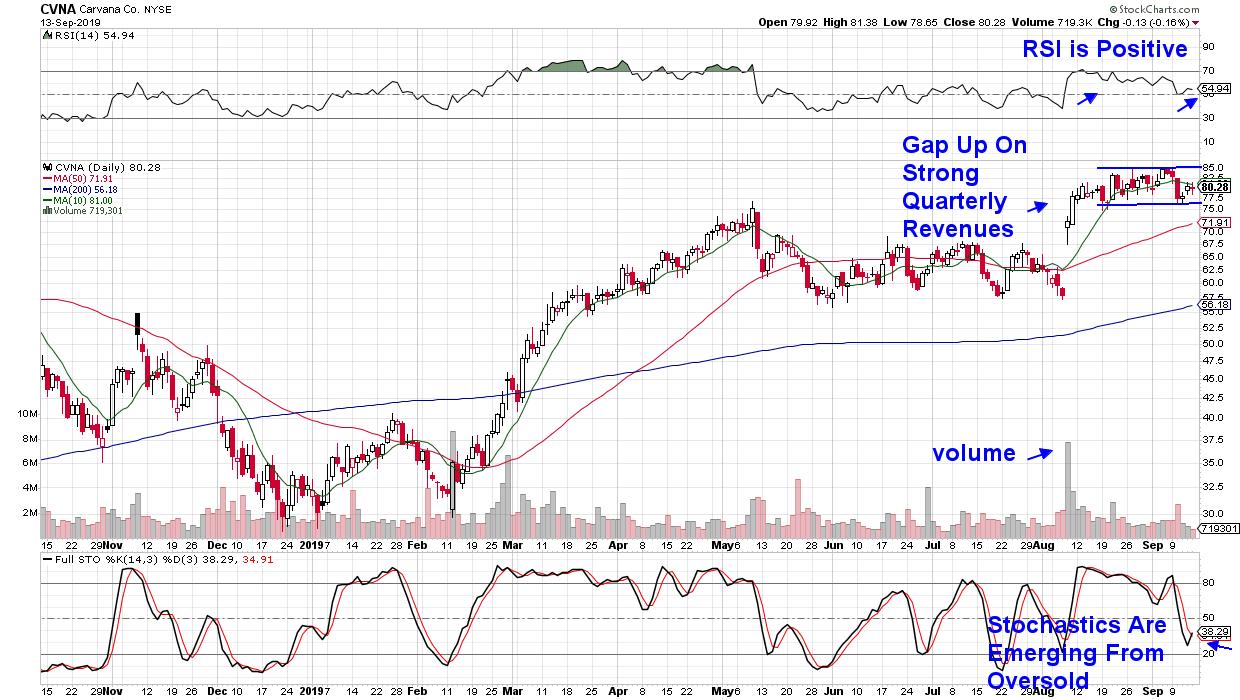 Next up is a newer company that operates an e-commerce platform for buying and selling used vehicles. Carvana Co. (CRVA) uses proprietary 360-degree vehicle imaging technology and customers can schedule delivery or pickup from their desktops or mobile devices.
While the company has not yet produced earnings, CVNA gapped up last month on strong sales that were better than expected. Additionally, management guided estimates higher following the release of their 22nd consecutive quarter of triple digit revenue growth.
Beyond excelling at digital sales, the company has erected 7-story housing for vehicles at several locations that resemble vending machines. Carvana subsidizes travel to these locations so new owners can collect their vehicles by dropping a large coin into the machines.
The stock has been consolidating following its release of strong revenues and may remain range-bound for longer. Any break above its recent high of $84 on volume would be bullish, particularly if the stock is emerging out of an oversold position.
DAILY CHART OF AMERICA'S CAR-MART (CRMT)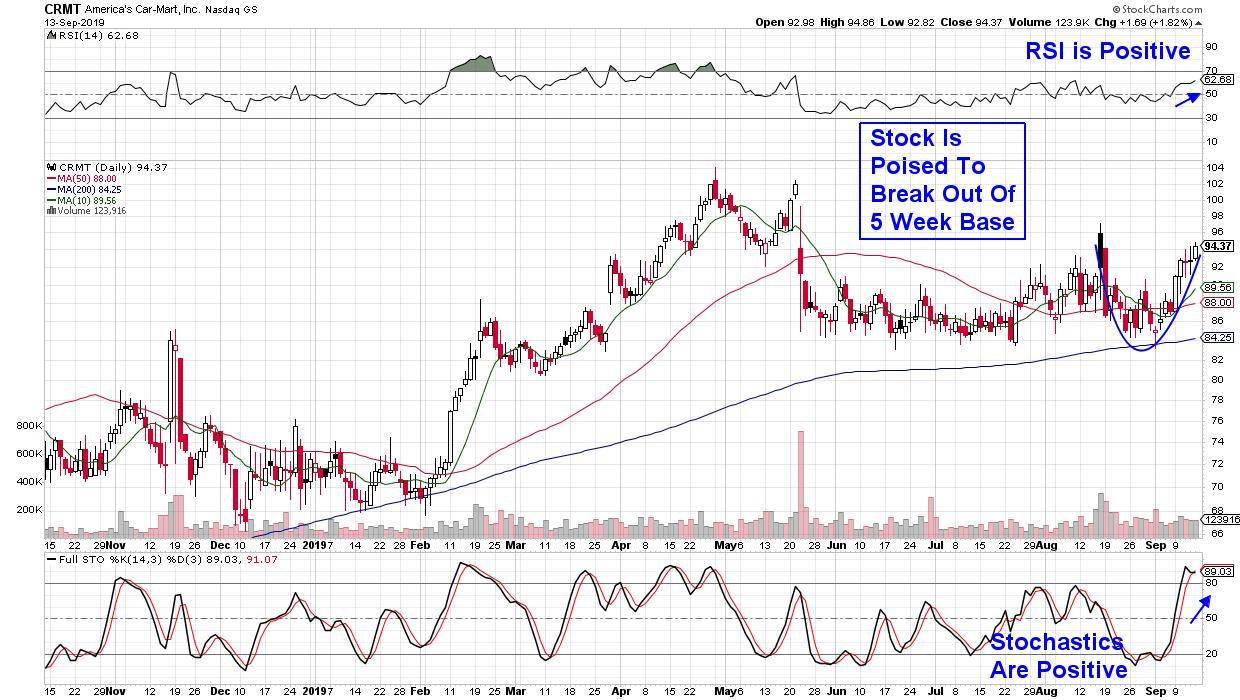 The last stock to be highlighted is Americas Car-Mart (CRMT), a smaller company that primarily sells older-model used cars through 144 dealerships. The company has been updating and growing their digital sales efforts while using technology to manage inventory levels, which is beginning to pay off.
The stock has been trading in a lackluster fashion since late May, when the company reported strong results that were not quite enough given the high valuation CRMT had at the time. This week, the stock is advancing on volume in a bid to break out of a base. A move above $97 would be bullish for the near-term prospects for this company.
Last month's robust level of car sales suggest that consumers are still confident in the economy, which is good news. In addition to autos, there are other high-growth areas of the market that are benefitting from consumers' optimism. If you'd like to find out about these areas, as well as the select stocks that are likely to outperform the markets, I urge you to trial my bi-weekly MEM Edge Report by using this link here.
Warmly,
Mary Ellen McGonagle,