I've been adamant that we remain in a secular bull market, and I'm sticking to it. Yes, September scares me. The Fed petrifies me. And no more tweets, please! Oh, and let's not forget about the inverted yield curve (which isn't inverted any longer, by the way). But, despite all of that, here we sit on the brink of yet another record all-time high on the Dow Jones, S&P 500 and NASDAQ. It's going to happen.
Over the past week, we saw new leadership emerge. Financials (XLF) did very well, as did industrials (XLI). It's easy to forget, but these two sectors were our leaders from 2016 through early 2018, when we raced to new record highs with only the slightest hint of volatility. The small-cap Russell 2000's ETF (IWM) is comprised nearly one-third of financials and industrials. These two sectors are very important to the performance of this closely-watched small-cap index/ETF.
One thing we need to keep in mind is that when transports ($TRAN) and small caps ($RUT) perform well, it generally translates into huge S&P 500 gains. Let's use the 10+ years of this bull market to illustrate: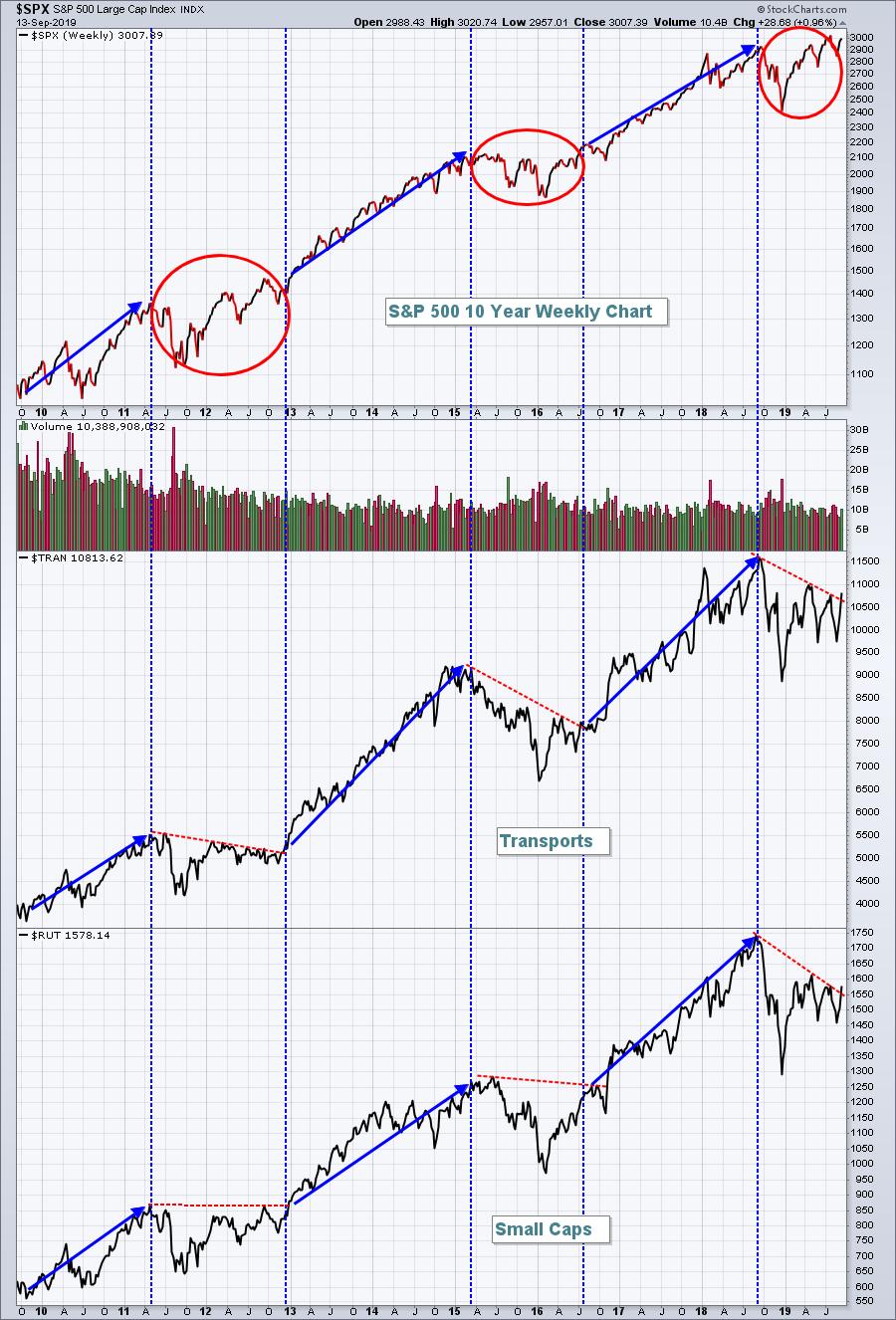 I think this chart is very clear. When the downtrends and/or consolidation periods in both transports and small caps break to the upside, the S&P 500 is likely poised for a major, explosive rally. While we might be premature, an argument could certainly be made that both the TRAN and the RUT broke their downtrends this week. The next few weeks will likely either refute or confirm that statement, but, if it's the latter, prepare for a launch higher in Q4.
Please be sure to sign up for my FREE EarningsBeats Digest newsletter. I'll be writing articles 3x per week, highlighting key earnings and companies showing relative strength (or weakness) characteristics that you won't want to miss. Did I mention it's FREE? CLICK HERE to provide your name and email address to get started!
Happy trading!
Tom
---
P.S. My 4+ year stint at StockCharts.com is coming to an end this weekend (although I'll continue writing here and hosting shows on StockCharts TV) as I return to EarningsBeats.com as Chief Market Strategist. I've written a daily report today to highlight the types of things I'll be covering there on a daily basis. To read my first Daily Market Report (which I posted in my Trading Places blog), CLICK HERE. Enjoy!