There's been a rotation in the U.S. markets recently as faster moving, high growth stocks have given way to value within the U.S. As you can see in the chart below, the Vanguard Value ETF has been outpacing momentum stocks for about a month now.
Vanguard Value ETF (VTV) versus the S&P 500 Index (SPX)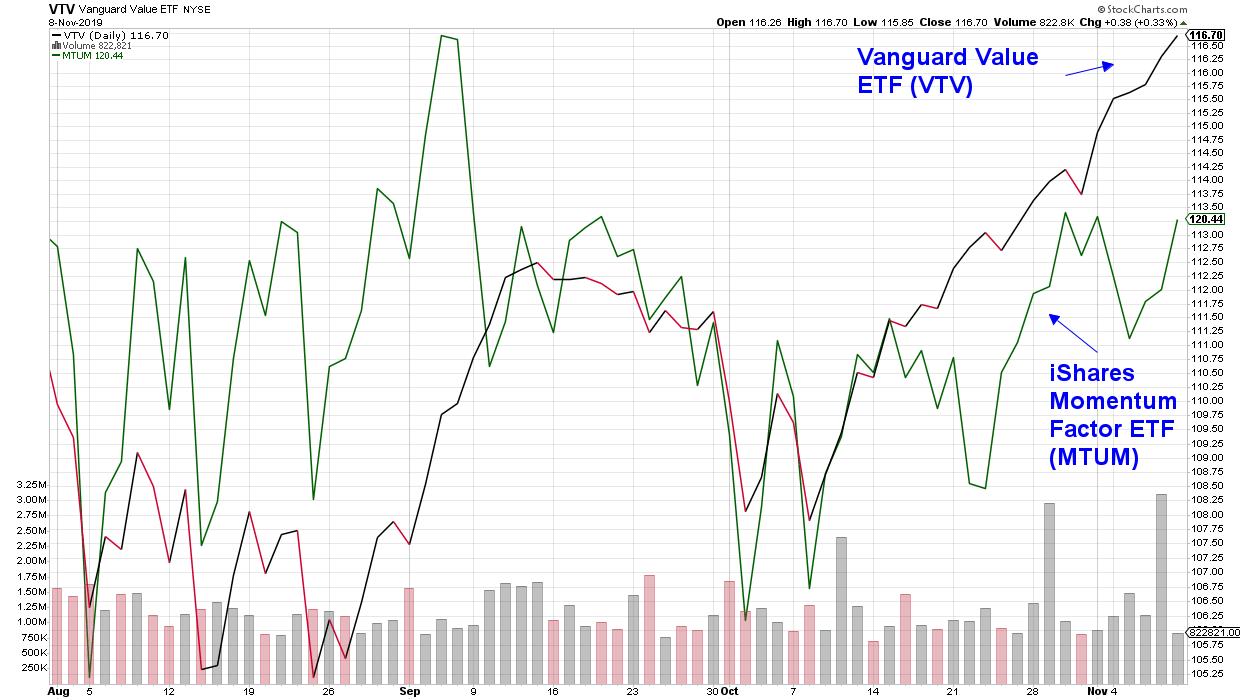 A closer look at the underlying stocks within these outperforming Value funds and the top 10 holdings each have a yield that's higher than the S&P 500 Index. This search for yield is a common theme of late; particularly following the Federal Reserve's 3rd rate cut in a matter of months.
Today, I'm going to share 2 value stocks that are in the beginning stages of reversing long term downtrends while offering exceptional dividends as well as an ETF that provides its high yield by investing in International companies.
WEEKLY CHART OF CARDINAL HEALTH INC. (CAH)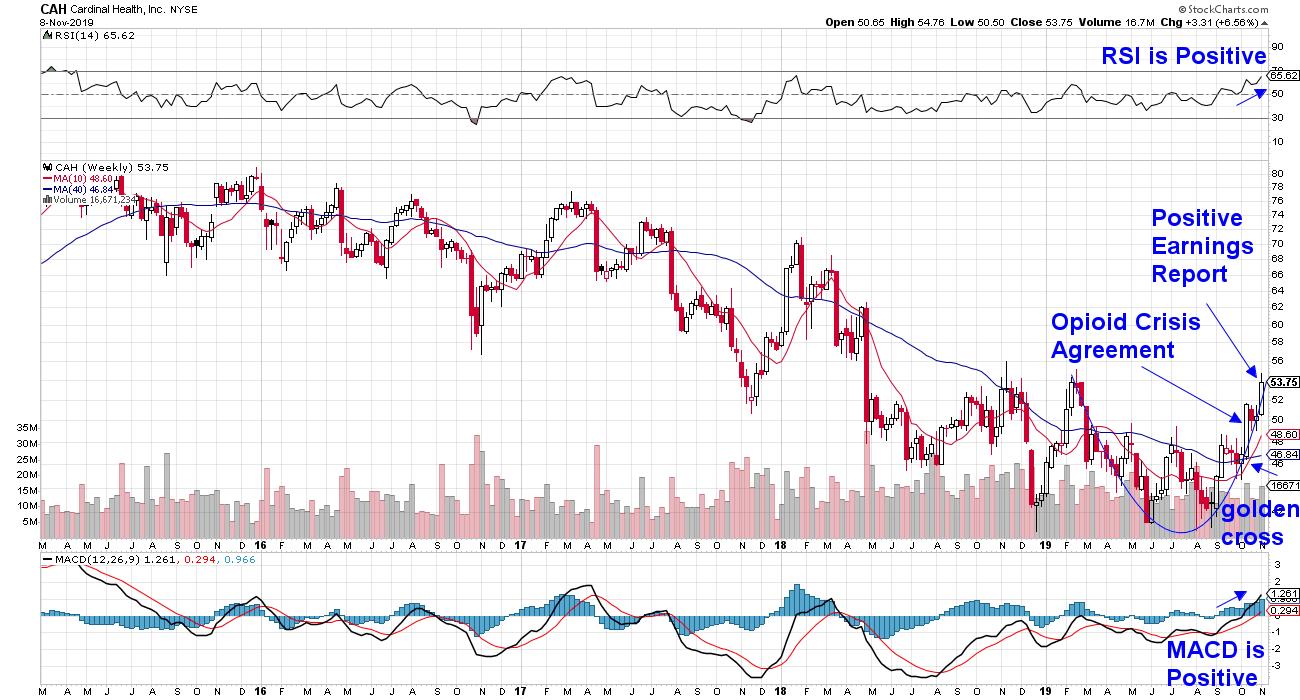 First up is Cardinal Health (CAH) which provides services and products to hospitals and pharmacies throughout the world. Despite the company's ability to beat earnings and sales estimates handily over at least the past 4 quarters, the stock has been in a prolonged downtrend due to its involvement in the opioid crisis lawsuit.
As you can see in the chart above, the stock has had several other downtrend-reversal attempts that did not take hold however, there are dynamics now that make this attempt more likely to succeed. To begin, the stock is very close to breaking out to a 1-year high in price. This event would remove any overhead supply that would have recent purchasers selling as it hits their buy point.
A second and even more important element is the fact that the uncertainty surrounding the opioid litigation has been mostly removed following news that a tentative agreement was reached with 4 states attorneys late last month.
More recently, CAH reported earnings and sales that were ahead of estimates for every segment of their company and despite the recent rally in the stock, this 3.6% yielder is trading at a mere 10 times next years earnings estimates while analysts are raising their estimates.
DAILY CHART OF CENTURYLINK INC. (CTL)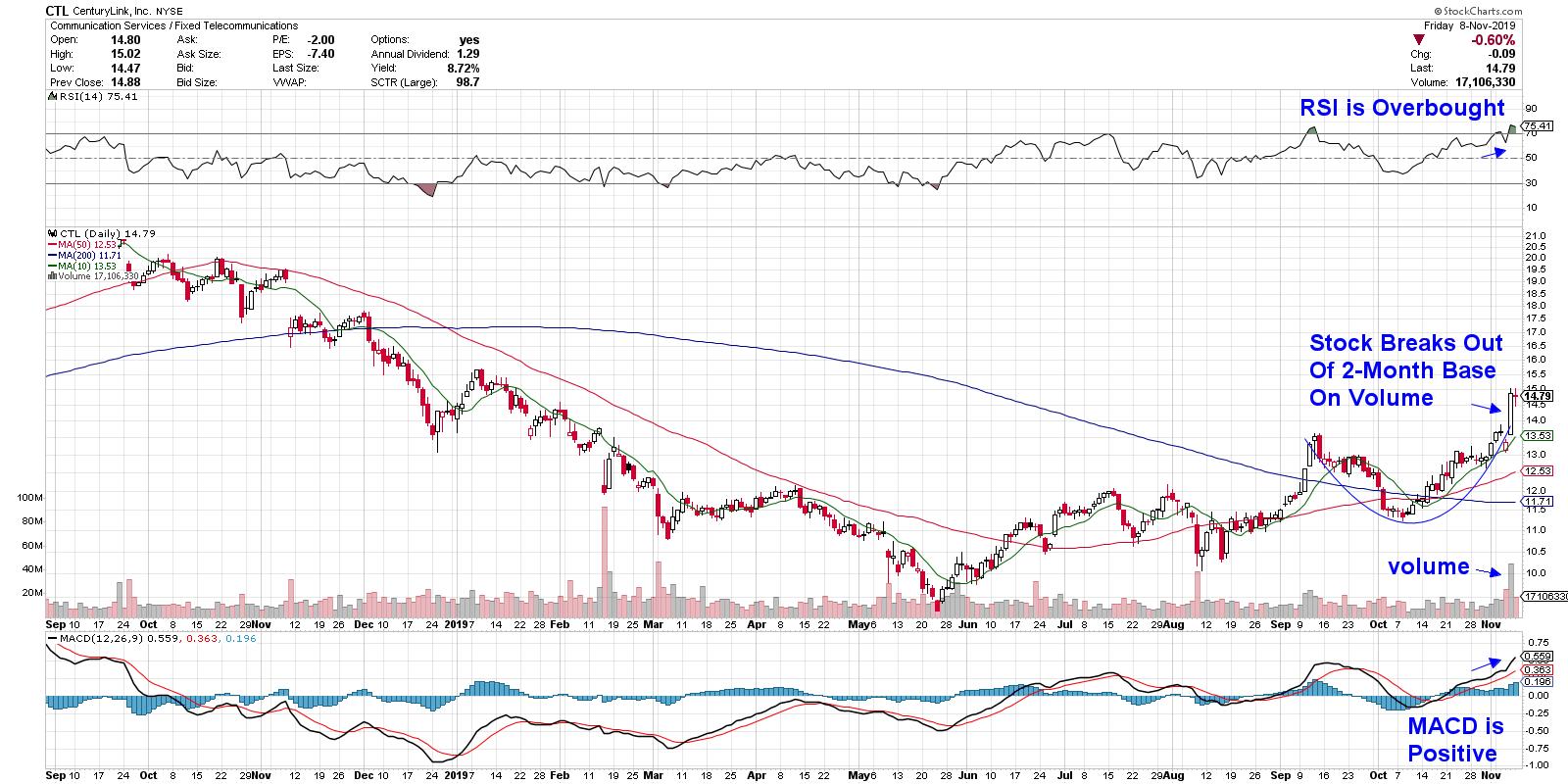 Next up is CenturyLink (CTL) which is another underperformer until more recently. The stock's steep decline began after the company announced in mid-February that they'd be cutting their dividend in half. The company was also suffering from slower sales due to legacy services such as landline phones and slow internet connections.
The company has since focused on more profitable lines of business such as building out their fiber optic network as well as building on their cloud computing solutions. The efforts seem to be paying off as CTL reported numbers yesterday that showed a pickup in revenues. The markets responded by pushing the stock out of a 2-month base following an 11% rally.
The move was on volume which is bullish and it puts the 6.8% yielder on track for more upside.
WEEKLY CHART OF iSHARES INTERNATIONAL SELECT DIVIDEND ETF (IDV)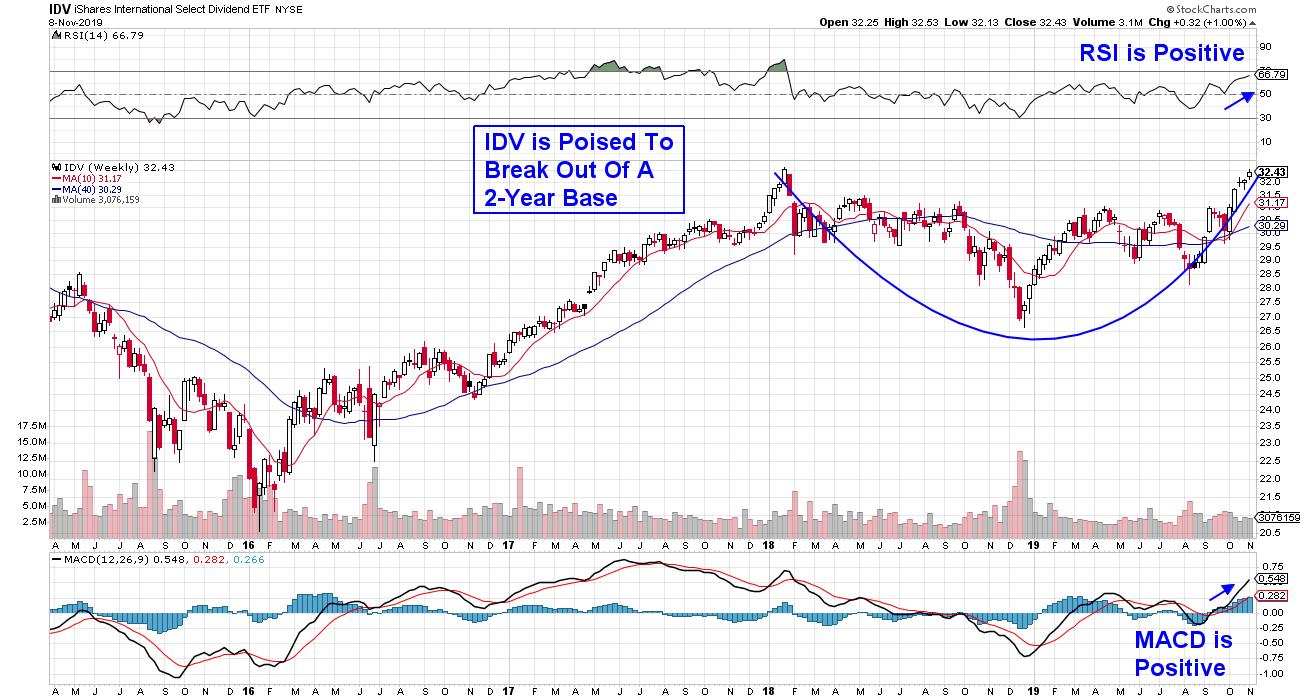 Last up is iShares International Dividend (IDV) which is an ETF that's comprised of high dividend paying equities in non-U.S. developed markets such as Europe, Asia and Canada. The ETF has a 5.6% yield and a quick look at the top holdings reveals several top performing Bank stocks from Italy, Australia, Sweden and Germany as well as Consumer related stocks from the UK.
As you can see, IDV is poised to break out of a 2 year base which would be very bullish.
Each of the stocks and the ETF that I've highlighted appear poised for more upside and while high-dividend Utility and REIT stocks were hit hard this week, these names have characteristics beyond their high yields that should sustain a continued uptrend.
Over the next month, I'll be introducing a High Growth Dividend newsletter with fellow Stockcharts.com author Bruce Fraser. I'm very excited about this endeavor and for those of you who'd like to be alerted to it's launch, you can get on the waiting list here.
And for those who'd like to be receive a trial of my MEM Edge Report for a nominal fee, you can access this link here. This bi-weekly report provides sector insights as well as individual stocks that are poised to outperform within those stronger sectors.
Warmly,
Mary Ellen McGonagle, President MEM Investment Research