Over the past few months, we've seen some new market leadership emerge. If you're simply following the S&P 500, then you probably haven't noticed much difference. We consolidated a bit in August and September before then resuming the uptrend. It's the same old market, right? Wrong. Things have changed. Yes, the overall equity market has moved higher, but the leadership is changing and it's important to recognize it. In my last Trading Places blog article, I illustrated how defense stocks ($DJUSDN) emerged from the stock market ashes to become a leader once again earlier in 2019. It was a timely article, "Emerging Leadership: When Should We Trust An Emerging Group For Trading?".
We need to recognize this rotation. Bull markets thrive on rotation. We're in a secular bull market that, in my opinion, will likely last through the next decade. But the same stocks and the same sectors won't lead throughout. We need to watch for rotating leadership and, recently, we've seen that with financials (XLF). This sector has seen its SCTR score rise from the low 50s to 90 in just a little over a month. The XLF has surged on the heels of a very strong banking group ($DJUSBK), whose SCTR has risen from 50 to 90 in 5 weeks. Check out this banking industry chart: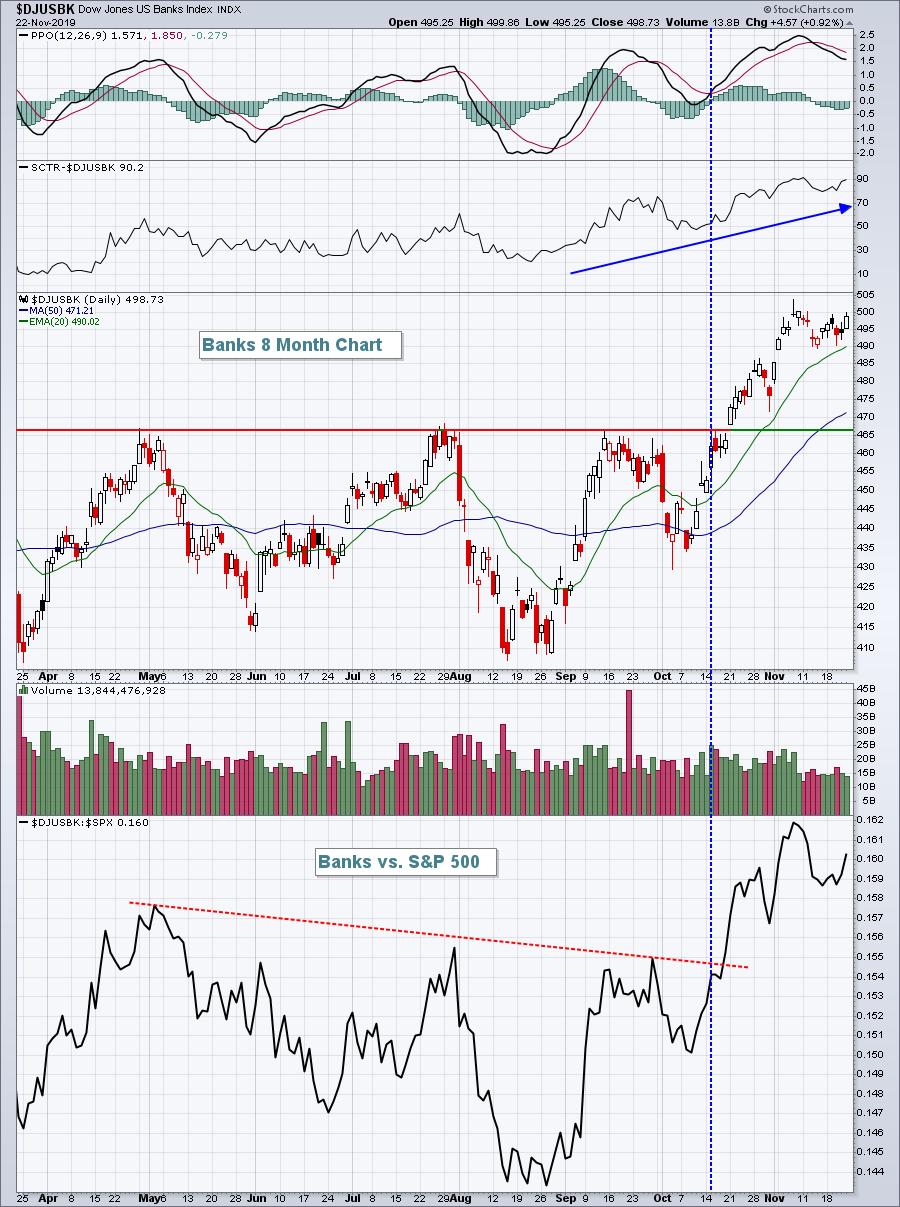 Everything has improved here since mid-October. The absolute price action has seen a breakout; relative price action has seen the same. So now it's time to find the leaders. I rely on my Strong Earnings ChartList for that. If I pull that up and search for bank stocks, it yields the following results (in SCTR order):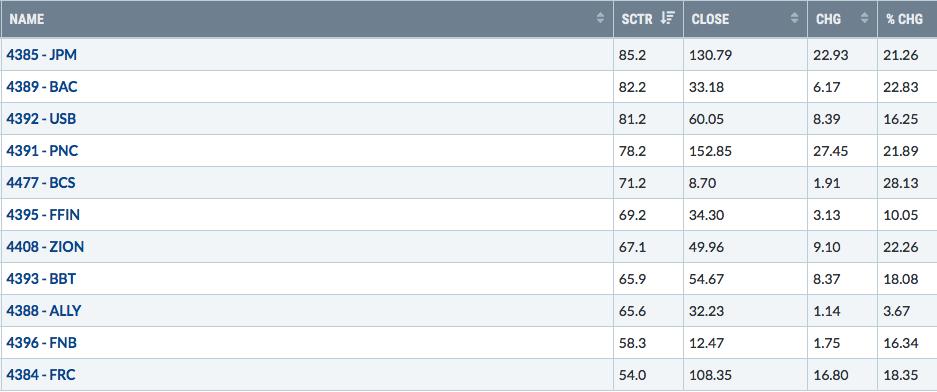 JPM and PNC are two of my favorites in the space. They're large banks that are poised to capitalize from a strengthening economy and a widening yield spread. Here are their charts:
JPM: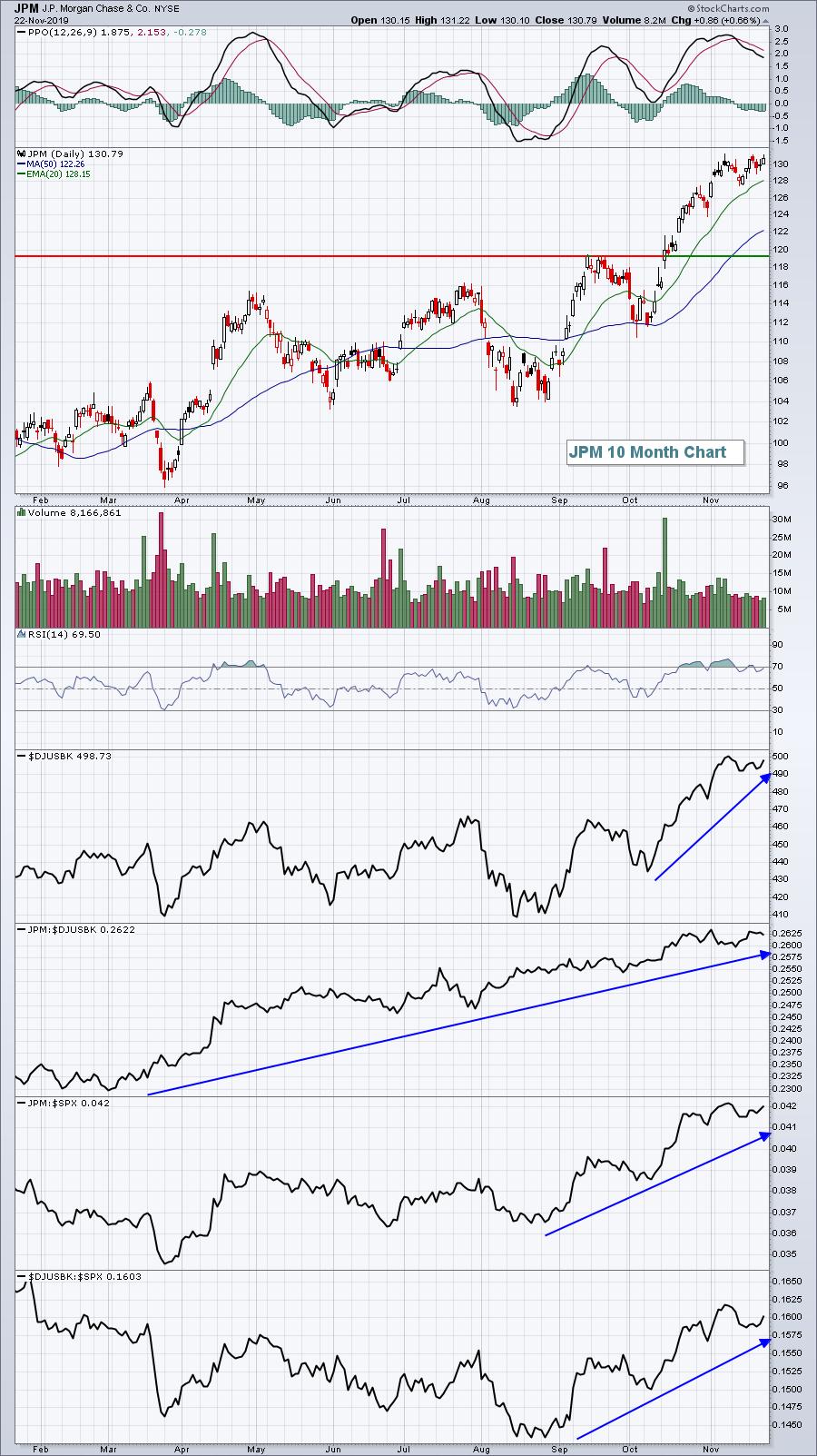 PNC: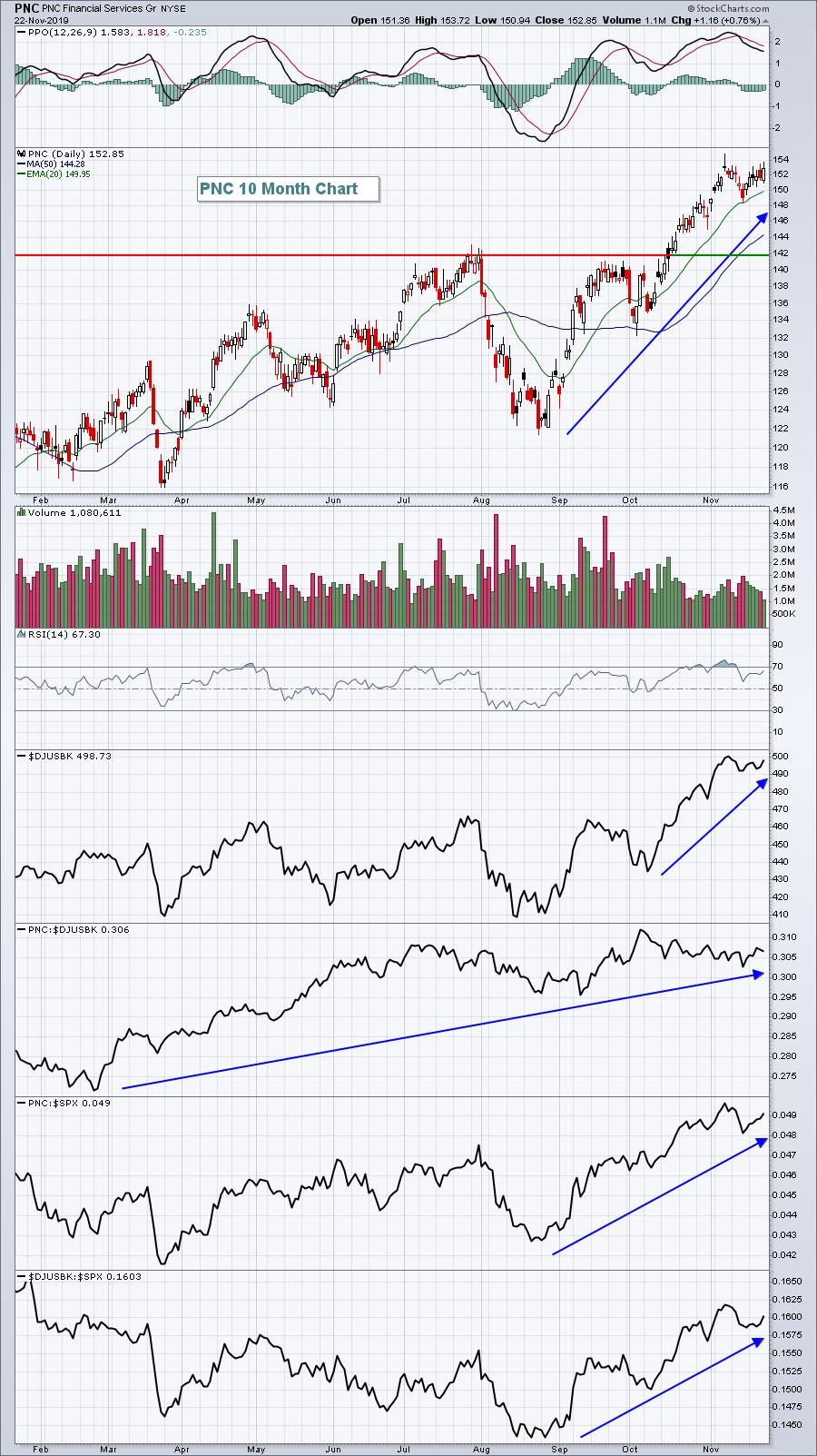 Both banks have clearly broken out on both an absolute and relative basis. Given the strength in banks, I'd expect to see both banks continue to perform extremely well and remain leaders, at least for the foreseeable future.
I'll be giving my 2020 view in the upcoming EarningsBeats.com-sponsored "Market Vision 2020" online financial conference scheduled for Saturday, January 4, 2020. We've already announced a stellar group of speakers for the event and, on Tuesday, a technical analysis legend will be announced as our Keynote Speaker. I'm really excited to be part of such a special online conference. To receive the latest news and updates (including a Black Friday special coming this week!), join our Market Vision 2020 newsletter for free by CLICKING HERE.
Happy trading!
Tom